Please help keep this website going by making a small donation in support of Leo's work through Fundly: https://fundly.com/leo-lyon-zagami-channel  or Patreon: https://www.patreon.com/leozagami
Article by Leo Zagami
In an interview broadcast earlier today, President Trump spoke his mind about the present situation of that criminal enterprise of technocrats called the European Union. He did it on a British talk show presented on LBC Radio by personal friend and Brexit leader, Nigel Farage.
During the interview Trump shocked the audience when he said something that has been on the minds of many about Great Britain and other countries stuck in a nightmare known as the EU:
"You're being held back by the European Union. So are other countries in the EU. You have countries, Italy and others, that will do much better frankly without the EU. But if they want to have a union that's fine."
The American President has admitted the EU is not worth following, encouraging countries like Italy to leave it. Unfortunately, the EU is a Vatican-controlled institution and the Jesuits and evil technocracts will never give up on the oppression and manipulation of over 500 million people stuck in this Orwellian prison.
In this World exclusive interview President Donald J. Trump also told Nigel Farage what Boris Johnson should do about Brexit, claiming that Jeremy Corbyn would take the UK to "such bad places."  President Trump added Johnson and Farage could be "unstoppable" together.
So while more and more countries in the world look at President Trump for inspiration, a divided U.S. House passes a totally unjust resolution formalizing an impeachment inquiry based on nothing, in an attempt to send the U.S. back into the hands of the Vatican-lead New World Order that is ruining Europe and the rest of the world.
PLEASE SUPPORT LEO'S WORK BY BUYING HIS LATEST BOOKS!!!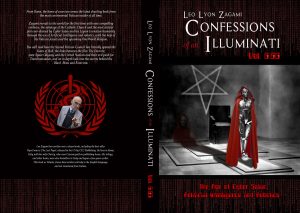 Leo Zagami is a regular contributor to Infowars and the author of the new groundbreaking book  Confessions of an Illuminati Vol. 6.66 The Age of Cyber Satan, Artificial Intelligence, and Robotics
OUT NOW ON KINDLE:
https://www.amazon.com/Confessions-Illuminati-6-66-Artificial-Intelligence-ebook/dp/B07NS8WS9V/ref=sr_1_2?s=books&ie=UTF8&qid=1550411820&sr=1-2&keywords=vol.+6.66
And on paperback :
https://www.amazon.com/dp/1796904694/ref=cm_sw_r_fa_awdo_t1_2dvACb2HVH6TP?fbclid=IwAR1h_VlIytuACI3zxXUc9mBfOk96N4Yk0WH3To6Psv2kbFxJLwfzAwV4mUE

Leo Zagami is also the author of  Confessions of an Illuminati Volume 5: The Decline of the West and the Rise of Satanism in our Society 
OUT NOW ON KINDLE: https://www.amazon.com/dp/B07BQVQ9ZM/ref=tsm_1_fb_lk
And on paperback : https://www.amazon.com/dp/1986894657/ref=sr_1_8?ie=UTF8&qid=1522233257&sr=8-8&keywords=leo+zagami