Please help keep this website going by making a small donation in support of Leo's work through Fundly: https://fundly.com/leo-lyon-zagami-channel  or Paypal:https://www.paypal.com/paypalme/leozagamishow
Article by Leo Zagami
The Vatican has invested for over 20 years in an industry that produced the morning-after pill. This shocking news was revealed last night by Italian state TV on the well-known investigative news show Report that showed how the Vatican Secretariat of State owned shares worth approximately 20 million euro in two pharmaceutical companies that produced the emergency contraceptive drug in open contravention of the rules of the Holy See that strongly condemn any kind of partnership with companies that are linked to contraceptives or abortion methods.
The Vatican's position in this regard has always been quite clear since the pill in question became available in Italy. While acknowledging that the morning-after pill is a contraceptive drug and not an abortive drug, the Vatican openly asked doctors to object to the prescription of this drug, showing their usual hypocrisy after this latest scandal.
Libero Milone who used to be auditor general of the Vatican at the time and denounced the situation to the Pope in 2015, confirmed to the investigative news show Report that he pushed the Vatican to immediately sell the quotes in the two pharmaceutical companies.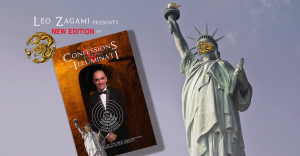 Get Leo's New Edition of Confessions of an Illuminati Volume 5: The Decline of the West and the Rise of Satanism in our Society with a brand new chapter on the CCP virus and The End Times.
You can find it now on Amazon in both paperback:
And Kindle format:
And get also Leo's latest book: Confessions of an Illuminati Vol. 4, American Renaissance 2.0 and The Missing Link From the Invisible World.
You can find it now on Amazon in both paperback:
And Kindle format:
PLEASE SUPPORT LEO'S WORK BY BUYING HIS LATEST BOOKS!!!
Leo Zagami is a regular contributor to Infowars and the author of the groundbreakingbook Confessions of an Illuminati Vol. 6.66 The Age of Cyber Satan, Artificial Intelligence, and Robotics
OUT NOW ON KINDLE:
And on paperback :