Article by Leo Zagami
As Italy falls into political crisis after League leader and Deputy Prime Minister Matteo Salvini called for an early general election on Friday, after clashing with the left-wing 5 Star Movement, Pope Francis comes out with the harshest political attack to date against the populist and Euroskeptic parties that have emerged in many countries of the European Union in recent years.
In an interview published today by the Italian newspaper La Stampa, the Jesuit Pope said:
"Europe shall not break apart, it must be saved, it has human and Christian roots," adding that Ursula von der Leyen, the new German EU Commission President, "…can revive the strength of the Founding Fathers."
These statements by the Pope are completely ridiculous as Bergoglio has been actively working to destroy the "Christian roots" of  Europe by supporting massive Islamic immigration to destabilize the Old Continent. His words of support for the new Trump-Hating Nazi Commissioner Ursula von der Leyen,  who headed Germany's defense ministry in the past. Ursula von der Leyen is, in fact, much closer to Hitler than the populist forces Pope Francis is attacking by stating that, "Sovereignism reveals an attitude toward isolation" saying that he is  "concerned because we hear speeches that resemble those of Hitler in 1934."
 Check this past article on my website to learn more about Elitist Ursula von der Leyen:
https://leozagami.com/2019/07/17/another-nazi-to-replace-jean-claude-juncker-in-the-eu-commission/
Pope Francis had already warned against the rise of populist leaders "like Hitler" as Donald Trump was sworn in as President in January 2017. Now the Communist Pope stated that: "Sovereignism means being closed. A country should be sovereign but not closed. Sovereignty must be defended, but relations with other countries, with the European community must also be protected and promoted. Sovereignism is an exaggeration that always ends badly: it leads to war".
Populism is also dangerous for the leftist Pope: "The Same thing. At first, I struggled to understand it because when I was studying Theology, I researched the concept of popularism, that is, the culture of the people: but one thing is for people to express themselves, and another is to impose a populist attitude on the people. The people are sovereign (they have their way of thinking, feeling, evaluating, and expressing themselves), while populist movements lead to forms of sovereignism: that suffix, 'ism', is never good".
"Catholicism," should also be included as it has lost any remaining connection to real Christianity under Bergoglio's papacy.  Pope Francis' long interview forLa Stampain which he talks about the challenges for Europe, the reception of migrants, the environmental emergency, and the dangers linked to sovereignty, shows the world once again his everlasting love for the left-wing mondialists, from a Pontiff who is obviously a political representative more than a religious leader. Bergoglio speaks of a historical and cultural unity that must be saved, but in reality, he wants to raise the flag of Islam on the Vatican and implement One World Religion.
PLEASE SUPPORT LEO'S WORK BY BUYING HIS LATEST BOOKS!!!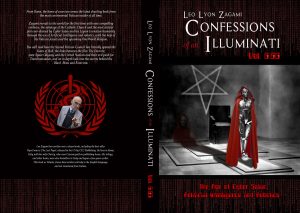 Leo Zagami is a regular contributor to Infowars and the author of the new groundbreaking book  Confessions of an Illuminati Vol. 6.66 The Age of Cyber Satan, Artificial Intelligence, and Robotics
OUT NOW ON KINDLE:
https://www.amazon.com/Confessions-Illuminati-6-66-Artificial-Intelligence-ebook/dp/B07NS8WS9V/ref=sr_1_2?s=books&ie=UTF8&qid=1550411820&sr=1-2&keywords=vol.+6.66
And on paperback :
https://www.amazon.com/dp/1796904694/ref=cm_sw_r_fa_awdo_t1_2dvACb2HVH6TP?fbclid=IwAR1h_VlIytuACI3zxXUc9mBfOk96N4Yk0WH3To6Psv2kbFxJLwfzAwV4mUE

Leo Zagami is also the author of  Confessions of an Illuminati Volume 5: The Decline of the West and the Rise of Satanism in our Society 
OUT NOW ON KINDLE: https://www.amazon.com/dp/B07BQVQ9ZM/ref=tsm_1_fb_lk
And on paperback : https://www.amazon.com/dp/1986894657/ref=sr_1_8?ie=UTF8&qid=1522233257&sr=8-8&keywords=leo+zagami