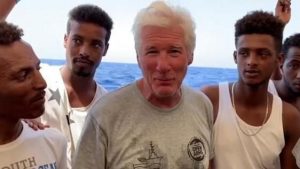 Article by Leo Zagami 
"Pretty Woman" actor Richard Gere and his wife, the Spanish philanthropist Alejandra Silva announced her pregnancy last year via the Dalai Lama. For years, Richard Gere has been the most loyal disciple of  the Dalai Lama, but something strange happened between the Tibetan Master and his Western disciple.
The Dalai Lama sparked anger among Hollywood libtards last year after declaring that "Europe belongs to the Europeans." The Tibetan Buddhist spiritual leader also said that refugees should return to their native countries and assist with developing them, a statement I fully endorse. Finally, we receive good advice from a religious leader after all the bullshit we heard in recent years from Pope Francis. However, it looks like American actor Richard Gere is going against the teachings of his Master, demonstrating he is just another Vatican agent.
Richard Gere is in Lampedusa, Sicily today, to support the Spanish NGO ship, Open Armsand the 124 immigrants rescued on August 1st in the Strait of Sicily. The organization said in a statement on Friday, "Richard Gere has joined us to give his support to our crew and all the people on board." 
The actor is scheduled to attend a press conference on Saturday at the Italian island's airport to unleash the ultimate libtard pro-refugee propaganda, before returning to the U.S. as a hero of Hollywood Socialism. The vessel has been at sea for the past eight days, waiting for authorization to disembark the migrants, and the impatient organization financed by George Soros stated in the meantime: "We believe it is unacceptable that the lives of men, women, and children continue to be ignored and that the rights recognized by international conventions continue to be systematically violated."
 Italy's current Deputy Prime Minister and Interior Minister Matteo Salvini laughed about it and wished Richard Gere "a good suntan," advising him from his social networks to bring the Spanish ship to Ibiza or Formentera instead, because Italy is not taking them any longer.
In the meantime, the League presented a motion of no confidence in Premier Giuseppe Conte in the Senate today after the party's leader, Deputy Premier and Interior Minister Matteo Salvini said Thursday that the ruling majority no longer exists and called for early elections.
Basically, they are preparing the country to be ruled by a more left-wing coalition in line with the rest of socialist Europe. Salvini might not be able to rule in a rigged system built to eternally facilitate the unelected left-wing judiciary system and the politicians controlled by the Vatican Jesuits.
PLEASE SUPPORT LEO'S WORK BY BUYING HIS LATEST BOOKS!!!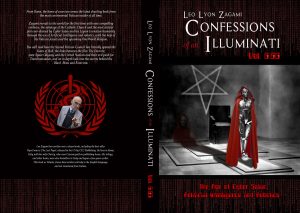 Leo Zagami is a regular contributor to Infowars and the author of the new groundbreaking book  Confessions of an Illuminati Vol. 6.66 The Age of Cyber Satan, Artificial Intelligence, and Robotics
OUT NOW ON KINDLE:
https://www.amazon.com/Confessions-Illuminati-6-66-Artificial-Intelligence-ebook/dp/B07NS8WS9V/ref=sr_1_2?s=books&ie=UTF8&qid=1550411820&sr=1-2&keywords=vol.+6.66
And on paperback :
https://www.amazon.com/dp/1796904694/ref=cm_sw_r_fa_awdo_t1_2dvACb2HVH6TP?fbclid=IwAR1h_VlIytuACI3zxXUc9mBfOk96N4Yk0WH3To6Psv2kbFxJLwfzAwV4mUE

Leo Zagami is also the author of  Confessions of an Illuminati Volume 5: The Decline of the West and the Rise of Satanism in our Society 
OUT NOW ON KINDLE: https://www.amazon.com/dp/B07BQVQ9ZM/ref=tsm_1_fb_lk
And on paperback : https://www.amazon.com/dp/1986894657/ref=sr_1_8?ie=UTF8&qid=1522233257&sr=8-8&keywords=leo+zagami