Please help keep this website going by making a small donation in support of Leo's work through Fundly: https://fundly.com/leo-lyon-zagami-channel  or Paypal:https://www.paypal.com/paypalme/leozagamishow
Article by Leo Zagami
Yesterday, in a video aimed at a global audience but directed particularly at the Americas as it was done in Spanish rather than Italian, Pope Francis said that getting vaccinated is "An Act of Love".
The video message in question that has already gathered a lot of criticism was produced by the Vatican and the Ad Council, which has produced a series of pro-vaccine ads in a bid to get more people vaccinated around the world.
However, Francis's statement is more of an act of submission to the Satanic New World Order than an act of God:
"Being vaccinated with vaccines authorized by the competent authorities is an act of love. And contributing to ensure the majority of people are vaccinated is an act of love."
It's no wonder the first requirement for a good priest is now to be vaccinated. This is how the archiepiscopal seminary of Milan established the vaccine as a sine qua non for the 120 aspiring priests for their return to Venegono on September 12, 2021. This historical seminary that was originally established in 1564 is now the first seminary in the world to mandate the vaccine for all their seminarists.
A letter from the rector Don Enrico Castagna that follows in the footsteps of Pope Francis speaks clearly to the aspiring priests saying: "Vaccinate yourselves and show charity towards one another."
A compulsory vaccine without any excuses or exemption is something not even the demented Italian medical tyranny has done.
The new Catholic requirement is highly significant because it comes from one of the oldest seminaries in the world connected to the late Jesuit Cardinal Carlo Maria Martini, who was Pope Francis's mentor.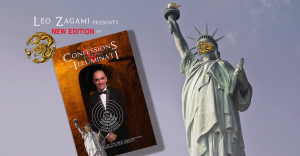 Get Leo's New Edition of Confessions of an Illuminati Volume 5: The Decline of the West and the Rise of Satanism in our Society with a brand new chapter on the CCP virus and The End Times.
You can find it now on Amazon in both paperback:
And Kindle format:
And get also Leo's latest book: Confessions of an Illuminati Vol. 4, American Renaissance 2.0 and The Missing Link From the Invisible World.
You can find it now on Amazon in both paperback:
And Kindle format:
PLEASE SUPPORT LEO'S WORK BY BUYING HIS LATEST BOOKS!!!
Leo Zagami is a regular contributor to Infowars and the author of the groundbreakingbook Confessions of an Illuminati Vol. 6.66 The Age of Cyber Satan, Artificial Intelligence, and Robotics
OUT NOW ON KINDLE:
And on paperback :