Please help keep this website going by making a small donation in support of Leo's work through Fundly: https://fundly.com/leo-lyon-zagami-channel  or Paypal:https://www.paypal.com/paypalme/leozagamishow
Article by Leo Zagami
During the weekly General Audience on Wednesday, the Pope aroused the curiosity of the faithful by interrupting his final greetings to answer what seemed to be an urgent phone call.
It was later followed by an Official Statement by the Holy See announcing that the Pope had been answering a private phone call during the General Audience. However, the Italian newspaper la Repubblica said that the number that appeared on the screen seemed to be that of Edgar Peña Parra, a Venezuelan Roman Catholic archbishop that Francis named substitute for the Secretariat of State. It seems that the two had to discuss an urgent work matter, but what is more urgent than working for God and meeting the faithful?
The Italian press, of course, has been emphasizing the "normality" of this gesture, rather than the rudeness of it, and the fact that the strict protocol of Wednesday's General Audience had been breached by the Jesuit Pope.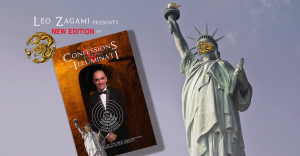 Get Leo's New Edition of Confessions of an Illuminati Volume 5: The Decline of the West and the Rise of Satanism in our Society with a brand new chapter on the CCP virus and The End Times.
You can find it now on Amazon in both paperback:
And Kindle format:
And get also Leo's latest book: Confessions of an Illuminati Vol. 4, American Renaissance 2.0 and The Missing Link From the Invisible World.
You can find it now on Amazon in both paperback:
And Kindle format:
PLEASE SUPPORT LEO'S WORK BY BUYING HIS LATEST BOOKS!!!
Leo Zagami is a regular contributor to Infowars and the author of the groundbreakingbook Confessions of an Illuminati Vol. 6.66 The Age of Cyber Satan, Artificial Intelligence, and Robotics
OUT NOW ON KINDLE:
And on paperback :