Archbishop William Lori and Pope Francis
Article by Leo Zagami
President Trump is not backing off from his attacks against corrupt black Democratic Rep. Elijah Cummings, and the city of Baltimore, even after the recent condemnation by the Catholic Church.
Today, the U.S. president told reporters on the White House South Lawn that residents in Baltimore are "living in hell,"adding, "They're largely African-American … and they really appreciate what I'm doing, and they let me know it."
Trump, who has been attacking Cummings and Baltimore since early Saturday in his morning tweets where he blamed Cummings for the decline of a city "infested" with both crime and rats, has now been publicly criticized by Catholic Archbishop William E. Lori of Baltimore, who issued an official statement on Saturday rebutting the tweet from President Donald Trump stating: "It saddens me to see Baltimore severely denigrated by President Trump. Baltimore is near and dear to my heart."
Lori acknowledged that,"Baltimore has its tragedies and challenges" in addition to its "strengths and opportunities." But for the Archbishop: "Many good people are working together to address Baltimore's challenges and to build on its strengths. They deserve the support of elected officials and their fellow citizens."
On Saturday, Trump tweeted that he believed Rep. Elijiah Cummings (D-MD) is a "brutal bully," and that his district, Maryland's 7th, is "FAR WORSE and more dangerous" than the southern border. Cummings and Trump have already been clashing regarding policy at the border.
"Cumming District [sic] is a disgusting, rat and rodent infested mess,"said Trump. "If he spent more time in Baltimore, maybe he could help clean up this very dangerous & filthy place."
Trump tweeted to defend his comments throughout Saturday and into Sunday. On Saturday, Trump asked why "so much money" was being sent to Maryland's 7th Congressional District "when it is considered the worst run and most dangerous anywhere in the United States."
"No human being would want to live there," said Trump. "Where is all this money going? How much is stolen? Investigate this corrupt mess immediately!"
In the meantime President Trump extended his attacks on critics of color with an early-morning Twitter blast calling Al Sharpton "a con man" and "a troublemaker."
Al Sharpton is indeed a man with no morals and a complete crook. In 2014, a drug trafficker named Robert Curington, 72, who worked for Sharpton's nonprofit in the 1980s, said that despite the preacher's denials, he was eager at the time to get a slice of the lucrative cocaine business and he was captured doing so in an FBI surveillance video in 2002.
After being exposed, Sharpton said he showed interest in the drug deal only because he feared the undercover agent was armed. From that point onwards, Al Sharpton became an FBI informant working to infiltrate the Genovese crime family and further undermind the work of the current boss Liborio Bellomo, who had been indicted in 2001 on money laundering charges related to the Genovese family's involvement in the waterfront rackets and control of the ILA.
Regarding the FBI sting operation "Sharpton said they could do whatever they wanted with him after that,"Curington said. "Because they had him. Either he worked for them or they put that news out there that he was into coke."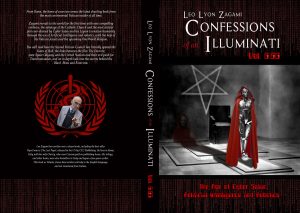 Leo Zagami is a regular contributor to Infowars and the author of the new groundbreaking book  Confessions of an Illuminati Vol. 6.66 The Age of Cyber Satan, Artificial Intelligence, and Robotics
OUT NOW ON KINDLE:
https://www.amazon.com/Confessions-Illuminati-6-66-Artificial-Intelligence-ebook/dp/B07NS8WS9V/ref=sr_1_2?s=books&ie=UTF8&qid=1550411820&sr=1-2&keywords=vol.+6.66
And on paperback :
https://www.amazon.com/dp/1796904694/ref=cm_sw_r_fa_awdo_t1_2dvACb2HVH6TP?fbclid=IwAR1h_VlIytuACI3zxXUc9mBfOk96N4Yk0WH3To6Psv2kbFxJLwfzAwV4mUE

Leo Zagami is also the author of  Confessions of an Illuminati Volume 5: The Decline of the West and the Rise of Satanism in our Society 
OUT NOW ON KINDLE: https://www.amazon.com/dp/B07BQVQ9ZM/ref=tsm_1_fb_lk
And on paperback : https://www.amazon.com/dp/1986894657/ref=sr_1_8?ie=UTF8&qid=1522233257&sr=8-8&keywords=leo+zagami