Article by Leo Zagami
After Vladimir Putin's July 4th visit to Rome, the atmosphere has become increasingly tense for Deputy Prime Minister Matteo Salvini, who is suspected by the U.S. Intelligence community of being too close to Moscow, as I wrote in my article dated July 5, 2019:
"Salvini, who has outstripped pro-Soros Di Maio in recent polls with his anti-migrant and other hardline stances, has frequently voiced admiration for Putin, and has advocated dropping Western sanctions, and for this reason some suspect Salvini might have received secret financing from Russia in the past, something that worries U.S. Intelligence agenciesthat are busy investigating this matter"
Well, only five days after the exclusive revelations of leozagami.com, the site BuzzFeed News has apparently obtained an audio recording of a secret meeting that took place on October 18th, 2018, at the famous Metropol Hotel in the center of Moscow, in which Gianluca Savoini, a close, longtime aide of Matteo Salvini, and five other men, three Russians and two Italians, discussed the terms of a possible oil deal with Eni S.p.A. for 3 tons of oil equivalent to 20.5235barrels of oil to secretly funnel around $65 million of Russian money to Salvini's Northern League and its European election campaign.
One of my sources in Italy, Massimiliano Mion, who has worked in the past as an informer for the Italian military intelligence told me that Salvini participated in his presence to a secret Skype conference with CasaPound Italy and Marine Le Pen to ask for such funds a couple of years prior to him going to Moscow.
However, Italy's Deputy Prime Minister Matteo Salvini denied in a media report today that he had sought millions of euros from Russian investors via this secret deal. Has Salvini been compromised by the Russian president who is trying to influence the future of Europe?
Salvini states every day he will not accept immigrants, but disappointing many as the so-called refugees continue to arrive in large numbers protected by the corrupt left-wing judiciary system, despite his claims.
:::::::::Leo Zagami US Book Tour in Las Vegas::::::::::::::::::
 Don't miss another exciting date on Zagami's Book Tour for July 16, 2019 at the Patio Gallery room at the Spring's Preserve in Las Vegas. The Springs will have the rooms opening from 5:30 pm and the event will start at 6pm!
To reserve your place and for more enquiries: OrdoIlluminatorumUniversalis@gmail.com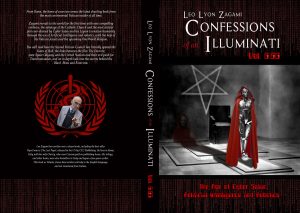 Leo Zagami is a regular contributor to Infowars and the author of the new groundbreaking book  Confessions of an Illuminati Vol. 6.66 The Age of Cyber Satan, Artificial Intelligence, and Robotics
OUT NOW ON KINDLE:
https://www.amazon.com/Confessions-Illuminati-6-66-Artificial-Intelligence-ebook/dp/B07NS8WS9V/ref=sr_1_2?s=books&ie=UTF8&qid=1550411820&sr=1-2&keywords=vol.+6.66
And on paperback :
https://www.amazon.com/dp/1796904694/ref=cm_sw_r_fa_awdo_t1_2dvACb2HVH6TP?fbclid=IwAR1h_VlIytuACI3zxXUc9mBfOk96N4Yk0WH3To6Psv2kbFxJLwfzAwV4mUE

Leo Zagami is also the author of  Confessions of an Illuminati Volume 5: The Decline of the West and the Rise of Satanism in our Society 
OUT NOW ON KINDLE: https://www.amazon.com/dp/B07BQVQ9ZM/ref=tsm_1_fb_lk
And on paperback : https://www.amazon.com/dp/1986894657/ref=sr_1_8?ie=UTF8&qid=1522233257&sr=8-8&keywords=leo+zagami