From https://twitter.com/alexandersoros
EXCLUSIVE NEWS: Alexander G. Soros, the son of George Soros, Deputy Chair of the Open Society Foundations and one of the World Economic Forum's Young Global Leaders of 2018, met with Obama on Saturday, the 22nd of September, to officially reintroduce him to the political game with these words later published on Twitter: It was Great to welcome President @BarackObama back into my home this week and introduce him on behalf of the National Democratic Redistricting Committee
The National Democratic Redistricting Committee is another tool of the Deep State whose motto is incredibly enough: The political system is rigged.
This think tank directly controlled by George Soros, and his son focuses on redistricting reform and is, of course, affiliated with the Democratic Party.
The Chair President of this umbrella organization is former Attorney General Eric Holder, but in reality, the real leader of this new organization set up by the New World Order to forcibly overthrow Donald J. Trump is former President Barack Obama, who said he would be involved with this committee, and maintained his promise on Saturday.
 Alexander and his father are working hard to help Democrats to regain a strong foothold and take back control of the House in the Midterm elections. They devised a central command for Soros' political operation where he can direct Obama and the rest of the Democrats in their political campaign to oppose Trump. This is the real role of the National Democratic Redistricting Committee; to build a shadow government with Obama as leader to relaunch a dying political party, like the Democrats.
Of course, Michele Obama was in Las Vegas yesterday, where the former first lady held, in fact, a campaign-style rally Sunday in Las Vegas to urge Nevadans to register to vote, warning that sitting out means someone else will make decisions for them.
Both Alexander and George Soros are working simultaneously to close down all voices of dissent on the internet like Infowars, and relaunching their number one puppet Barack Obama. The photos of the meeting and the Tweet's written by Alexander Soros on his official account on the 22nd of September are indeed very revealing.
This is a complete farse not a democratic process and the Soros' are criminals, don't let them steal the US Midterm elections!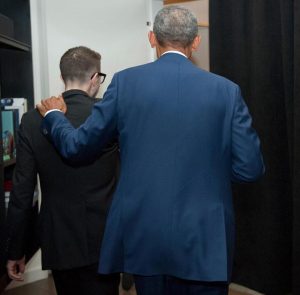 Leo Zagami is a regular contributor to Infowars and the author of the new book Confessions of an Illuminati Volume 5: The Decline of the West and the Rise of Satanism in our Society 
OUT NOW ON KINDLE: https://www.amazon.com/dp/B07BQVQ9ZM/ref=tsm_1_fb_lk
And on paperback : https://www.amazon.com/dp/1986894657/ref=sr_1_8?ie=UTF8&qid=1522233257&sr=8-8&keywords=leo+zagami