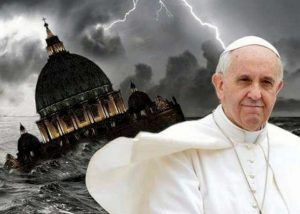 Article by Leo Zagami
While the Vatican is still reeling from the 11-page report by Archbishop Carlo Maria Viganò on the conniving silence of Pope Francis, it is hit with another bombshell.
The Italian newspaper, Il Fatto Quotidiano, reported two days ago, on the existence of another dossier on Cardinal Kevin Joseph Farrell, supplied by, "qualified sources close to the Congregation for the Doctrine of the Faith".
Cardinal Kevin Farrell, head of the Vatican's family and laity office, was ordained by McCarrick to the episcopacy in 2001, and Farrell served as auxiliary Bishop to McCarrick in Washington DC through 2006, before Farrell was transferred to Dallas. In those years, Farrel also shared an apartment with McCarrick.
Farrell has published a video responseto avoid being associated with his pervert friend's activities, but it remains unclear whether Farrell is actually saying he knew nothing about the abuse of the teenage boy, or whether he knew nothing about the homosexual harassment of adults.
The report mentioned by the Italian newspaper seems to directly link Pope Francis with both  McCarrick and Farrel. "The two are part of hismagic inner circle" states Il Fatto Quotidiano.
It is not clear when this investigation on Farrel by the ex-Inquisition, now known as the Congregation for the Doctrine of the Faith, actually took place, but Vatican expert Roberto De Mattei questions the strange relationship between the two prelates.

Leo Zagami is a regular contributor to Infowars and the author of the new book Confessions of an Illuminati Volume 5: The Decline of the West and the Rise of Satanism in our Society 
OUT NOW ON KINDLE: https://www.amazon.com/dp/B07BQVQ9ZM/ref=tsm_1_fb_lk
And on paperback : https://www.amazon.com/dp/1986894657/ref=sr_1_8?ie=UTF8&qid=1522233257&sr=8-8&keywords=leo+zagami