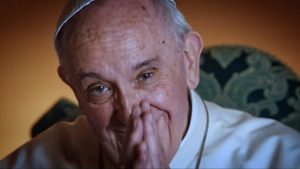 Article by Leo Lyon Zagami
Pope Francis' first mass in the Church of Santa Marta (St. Mary Major),
after the summer break of 2018, could have been an opportunity to speak out about the recent controversies surrounding Archbishop Viganò's dossier. Instead, the Pope compared his own struggles to those of Jesus, stating during his homily, that the angry crowd shouted, instead of using reason, and Jesus' response was to remain silent, just as he wishes to remain silent in front of the growing criticism that has followed Viganò's 11-page letter.
Pope Francis eagerly proclaimed, "There are those who seek division and destruction, even within the family. Truth is humble and silent."
Covering up for a bunch of pedophiles and Satanists operating at the highest levels of the Catholic Church is a crime, and Jesus never protected pedophiles during his mission on Earth, such a comparison is in itself an act of heresy by the Jesuit Pope.
The solution for all the problems of the Church can't be silenced in front of such horrible crimes committed by his clergy, and the needs of the thousands of victims must be prioritized. According to a Vatican News report on the homily, Pope Francis said that it was with his silence that Jesus defeated the "wild dogs",the devil, who "had sown lies in the hearts".
Calling those who cause "scandal" and "divisions", the "wild dogs", who seek war and not peace , when people like Viganò are only trying to save the Church, and not properly addressing the extensive cover-up of the sex abuse crimes of  his clergy,  is a situation that can't be tolerated any longer by most of the Faithful who are backing Viganò's accusations.
While the Pope's media are to busy discrediting the former nuncio to the USA, scandals erupt daily in the Catholic Church. Today, for example, Father Federico De Bianchi, Parish priest in the province of Treviso in Italy, is being investigated for sexual violence on 4 patients from the hospitals of Conegliano and Vittorio Veneto, where he worked as a Chaplain. In the meantime, in the US,Archbishop of Washington, Cardinal Donald Wuerl, while addressing the Catholic Church's clergy sexual abuse scandal, was opposed by one Catholic who yelled 'Shame on you!' while another turned her back on Wuerl, in protest.
We are too smart to fall for the Jesuit Pope's diversion methods, the only response we should be hearing from the Pope right now is his resignation.

Leo Zagami is a regular contributor to Infowars and the author of the new book Confessions of an Illuminati Volume 5: The Decline of the West and the Rise of Satanism in our Society 
OUT NOW ON KINDLE: https://www.amazon.com/dp/B07BQVQ9ZM/ref=tsm_1_fb_lk
And on paperback : https://www.amazon.com/dp/1986894657/ref=sr_1_8?ie=UTF8&qid=1522233257&sr=8-8&keywords=leo+zagami