Article by Leo Lyon Zagami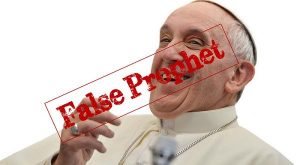 "Rome will lose the faith and will become the seat of Antichrist." – Our Lady of La Salette, September 19, 1846.
In my latest book, The Decline of the Western Initiatic System and the rise of Satanism in our society I wrote: 'The values of Pope Francis, which include tolerance for pedophilia, are the values of the late Roman Empire before its demise." In the same chapter I explained that: "One faction, closer to Pope Francis, and the Gay lobby, wants a more liberal Church, ready to embrace homosexuality for priests, and an open support for Islam and the upcoming One World Religion, that will gradually push for the acceptance of pedophilia."
November 2, 2017 LifeSiteNews reports that Father Thomas Weinandy a leading scholar in the Roman Catholic Church, pointed out something I wrote years ago in my book, Pope Francis: The Last Pope? He claims that God appeared to him in a vision, to warn him about Pope Francis being a "false prophet". Father Thomas Weinandy is the former doctrine chief of the U.S. Conference of Catholic Bishops (USCCB), after losing his job for writing a harsh letter of criticism to Pope Francis in which he said his papacy is marked by "chronic confusion," the diminishment of doctrine, and a culture of fear.
In 2013, Pope Francis awarded Fr. Weinandy one of the highest honors in the Catholic Church, the Pro Pontifice et Ecclesiae medal. However, Father Thomas Weinandy was truly illuminated by God during his recent stay in Rome in May 2017.  
These are the shocking words of Father Thomas Weinandy, who describes the miraculous events that inspired him to write this letter to Pope Francis, sent in late October 2017, to Robert Royal, Catholic author and the president of the Faith & Reason Institute based in Washington, D.C.:
Last May I was in Rome for an International Theological Commission meeting. I was staying at Domus Sanctae Marthae, and since I arrived early, I spent most of the Sunday afternoon prior to the meeting on Monday in Saint Peter's praying in the Eucharistic Chapel. I was praying about the present state of the Church and the anxieties I had about the present Pontificate. I was beseeching Jesus and Mary, St. Peter and all of the saintly popes who are buried there to do something to rectify the confusion and turmoil within the Church today, a chaos and an uncertainty that I felt Pope Francis had himself caused. I was also pondering whether or not I should write and publish something expressing my concerns and anxiety. On the following Wednesday afternoon, at the conclusion of my meeting, I went again to St. Peter's and prayed in the same manner. That night I could not get to sleep, which is very unusual for me. It was due to all that was on my mind pertaining to the Church and Pope Francis. At 1:15 AM I got up and went outside for short time. When I went back to my room, I said to the Lord: "If you want me to write something, you have to give me a clear sign. This is what the sign must be. Tomorrow morning I am going to Saint Mary Major's to pray and then I am going to Saint John Lateran. After that I am coming back to Saint Peter's to have lunch with a seminary friend of mine. During that interval, I must meet someone that I know but have not seen in a very long time and would never expect to see in Rome at this time. That person cannot be from the United States, Canada or Great Britain. Moreover, that person has to say to me in the course of our conversation, 'Keep up the good writing'."
The next morning I did all of the above and by the time I met my seminarian friend for lunch what I had asked the Lord the following night was no longer in the forefront of my mind. However, towards the end of the meal an archbishop appeared between two parked cars right in front of our table (we were sitting outside). I had not seen him for over twenty years, long before he became an archbishop. We recognized one another immediately. What made his appearance even more unusual was that, because of his recent personal circumstances, I would never have expected to see him in Rome or anywhere else, other than in his own archdiocese. (He was from none of the above mentioned countries.) We spoke about his coming to Rome and caught up on what we were doing. I then introduced him to my seminarian friend. He said to my friend that we had met a long time ago and that he had, at that time, just finished reading my book on the immutability of God and the Incarnation. He told my friend that it was an excellent book, that it helped him sort out the issue, and that my friend should read the book. Then he turned to me and said: "Keep up the good writing."
I could hardly believe that this just happened in a matter of a few minutes. But there was no longer any doubt in my mind that Jesus wanted me to write something. I also think it significant that it was an Archbishop that Jesus used. I considered it an apostolic mandate. So giving it considerable thought and after writing many drafts, I decided to write Pope Francis directly about my concerns. However, I always intended to make it public since I felt many of my concerns were the same concerns that others had, especially among the laity, and so I publicly wanted to give voice to their concerns as well.
[Read Fr. Weinandy's letter here.]
 
Leo Lyon Zagami is the author of Pope Francis: The Last Pope?: Money, Masons and Occultism in the Decline of the Catholic Church
https://www.amazon.it/Pope-Francis-Occultism-Decline-Catholic/dp/1888729546
 and The Decline of the Western Initiatic System and the Rise of Satanism in our society 
Paperback available now on Amazon:
Also available
 for Kindle books: