Donation in support of Leo's work through Fundly: https://fundly.com/leo-lyon-zagami-channel or cashapp/$leozagami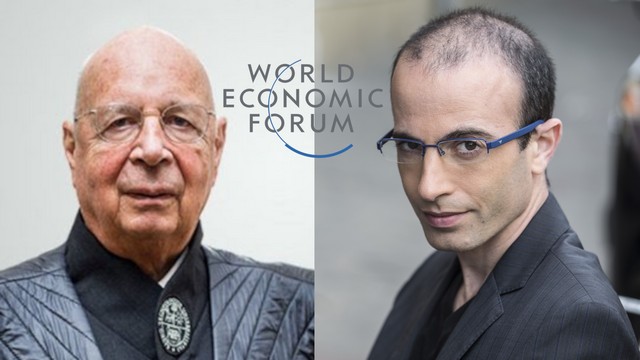 Article by Leo Zagami
One of the protagonists of my latest book, Confessions of an Illuminati Volume 7: From the Occult Roots of the Great Reset to the Populist Roots of The Great Reject, Yuval Noah Harari, top advisor of Klaus Schwab's World Economic Forum explained in a recent conference that in the future it will be algorithmic data collected by implantable/ wearable biosensors that will decide if you're gay or not.
This shocking statement made by Harari sadly reflects the current Satanic beliefs of both the World Economic Forum and Yuval Noah Harari, who has been exposed in my book as one of the leading figures of Israel's current Sabbatean-Frankist elite, that continue to follow the "Do what you want, and you will be saved" ideology, that was also picked up and popularized by the self-styled Illuminati "Beast" Aleister Crowley in his "Do What Thou Wilt" Thelemic belief system.
The nihilist religion of Frankism followed by Yuval Noah Harari preaches "redemption through sin." This sick doctrine of "the sacred sin" practiced by most Illuminati today demands to annihilate moral religion or any other ethical belief system and that's what Harari is doing, and in the process facilitating the rise of the ever-so-present Artificial Intelligence, aka Cyber Satan with his transhumanist extremism.
But as Rabbi Tzadok, who has been a world-renown expert of the authentic, Biblical "Secrets of the Torah" teachings for years writes in Protection From Evil:
The malevolent forces of this world have true and dangerous powers. Yet, the Source, the Creator, God Himself has a much greater immeasurable power. When we cling to the source, we have no need to fear any of the branches.
So don't fear the evil of the Sabbatean Frankist Mafia as they use technology to impose their blasphemy on mankind.
I'm not a big fan of Harari, the Davos darling and author of Sapiens: A Brief History of Humankind, Homo Deus, and most recently 21 Lessons for the 21st Century. His writings are under-analyzed, hyperbolic, ideological, and usually somewhere between trivially true and demonstrably false, but the elite of the New World Order promotes it as true and we need to stop them.
GET A COPY OF LEO ZAGAMI'S LATEST BOOK Confessions of an Illuminati Volume 7: From the Occult Roots of the Great Reset to the Populist Roots of The Great Reject OUT NOW!
PLEASE SUPPORT LEO'S WORK BY BUYING HIS LATEST BOOKS!!!
Leo Zagami is a regular contributor to Infowars and the author of the groundbreaking book Confessions of an Illuminati Vol. 6.66 The Age of Cyber Satan, Artificial Intelligence, and Robotics
Confessions of an Illuminati Volume 5: The Decline of the West and the Rise of Satanism in our Society with a brand new chapter on the CCP virus and The End Times.
And get also Confessions of an Illuminati Vol. 4, American Renaissance 2.0 and The Missing Link From the Invisible World.