Please help keep this website going by making a small donation in support of Leo's work through Fundly: https://fundly.com/leo-lyon-zagami-channel
Article by Leo Zagami
While the unvaccinated are now banned from shops and every other area of society besides essential services in Germany following the Austrian trend, that will soon bring them to the mandatory vaccination for all by February,[1] something even more sinister is going on behind the scenes of the country that once brought us the authoritarian monstrosities of Nazism.
Dr. Andreas Noack, who made the news last year in November 2020, in the middle of the pandemic, when he was arrested by the German police while he was recording a live video against the Covid lockdown frenzy[2], is now dead. Dr. Andreas Noack was allegedly murdered on November 26, 2021, five days after he made a video exposing the negative side effects of graphene oxide which he and other academics claimed can be found inside the vaccines, and after inviting the German population to write to the new German chancellor about his discoveries, reminding them about the dangers of following Austria after what happened with Austrian born Adolf Hitler.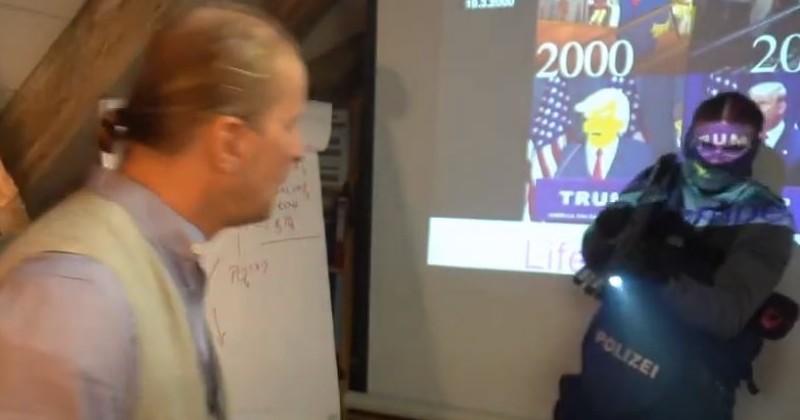 Currently, Pfizer and Moderna have told Reuters on more than one occasion in the last few months that graphene oxide is not present in any part of the COVID-19 mRNA vaccines,[3] however, Dr. Andreas Noack, who was following the latest research of Pablo Campra who is a known teacher and a researcher who currently works at the Food Technology Division of the Department of Agronomy, University de Almeria (Spain), thought otherwise.
This is a short summary of Pablo Campra's research on the subject that got Dr. Andreas Noack in trouble with the German authorities who then allegedly killed him.
"We present here our research on the presence of graphene in covid vaccines. We have carried out a random screening of graphene-like nanoparticles visible at the optical microscopy in seven random samples of vials from four different trademarks, coupling images with their spectral signatures of RAMAN vibration. By this technique, called micro-RAMAN, we have been able to determine the presence of graphene in some of these samples, after screening more than 110 objects selected for their graphene-like appearance under optical microscopy. Out of them, a group of 28 objects hasbeen selected, due to the compatibility of both images and spectra with the presence of graphene derivatives, based on the correspondence of these signals with those obtained from standards and scientific literature. The identification of graphene oxide structures can be regarded as conclusive in 8 of them, due to the high spectral correlation with the standard. In the remaining 20 objects, images coupled with Raman signals show a very high level of compatibility with undetermined graphene structures, different than the standard used here. This research remains open and is made available to the scientific community for discussion. We make a call for independent researchers, with no conflict of interest or coaction from any institution to make a wider counter-analysis of these products to achieve a more detailed knowledge of the composition and potential health risk of these experimental drugs, reminding that graphene materials have potential toxicity on human beings and its presence has not been declared in any emergency use authorization. We leave a link to download this report at the end of this video."[4]
A few hours after the video in question fueled with the shocking research of Pablo Campra was translated from German into English, the doctor was visited by the German police and apparently murdered during a rather brutal interrogation. His wife, who is currently pregnant with his child, made a video to announce the terrible event saying amongst other things:
"The assault was extremely sneaky and unexpected. I have a terrible job to tell you that sadly, Andreas did not survive the assault. The news is extremely shocking for all of us. But Andreas is in me and I am a part of him. We are one."
She also stated that now it is all about humanity and, "He did it for you. He died for you. He was not afraid of death, he accepted the possibility. It's horrible that it had to happen this way. It wasn't the plan for him to leave us this quickly."
She ended the video by stating "I need you guys. I can't do it alone."
Please circulate this article made in memory of Dr. Andreas Noack another martyr in the fight against the New World Order.
---
[1] https://www.politico.eu/article/scholz-wants-mandatory-vaccination-for-germans-by-february/
[2] https://www.youtube.com/watch?v=IALPF8-APqM
[3] https://www.reuters.com/article/factcheck-graphene-lipidvaccines-idUSL1N2PI2XH
[4] https://www.researchgate.net/publication/355979001_DETECTION_OF_GRAPHENE_IN_COVID19_VACCINES
Confessions of an Illuminati Volume 5: The Decline of the West and the Rise of Satanism in our Society with a brand new chapter on the CCP virus and The End Times.
And get also Leo's latest book: Confessions of an Illuminati Vol. 4, American Renaissance 2.0 and The Missing Link From the Invisible World.
PLEASE SUPPORT LEO'S WORK BY BUYING HIS LATEST BOOKS!!!
Leo Zagami is a regular contributor to Infowars and the author of the groundbreakingbook Confessions of an Illuminati Vol. 6.66 The Age of Cyber Satan, Artificial Intelligence, and Robotics