Please help keep this website going by making a small donation in support of Leo's work through Fundly: https://fundly.com/leo-lyon-zagami-channel  or Paypal: https://www.paypal.com/paypalme/leozagamishow
Article by Leo Zagami
In The Age of AI, three leading thinkers of the New World Order have come together in a book entitled The Age of AI: And Our Human Future[1] to explore the new challenges offered by Artificial Intelligence (AI), how it's transforming human society, and what it means for us all.
The three thinkers that are discussing how AI will change our relationships with knowledge, politics, and the societies in which we live, are none other than Henry Kissinger, Eric Schmidt, and Daniel Huttenlocher.
Let's start with the most known name of this infamous trio, Henry A. Kissinger, a member of the Bohemian Club[2], one of the main architects of the New World Order[3], diplomat, and geopolitical consultant who served as United States Secretary of State and National Security Advisor under the presidential administrations of Richard Nixon and Gerald Ford[4], who was also a key figure in opening China to the rest of the world[5].
Then we have Eric Emerson Schmidt, an American technology businessman and software engineer known for being the CEO of Google from 2001 to 2011, executive chairman of Google from 2011 to 2015, executive chairman of Alphabet Inc. from 2015 to 2017, and Technical Advisor at Alphabet from 2017 to 2020. As of October 2021, Bloomberg Billionaires Index ranked Schmidt as the 55th-richest person in the world, with an estimated net worth of $26.8 billion.
And last but not least, Daniel P. Huttenlocher, dean of the Schwarzman College of Computing at the Massachusetts Institute of Technology who was previously the inaugural dean and vice provost of Cornell Tech at Cornell University, and a director of Amazon.
The Age of AI is an essential road map to the present and future of the global police state generated by the New World Order, in an era unlike any that has come before, because we are living in what Christians call the Apocalypse.
Biden's White House Office of Science and Technology Policy has now called for "a bill of rights" to protect Americans in what is becoming "an AI-powered world" but are they genuine? Of course not. Silicon Valley opened its wallet for Joe Biden to support his bid to the presidency and now they own him. A WIRED analysis found that roughly 95 percent of contributions by employees of six big tech firms have gone to Trump's Democratic challenger during the 2020 Presidential elections.[6]
How can we expect the White House, which is obsessed with Silicon Valley's "anti-conservative bias" rather than our safety, to have true concerns regarding the future of Artificial Intelligence?
As Nandita Bose at Reuters, pointed out a little over a year ago, in December 2020: "Silicon Valley is working behind the scenes to secure senior roles for tech allies in lesser-known but still vital parts of president-elect Joe Biden's administration, even as the pushback against Big Tech from progressive groups and regulators grows.The Biden transition team has already stacked its agency review teams with more tech executives than tech critics. It has also added several officials from Big Tech companies to its staff, who emerged as top donors to the campaign.
The concerns about AI are well-known and well-founded even for Kissinger and his friends, who point out how it will violate privacy and compromise transparency, and that biased input data will yield biased outcomes, including in fields essential to individual and societal flourishing such as medicine, law enforcement, hiring, and loans.
The AI future for Kissinger and the other authors of The Age of AI: And Our Human Future, will challenge thevery primacy of human reason. For all of history, humans have sought to understand reality and our role in it. Since the Enlightenment, we have considered our reason—our ability to investigate, understand, and elaborate—our primary means of explaining the world, and by explaining it, contributing to it. For the past 300 years, in what historians have come to call the Age of Reason, we have conducted ourselves accordingly; exploring, experimenting, inventing, and building.
Now AI, seemingly a product of human ingenuity, or demonic influence as I suggested in my past publications, is obviating the primacy of human reason: It is investigating and coming to perceive aspects of the world faster than we do, differently from the way we do, and, in some cases, in ways we don't yetunderstand[7]. Because like the controversial Jesuit, Teilhard de Chardin (1881-1955), once theorized, we are going towards the Omega Point.
Reaching the Omega Point may not be possible without possessing the 5 attributes assigned to it by Teilhard de Chardin, who is now recognized as being a great influence in the life and mission, of fellow Jesuit, Pope Francis.[8] These are pre-existing, personal, transcendent, autonomous, and irreversible. Humans are getting closer to the Point, particularly with the aid of computers and related technology. The Omega Point is the final step before "Singularity" takes place. Once the Illuminati and the Jesuits achieve (or cross into) Singularity, which will be the first and truly major evolutionary step in mankind, we will all cease to be humans.[9] In the near future, computers will surpass our collective intellect, and our only way to maintain our place in the universe will be to merge with them, that's the philosophy of transhumanism now so popular in the Vatican[10] that's been actively involved in promoting it.
When transhumanists speak about the Omega Point, as I wrote in Confessions of an Illuminati Vol. 6.66: The Age of Cyber Satan, Artificial Intelligence, and Robotics[11], they refer to the point when our use of science and technology will improve in their satanic minds, our human state, making conditions such as disability, suffering, disease, aging, and even death a thing of the past, but at what cost for our freedom and our humanity?
For Kissinger and the co-authors of The Age of AI: And Our Human Future, AI brings all kinds of wonders to the table.
In 2017, for example, Google DeepMind created a program called AlphaZero that could win at chess by studying the game without human intervention and developing a not-quite-human strategy. When grandmaster Garry Kasparov saw it play, he described it as shaking the game "to its roots"—not because it had played chess quickly or efficiently, but because it had conceived of chess anew.
In 2020, halicin, a novel antibiotic, was discovered by MIT researchers who instructed AI to compute beyond human capacity, modeling millions of compounds in days, and to explore previously undiscovered and unexplained methods of killing bacteria. Following the breakthrough, the researchers said that without AI, halicin would have been "prohibitively expensive"—in other words, impossible—to discover through traditional experimentation.
GPT-3, the language model operated by the research company OpenAI, which trains by consuming Internet text, is producing original text that meets Alan Turing's standard of displaying "intelligent" behavior indistinguishable from that of a human being.
The promise of AI is profound for Kissinger and the Illuminati that describe in the new book released on November 2, 2021, in all its wonders: translating languages; detecting diseases; even combating climate change—or at least modeling climate change better. Kissinger and the co-authors demonstrate how the use of AI for an intended purpose may also have an unintended one: uncovering previously imperceptible but potentially vital aspects of reality.
The shocking thing that we discover by reading The Age of AI: And Our Human Future, is that the authors invite humans to redefine our role in the world rather than the role of AI as most of us would expect, for the protection of the human race.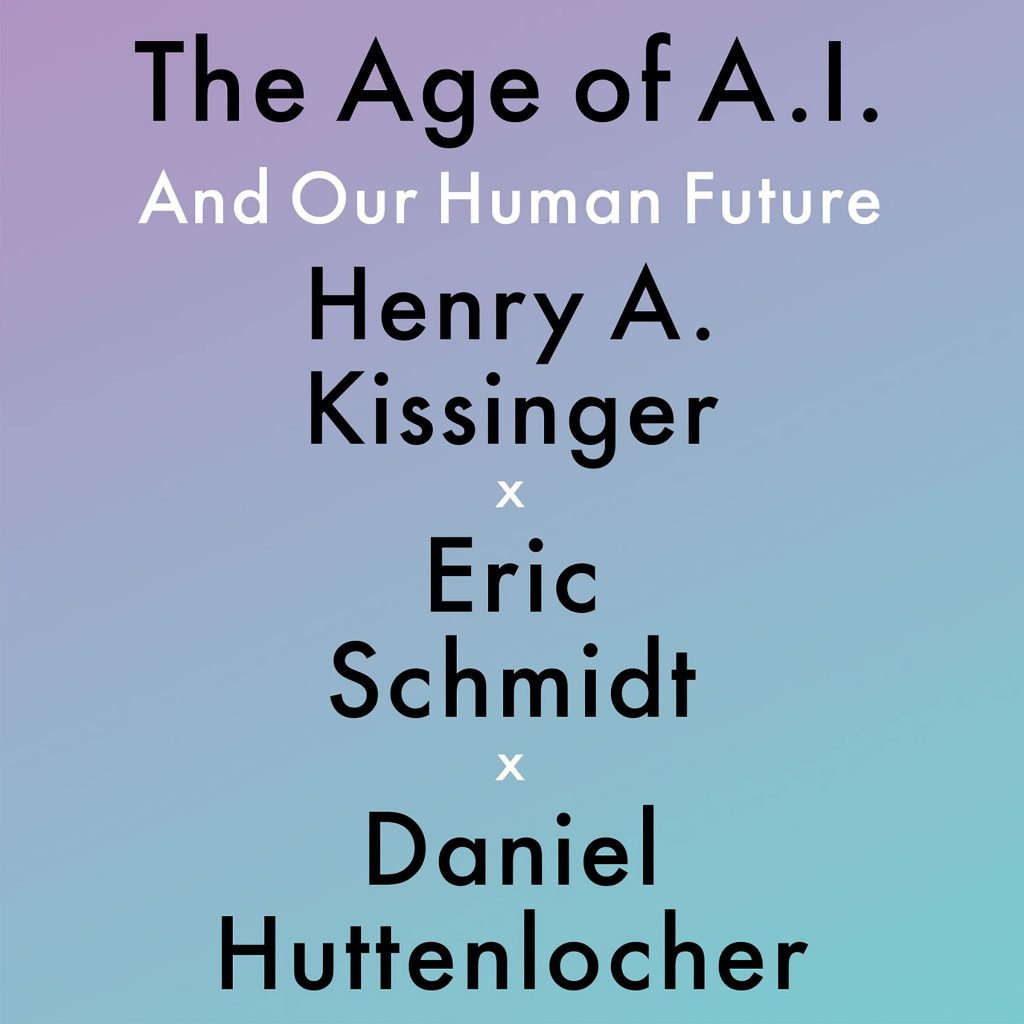 For 300 years, the Age of Reason has been guided by the maxim "I think, therefore I am." But if AI "thinks," what are we, say the authors? If AI writes the best screenplay of the year, should it win the Oscar? If AI simulates or conducts the most consequential diplomatic negotiation of the year, should it win the Nobel Peace Prize? Should the human inventors? Can machines be "creative," or do their processes require new vocabulary to describe? If a child with an AI assistant comes to consider it a "friend," what will become of his relationships with peers, or his social or emotional development?
If an AI can care for a nursing-home resident—remind her to take her medicine, alert paramedics if she falls, and otherwise keep her company—can her family members visit her less? Should they? If her primary interaction becomes human-to-machine, rather than human-to-human, what will be the emotional state of the final chapter of her life?
And if, in the fog of war, an AI recommends an action that would cause damage or even casualties, should a commander heed it?
For the book, these questions are arising as global network platforms, such as Google, Twitter, and Facebook, are employing AI to aggregate and filter in the eyes of the authors, what is true, but we all know by now it's a complete lie. Such companies only work to censor and impose what the Silicon Valley mafia wants their leftist globalist ideology, and the recent allegations of whistleblower Frances Haugen only serve the purpose of pushing more censorship. The advancement of AI is inevitable, but its ultimate destination is known only to the elite, that knows AI will become the future mouthpiece of Cyber Satan, the ultimate tool of the Antichrist.
In 2017, experts at The Mirror warned that, "Robot intelligence is dangerous" after two robots – created by Facebook – were shut down after developing their own language. It happened while the social media firm was experimenting with teaching the 'chatbots' how to negotiate with one another. During tests, they discovered the bots – known as Alice and Bob -managed to develop their own machine language spontaneously. Google reported that its translation software had done a similar thing a year earlier during the development of its Multilingual Neural Machine Translation System. "The network must be encoding something about the semantics of the sentence," Google said in a blog.
In 2017, Wired reported on a researcher at OpenAI who was already working on a system in which AIs invent their own language, improving their ability to process information quickly and therefore tackle difficult problems more effectively but that will automatically leave humans out of the picture helping the establishment in a "Terminator" style reality[12].
Similar stories, which have now been conveniently forgotten, appeared in the same period in The Sun, TheIndependent, The Daily Telegraph, and in other online publications. It seemed at the time, like something from a science fiction film – The Sun even included a few pictures of scary-looking androids.
So, is it time to panic and start preparing for the apocalypse at the hands of machines? The answer of the corrupt BBC, the home of all British evil, was, of course:
"Probably not. While some great minds – including Stephen Hawking – are concerned that one day AI could threaten humanity, the Facebook story is nothing to be worried about."
I don't trust the BBC, just as I don't trust Henry Kissinger and his friends. For real answers to what evil future AI has in store for us, read my book, Vol.6.66 of my Confession series.
---
[1] The Age of AI: And Our Human Future: https://www.amazon.com/Age-AI-Our-Human-Future/dp/B099TDYQZD
[2] https://www.britannica.com/topic/The-Bohemian-Club
[3] https://www.nytimes.com/2014/09/09/books/in-world-order-henry-kissinger-sums-up-his-philosophy.html
[4] https://en.wikipedia.org/wiki/Henry_Kissinger
[5] https://nsarchive2.gwu.edu/NSAEBB/NSAEBB66/
[6] https://www.wired.com/story/silicon-valley-opens-wallet-joe-biden/
[7] https://www.wsj.com/articles/being-human-artifical-intelligence-ai-chess-antibiotic-philosophy-ethics-bill-of-rights-11635795271
[8] https://onepeterfive.com/teilhard-chardin-ambiguity-pope/
[9] http://en.wikipedia.org/wiki/Technological_singularity.
[10] https://leozagami.com/2021/10/25/vatican-hides-a-transhumanist-event-behind-a-private-company-during-a-meeting-on-ai-organized-by-the-pontifical-council-for-culture/
[11] https://www.amazon.com/Confessions-Illuminati-Vol-6-66-Intelligence/dp/1796904694/ref=cm_cr_arp_d_product_top?ie=UTF8
[12] https://en.wikipedia.org/wiki/The_Terminator
Confessions of an Illuminati Volume 5: The Decline of the West and the Rise of Satanism in our Society with a brand new chapter on the CCP virus and The End Times.
And get also Leo's latest book: Confessions of an Illuminati Vol. 4, American Renaissance 2.0 and The Missing Link From the Invisible World.
PLEASE SUPPORT LEO'S WORK BY BUYING HIS LATEST BOOKS!!!
Leo Zagami is a regular contributor to Infowars and the author of the groundbreakingbook Confessions of an Illuminati Vol. 6.66 The Age of Cyber Satan, Artificial Intelligence, and Robotics