Please help keep this website going by making a small donation in support of Leo's work through Fundly: https://fundly.com/leo-lyon-zagami-channel or Paypal:https://www.paypal.com/paypalme/leozagamishow
Article by Leo Zagami
BBC journalist Nicholas Watt was chased by angry anti-lockdown protesters in London on June 15, after a crowd had gathered to protest the extension of coronavirus restrictions for an additional four weeks. Watt ran away from the protestors and returned to the safety of Downing Street. The UK Prime Minister Boris Johnson condemned the incident and called it, "disgraceful," but since then, the situation has worsened.
People are fed up with the never-ending coronavirus lockdown restrictions and the constant disinformation given by the mainstream media, and in London today they attacked the BBC headquarters.
A group of angry protesters attempted to invade the BBC central office in West London, forcing a massive metropolitan police intervention to contain the anti-lockdown protesters who had every intention of breaking through the entrance and occupying the headquarters of the British broadcaster.
The protest was organized by, Official Voice, which, on its Instagram page, justified the action, accusing the British national media of divulging false information about Covid-19.
The story is still unfolding, and I will bring you any updates on this article if something happens in the coming hours.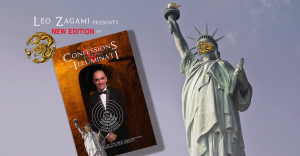 Get Leo's New Edition of Confessions of an Illuminati Volume 5: The Decline of the West and the Rise of Satanism in our Society with a brand new chapter on the CCP virus and The End Times.
You can find it now on Amazon in both paperback:
And Kindle format:
And get also Leo's latest book: Confessions of an Illuminati Vol. 4, American Renaissance 2.0 and The Missing Link From the Invisible World.
You can find it now on Amazon in both paperback:
And Kindle format:
PLEASE SUPPORT LEO'S WORK BY BUYING HIS LATEST BOOKS!!!
Leo Zagami is a regular contributor to Infowars and the author of the groundbreakingbook Confessions of an Illuminati Vol. 6.66 The Age of Cyber Satan, Artificial Intelligence, and Robotics
OUT NOW ON KINDLE:
And on paperback :