Article by Leo Zagami
Please help keep this website going by making a small donation in support of Leo's work through Fundly: https://fundly.com/leo-lyon-zagami-channel or Patreon: https://www.patreon.com/leozagami
Last summer, Pope Francis said that the potential coronavirus vaccine should be made available to all. Now, in an interview scheduled to air this weekend on Berlusconi's TV Canale 5, Pope Francis said that "everyone" must take the COVID-19 vaccine.
"I believe that, ethically, everyone should take the vaccine," he said, according to a transcript released in advance of the airing of the interview.
The Jesuit Pope added that he would be taking the vaccine himself, and that the Vatican will start administering it to its citizens "next week," remarking that "it must be done."Francis did not specify the exact timing of his inoculation, but Francis' plan sends a significant pro-vaccine signal to the world's 1.3 billion Catholics duped into this dangerous choice.
The Pope's vaccine news was released simultaneously with the news that Britain's Queen Elizabeth II, 94, and her husband Prince Philip, 99, received vaccines against coronavirus, officials from Buckingham Palace said Saturday.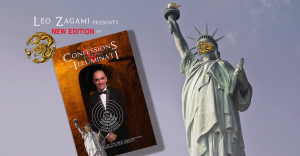 Get Leo's New Edition of Confessions of an Illuminati Volume 5: The Decline of the West and the Rise of Satanism in our Society with a brand new chapter on the CCP virus and The End Times.
You can find it now on Amazon in both paperback:
And Kindle format:
And get also Leo's latest book: Confessions of an Illuminati Vol. 4, American Renaissance 2.0 and The Missing Link From the Invisible World.
You can find it now on Amazon in both paperback:
And Kindle format:
PLEASE SUPPORT LEO'S WORK BY BUYING HIS LATEST BOOKS!!!
Leo Zagami is a regular contributor to Infowars and the author of the groundbreakingbook Confessions of an Illuminati Vol. 6.66 The Age of Cyber Satan, Artificial Intelligence, and Robotics
OUT NOW ON KINDLE:
And on paperback :