Please help keep this website going by making a small donation in support of Leo's work through Fundly: https://fundly.com/leo-lyon-zagami-channel  or Patreon: https://www.patreon.com/leozagami
Article by Leo Zagami
While Democrats demand more censorship from Big Tech bosses, the Leo Lyon Zagami Channel on Youtube was permanently blocked with no reason given, after 3 other Zagami channels have been closed down in the month prior to the elections. We are on the verge of disappearing from Youtube. But Democrats on the Senate Judiciary Committee are not happy and want more censorship, as they spent Tuesday's hearing chiding the CEO's of Facebook and Twitter for not stepping up their censorship efforts — despite the frequent censorship of convervatives like myself and Twitter's unprecedented gagging of The New York Post's account for two weeks, and, of course, the frequent masking of President Trump's tweets. Jack Dorsey and Facebook's Mark Zuckerberg are accused of censoring conservatives and they lie and say they are fair about their services, but their actions speak more than their empty words. In the last few weeks, I was personally locked out of my Twitter account and I am no longer able to stream my content on Facebook or share my articles on my groups and my pages that have been given a number of restrictions.
At the hearing in question, Senator Hawley outlined the use of Tasks, a tool Facebook uses to improve the workflow of Facebook employees, but it is also used by Facebook employees to collaborate with Google and Twitter in censoring users across platforms, and a second tool called Centra, to track users even when they think they are anonymous. Senator Hawley also questioned the two CEOs on whether Facebook used the Tasks platform to coordinate their censorship of users, questioning Zuckerberg on how many FB accounts in the U.S. have been subject to a shutdown through Centra, whether Facebook makes a record of instances in which employees access users' private data without their consent, and whether doing so triggers an audit. The answers were vague and full of half truths and lies.
In the meantime, the "Great Reset" mastermind Klaus Schwab who has been suggesting for a number of years Draconian measures for controlling the population under the umbrella of the '4th Industrial Revolution', including risk-assessment brain scans to cross borders and implantable chips to read people's thoughts is gaining momentum. World Economic Forum founder Schwab has repeatedly emphasized how technocrats need to take advantage of the coronavirus pandemic to implement "The Great Reset," a sentiment that was echoed by libtard star Canadian Prime Minister Justin Trudeau during a recent United Nations video conference. Recently, the United Nations had some big announcements for the New World and their digital take-over that went largely unnoticed by the mainstream media, that included the rollout of a biometric digital wallet and an announcement that one of its specialized agencies, The International Civil Aviation Organization is one step closer to a internationally recognized digital travel credential.
We must survive this crazy Orwellian world and I can't help but raise certain questions, for example, what kind of social controls could this possibly provide the technocrats if people decide to not obey certain restrictions or requirements? Example: If you didn't get your latest shot, individuals may face travel restrictions. Or, you may not be able go to work, or your payments may be frozen until you comply to their version of reality.  And how can we still give you our version of worldwide events here at leozagami.com if Youtube, Facebook, and Twitter continues to censor us on a daily basis? Working as an independent journalist and author in these troubling times full of censorship has become increasingly difficult even if new platforms and services are being created like Gab or Parler. At leozagami.com we will continue our mission to provide you with all the latest cutting edge news on the Vatican-led New World Order, but we are having problems providing you with THE LEO ZAGAMI SHOW due to the increased censorship on Youtube, so really we need you to be retroactive and subscribe to our new emergency channels:
Christy Zagami                                   https://www.youtube.com/channel/UCla0odLk0m7iQNmhjzDqc4A?view_as=subscriber
TOP SECRET LEO ZAGAMI            https://www.youtube.com/channel/UCNaA5nfD4JoqCuIzFb_RRTA
Or please create new Youtube channels every week for THE LEO ZAGAMI SHOW to bypass this new level of censorship, as the Italians did for my Italian Show L'ESULE that is now broadcasting successfully on a number of Youtube channels every day. I need help from my English speaking audience so I can continue to be visible. Time is running out! Some have provided their passwords so we can link our Streaming service to them. Please help us to keep THE LEO ZAGAMI SHOW visible because we WILL disappear soon without your help. Here is our mail: OrdoIlluminatorumUniversalis@gmail.com
Stay tuned at 11am PST  for The Leo Zagami Show. Today we talk about what the future of America will look like with my special guest Sean Stone, actor, film director, producer, cinematographer and screenwriter, who began his career by acting in his father Oliver Stone's movies, such as Wall Street, The Doors, JFK, Natural Born Killers, and Savages, just to name a few.
Check out Sean Stone's latest documentary on the NWO: https://vimeo.com/ondemand/athousandpieces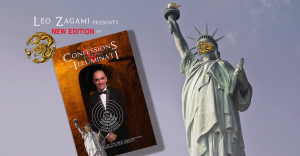 Get Leo's New Edition of Confessions of an Illuminati Volume 5: The Decline of the West and the Rise of Satanism in our Society with a brand new chapter on the CCP virus and The End Times.
You can find it now on Amazon in both paperback:
https://www.amazon.com/Confessions-Illuminati-Decline-Satanism-Society-ebook/dp/B07BQVQ9ZM/ref=sr_1_1?dchild=1&keywords=Confessions+of+an+Illuminati+Volume+5%3A+The+Decline+of+the+West+and+the+Rise+of+Satanism+in+our+Society&qid=1588956850&s=digital-text&sr=1-1
And Kindle format:
https://www.amazon.com/Confessions-Illuminati-Decline-Satanism-Society-ebook/dp/B07BQVQ9ZM?fbclid=IwAR2jxhIWdGeHo-UifXK7X5ka3mknzmaMWysTBVxWzXQEY9S1vSUioabBv3g
And get also Leo's latest book: Confessions of an Illuminati Vol. 4, American Renaissance 2.0 and The Missing Link From the Invisible World.
You can find it now on Amazon in both paperback:
https://www.amazon.com/dp/1679105434/ref=cm_sw_r_fa_awdo_t1_kGIaEbKMF61NP?fbclid=IwAR2ayxAv16FsFMVBDow7CPhdIctj9_X2bEiQjPHbbjyMFfbJtwb88NZW64M
And Kindle format:
https://www.amazon.com/Confessions-Illuminati-Four-Renaissance-Invisible-ebook/dp/B082ZTFTHV?fbclid=IwAR1HcyOk5b0ZAmMSAyyYMCfPGdjbv9obkFD2fozyrvwJ3s6ahWhqL7iECbc
PLEASE SUPPORT LEO'S WORK BY BUYING HIS LATEST BOOKS!!!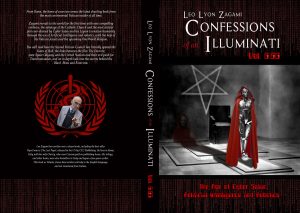 Leo Zagami is a regular contributor to Infowars and the author of the groundbreaking book  Confessions of an Illuminati Vol. 6.66 The Age of Cyber Satan, Artificial Intelligence, and Robotics
OUT NOW ON KINDLE:
https://www.amazon.com/Confessions-Illuminati-6-66-Artificial-Intelligence-ebook/dp/B07NS8WS9V/ref=sr_1_2?s=books&ie=UTF8&qid=1550411820&sr=1-2&keywords=vol.+6.66
And on paperback :
https://www.amazon.com/dp/1796904694/ref=cm_sw_r_fa_awdo_t1_2dvACb2HVH6TP?fbclid=IwAR1h_VlIytuACI3zxXUc9mBfOk96N4Yk0WH3To6Psv2kbFxJLwfzAwV4mUE