Please help keep this website going by making a small donation in support of Leo's work through Fundly: https://fundly.com/leo-lyon-zagami-channel  or Patreon: https://www.patreon.com/leozagami
Article by Leo Zagami
The mainstream media controlled by Soros has been attacking yesterday's visit to St. John's Episcopal Church at Lafayette Square by president Donald J.Trump. Bishop Mariann Edgar Budde of the Episcopal Diocese of Washington said on Monday she is "outraged" after President Donald Trump's visit to her church without advance notice to share "a message antithetical to the teachings of Jesus," should feel a sense of shame for such criticism that we all know is contrary to real Christianity. Her statement makes me think that the teachings of the Catholic Church that still declares that only a male can be ordained to such a position has some valid foundation after all. Especially when you hear such blasphemies from a so-called ordained bishop.
President Donald J. Trump was not in any way antithetical to God or the teachings of Jesus, but a lot of the protesters who gathered outside the White House to protest police were members of Antifa that as I wrote in Confessions of an Illuminati vol.IV is only "another mask for Satanism." I did this by explaining how in the fall of 2019, Chile, one of Latin America's most prosperous and politically stable countries, was rocked by protests and looting. During the protests, several people died, and thousands were injured and arrested. During the protests, the left-wing Antifa-style demonstrators with their usual black bloc attire, unveiled to the world their true Satanic identity, when they destroyed a church and burned statues of Jesus in the street.
In comments that I made to my friends of Church Militant after this gruesome episode, I explained that "Antifa forces" had been "set in motion in Chile by George Soros and friends to push out the center-right president." And of course, I mentioned the connections between Antifa and Satanism, explaining that "We have found that many Antifa chapters overlap those of the Satanic Temple that has the same members in their fold."
On Sunday night during the riots, a fire was set in the nursery of the more than 200-year-old Church of St.John, which is near Lafayette Park and the White House and the president and his team knew exactly what was happening out there and what it really meant. This was in fact the ultimate attack not only on the U.S. presidency but also on Christianity in the United States.  Unfortunately, Rev. Rob Fisher, the rector of St. John's, minimized things and said in an email to the church's congregation the following morning that he"could see no other real damage besides that one room, and quite a bit of graffiti and debris around the exterior of the church. Protestors easily could have done a lot worse to our buildings, but they chose not to do that."
President Trump must have understood the weakness of  St. John's compromised clergy who serve the antichrist and the One World Religion, and decided he would fight back to make it clear once and for all that God is still in control of the greatest country in the world, the United States of America. Lets always remember that congress inserted Under God in the Pledge of Allegiance in 1954 in order to combat the rise of atheistic communism and reaffirm that "America was 'founded on a belief in God.'" That's why Antifa and the left-wing attacked St. John's that is popularly nicknamed the "Church of the Presidents." Trump did not desecrate the character of St. John's church "for foul political purposes" like The Washington Post said, but rather the opposite, and we should all thank him for risking his own life to send this message against Satan and his legion.
Leaving the safety of the fortified White House to walk with the Secret Service to St.John's, was not easy after all, and the libtards and their Godless liberal media that are in the hands of the prince of this world, have been criticizing him ever since.
The president brandishes a Bible in front of St.John's to send a clear message to those who know, because where there is no God, there is no moral society.  In God We Trust was first inscribed on U.S. coins in 1864 under President Lincoln, and in 1956 Congress made it the national motto of the United States. Since at least the 1820s, the U.S. Supreme Court has opened its court sessions with the prayer of "God save the United States and this Honorable Court." Since George Washington first added "so help me God" to his inaugural oath, every president since has likewise asked for God's assistance at his inauguration but the Democrats like Joe Biden and their puppet Masters in China and in the Vatican want to stop this. So let's pray for our president and God Bless America now that we are officially entering the Apocalypse of John, whose "Church of the Presidents" was set on fire.
"Is that your Bible?" a reporter asked during Trump's courageous testimony. "It's a Bible,"the president replied with pride in front of the atheist media and the Satanic enemy trying to destroy the the American dream. Later, Robert Jeffress, a Dallas megachurch pastor and indefatigable Trump ally said: "I thought it was completely appropriate for the president to stand in front of that church,"Adding. "And by holding up the Bible, he was showing us that it teaches that, yes, God hates racism, it's despicable—but God also hates lawlessness."
"So," he added, "I'm happy."
Today  U.S. President Donald Trump and First Lady Melania Trump visited the Saint John Paul II National Shrine, to lay a ceremonial wreath and observe a moment of remembrance under the Statue of anti-Communist Saint John Paul II on June 2, 2020 in Washington,DC. Of course the Archbishop of Washington who is close to False Prophet Pope Francis forcefully denounced the visit calling the event "baffling and reprehensible" showing once again the present corruption of the Catholic Church.The statements are also notable because Catholics tend to support Trump in high numbers.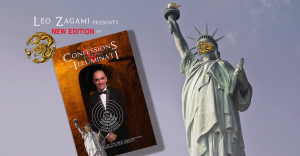 Get Leo's New Edition of Confessions of an Illuminati Volume 5: The Decline of the West and the Rise of Satanism in our Society with a brand new chapter on the CCP virus and The End Times.
You can find it now on Amazon in both paperback:
https://www.amazon.com/Confessions-Illuminati-Decline-Satanism-Society-ebook/dp/B07BQVQ9ZM/ref=sr_1_1?dchild=1&keywords=Confessions+of+an+Illuminati+Volume+5%3A+The+Decline+of+the+West+and+the+Rise+of+Satanism+in+our+Society&qid=1588956850&s=digital-text&sr=1-1
And Kindle format:
https://www.amazon.com/Confessions-Illuminati-Decline-Satanism-Society-ebook/dp/B07BQVQ9ZM?fbclid=IwAR2jxhIWdGeHo-UifXK7X5ka3mknzmaMWysTBVxWzXQEY9S1vSUioabBv3g
And get also Leo's latest book: Confessions of an Illuminati Vol. 4, American Renaissance 2.0 and The Missing Link From the Invisible World.
You can find it now on Amazon in both paperback:
https://www.amazon.com/dp/1679105434/ref=cm_sw_r_fa_awdo_t1_kGIaEbKMF61NP?fbclid=IwAR2ayxAv16FsFMVBDow7CPhdIctj9_X2bEiQjPHbbjyMFfbJtwb88NZW64M
And Kindle format:
https://www.amazon.com/Confessions-Illuminati-Four-Renaissance-Invisible-ebook/dp/B082ZTFTHV?fbclid=IwAR1HcyOk5b0ZAmMSAyyYMCfPGdjbv9obkFD2fozyrvwJ3s6ahWhqL7iECbc
PLEASE SUPPORT LEO'S WORK BY BUYING HIS LATEST BOOKS!!!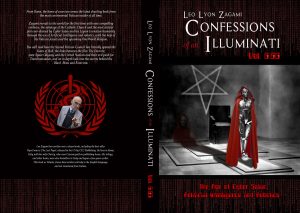 Leo Zagami is a regular contributor to Infowars and the author of the groundbreaking book  Confessions of an Illuminati Vol. 6.66 The Age of Cyber Satan, Artificial Intelligence, and Robotics
OUT NOW ON KINDLE:
https://www.amazon.com/Confessions-Illuminati-6-66-Artificial-Intelligence-ebook/dp/B07NS8WS9V/ref=sr_1_2?s=books&ie=UTF8&qid=1550411820&sr=1-2&keywords=vol.+6.66
And on paperback :
https://www.amazon.com/dp/1796904694/ref=cm_sw_r_fa_awdo_t1_2dvACb2HVH6TP?fbclid=IwAR1h_VlIytuACI3zxXUc9mBfOk96N4Yk0WH3To6Psv2kbFxJLwfzAwV4mUE