Please help keep this website going by making a small donation in support of Leo's work through Fundly: https://fundly.com/leo-lyon-zagami-channel  or Patreon: https://www.patreon.com/leozagami
Article by Leo Zagami
Former Pope Benedict XVI accuses opponents of wanting to "silence" him in a new book by Peter Seewald entitled, Benedict XVI – A Life published on Monday in Germany, where Ratzinger states he has fallen victim to a "malignant distortion of reality" in reaction to his interventions in various theological debates.
In February, Pope Benedict XVI, aka the German shepherd, was drawn into Vatican intrigue when his private secretary was removed from Francis' entourage after his name appeared in a controversial book alongside arch-conservative Guinean cardinal Robert Sarah. Let's remember the "Pope emeritus" was forced to resign in 2013 so that the Jesuit-led New World Order could implement the last phase of their One World Religion with certain elements from the Masonic Comunity connected to the Grand Orient of France.
Dr. Robert Moynihan, the editor-in-chief of the Catholic journal's, Inside the Vatican, revealed on April 23rd, 2020, that he once had a conversation with then-Cardinal Joseph Ratzinger about the "greatest danger to the Church," and he recounted that Ratzinger said to him: "It is Freemasonry."These words have special importance in light of Pope Benedict's new biography that talks about the "world-wide dictatorship of seemingly humanistic ideologies" that are fostering a "fear of the spiritual power of the Anti-Christ."
In Moynihan's full report of that memorable conversation he says: "I recall a conversation that I had with then-Cardinal Ratzinger a few years before he became pope,"Moynihan writes on his website. "We were in his apartment, not far from St. Anne's Gate. We were discussing his conflict with Cardinal Walter Kasper over the question of Universal Church and Particular Church which was much in the media at that time. I asked the Cardinal where the greatest danger to the authentic Catholic faith lies. 'Is it in ourselves, our sins, and weaknesses. Is this what is the greatest danger to the Church or is it something else, some external enemy?'" Moynihan continues: "He looked at me directly in the eyes and then after a moment's pause, as if he were reflecting, he said: 'It is Freemasonry.'I never forgot that conversation as it was [a] fixed point that brought to a conclusion a long series of questions that had concerned me up until that meeting and have concerned me since."
Pope Benedict XVI, makes other shocking statements to his biographer in his new book Benedict XVI: a Life(published first in German by Droemer Verlag):
"Today, one is being ex-communicated by society if one opposes it [this 'dictatorship']. Modern society is in the middle of formulating an anti-Christian creed, and if one opposes it, one is being punished by society with ex-communication. The fear of this spiritual power of the Anti-Christ is then only more than natural, and it really needs the help of prayers on the part of an entire diocese and of the Universal Church in order to resist it."
To understand where certain elements of this world-wide Antichristian dictatorship comes from, we can turn to Bishop Athanasius Schneider, who gave a brilliant talk in 2017 on the 300-year-old history of Freemasonry. He delivered this talk to a Pontifical Foundation where Bishop Schneider confirmed that French Freemasonry promoted "the so-called 'sexual revolution' of 1968." Explaining: "The two Grandmasters of the two largest Freemasonic organizations in France, Frédéric Zeller,and Pierre Simon, were with some of their members actively engaged in the Paris student revolts in May 1968. The said Grandmaster Pierre Simon became then-assessor of the minister Simone Weil, who legalized in France abortion."
Liberal Freemasons were crucial in the promotion of abortion, same-sex "marriage,"and euthanasia, confirmed by the words of Bishop Schneider, who pointed out that, "In 2012, the Parish Newspaper Le Figaro published a comprehensive dossier about Freemasonry and Le Figaro let top Freemasonic members speak in its newspaper forum. One of these Freemasonic officials openly stated that the laws about the legalization of abortion, the so-called 'same-sex marriage' or 'marriage for all' and of the euthanasia were prepared in the idealistic Freemasonic 'laboratories' and that they were then, with the help of lobbying and of their members in parliament and in government, pushed through the legislation."
Bishop Schneider also gives the exact reference to this issue of the French newspaper, saying, "This can be read in the newspaper Le Figaro of the year 2012 (supplément LE FIGARO, 20-21 Juillet 2012)." Thus, his 1983 statement insisting that Freemasonry is incompatible with the Catholic faith is further proof that Cardinal Ratzinger was aware of the dangers of Liberal Freemasonry that unfortunately ruined and corrupted this once beautiful institution.
Get Leo's latest book: Confessions of an Illuminati Vol. 4, American Renaissance 2.0 and The Missing Link From the Invisible World.
You can find it now on Amazon in both paperback:
https://www.amazon.com/dp/1679105434/ref=cm_sw_r_fa_awdo_t1_kGIaEbKMF61NP?fbclid=IwAR2ayxAv16FsFMVBDow7CPhdIctj9_X2bEiQjPHbbjyMFfbJtwb88NZW64M
And Kindle format:
https://www.amazon.com/Confessions-Illuminati-Four-Renaissance-Invisible-ebook/dp/B082ZTFTHV?fbclid=IwAR1HcyOk5b0ZAmMSAyyYMCfPGdjbv9obkFD2fozyrvwJ3s6ahWhqL7iECbc
Sorry I cannot use Patreon due to my current non citizen status so I am stuck with Paypal for those kind enough to support me: https://www.paypal.me/LeoZagami
PLEASE SUPPORT LEO'S WORK BY BUYING HIS LATEST BOOKS!!!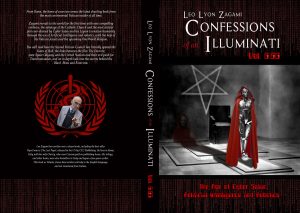 Leo Zagami is a regular contributor to Infowars and the author of the groundbreaking book  Confessions of an Illuminati Vol. 6.66 The Age of Cyber Satan, Artificial Intelligence, and Robotics
OUT NOW ON KINDLE:
https://www.amazon.com/Confessions-Illuminati-6-66-Artificial-Intelligence-ebook/dp/B07NS8WS9V/ref=sr_1_2?s=books&ie=UTF8&qid=1550411820&sr=1-2&keywords=vol.+6.66
And on paperback :
https://www.amazon.com/dp/1796904694/ref=cm_sw_r_fa_awdo_t1_2dvACb2HVH6TP?fbclid=IwAR1h_VlIytuACI3zxXUc9mBfOk96N4Yk0WH3To6Psv2kbFxJLwfzAwV4mUE

Leo Zagami is also the author of  Confessions of an Illuminati Volume 5: The Decline of the West and the Rise of Satanism in our Society 
OUT NOW ON KINDLE: https://www.amazon.com/dp/B07BQVQ9ZM/ref=tsm_1_fb_lk
And on paperback : https://www.amazon.com/dp/1986894657/ref=sr_1_8?ie=UTF8&qid=1522233257&sr=8-8&keywords=leo+zagami