Please help keep this website going by making a small donation in support of Leo's work through Fundly: https://fundly.com/leo-lyon-zagami-channel  or Patreon: https://www.patreon.com/leozagami
Article by Leo Zagami
Pedophile Kevin Spacey seems to have developed a penchant for publishing weird videos during the Christmas holidays while impersonating Frank Underwood, the murderous president he played in "House of Cards."
Only one day after his latest "Underwood" message, on December 24th, 2019, one of his main accusers, the famous Norwegian author, and former royal Ari Behn died on Christmas day of an apparent suicide. Strangely enough, he was the third of Kevin Spacey's accusers to die in recent times after speaking out against the actor, and his death has shaken the entire star system due to Ari Behn's royal connections.
What most people don't know is that Kevin Spacey's accuser, who was former son-in-law of Norway's King Harold V, was also a practitioner of the occult and a close friend and drinking buddy to one of Norway's leading occultists named Simen Midgard a former high-level member of the Norwegian Ordo Templi Orientis and a Satanist, who deeply influenced the Norwegian Black Metal scene.
Ari Behn's latest book published in 2018 was entitled, Inferno, detailing his struggles with mental health issues. The book described how the author suffered from headaches, hallucinations, and difficulty in breathing, all signs of demonic possession. The former Norwegian royal, who took his own life at the age of 47, had a passion for the occult ever since he studied history of ideas, and history of religions, at the University of Oslo in the 1990s, he was an accomplished author in Scandinavia.
However, in recent years, Ari battled alcoholism and spoke in 2008 about feeling terrified with "devouring anxiety"after his divorce from Princess Märtha Louise,  who ran off with a Hollywood New Age guru, named Shaman Durek, a spiritual guide to the stars to include, Gwyneth Paltrow.
It looks like Ari Behn lost his battle with the elite as he was abandoned by his wife after he wanted to reveal  the incident with Kevin Spacey that occurred back in 2007. On August 5, 2016 the Norwegian Royal Court announced that Princess Märtha Louise and Behn had begun divorce proceedings. Soon afterward Bhen went public with the sexual assault by Kevin Spacey.
Why did he wait ten years? Ari Behn was desperate to avoid media exposure during his marriage after the Norwegian press had accused him ten years ago of going on a "personal vendetta"against former palace official Carl-Erik Grimstad for simply spreading tabloid nonsense regarding his family. This strange story has a dark twist. I often met both Simen Midgard and Ari Bhen in the late 90s and I can confirm Ari Bhen's drinking pal was indeed a black magician and one of the biggest experts on Aleister Crowley in Scandinavia.
The Jesuits have highjacked Scandinavia to shape the future religion of the Antichrist and you can learn more about it in my latest book: Confessions of an Illuminati Vol. 4, American Renaissance 2.0 and The Missing Link From the Invisible World.
You can find it now on Amazon in both paperback:
https://www.amazon.com/dp/1679105434/ref=cm_sw_r_fa_awdo_t1_kGIaEbKMF61NP?fbclid=IwAR2ayxAv16FsFMVBDow7CPhdIctj9_X2bEiQjPHbbjyMFfbJtwb88NZW64M
And Kindle format:
https://www.amazon.com/Confessions-Illuminati-Four-Renaissance-Invisible-ebook/dp/B082ZTFTHV?fbclid=IwAR1HcyOk5b0ZAmMSAyyYMCfPGdjbv9obkFD2fozyrvwJ3s6ahWhqL7iECbc
PLEASE SUPPORT LEO'S WORK BY BUYING HIS LATEST BOOKS!!!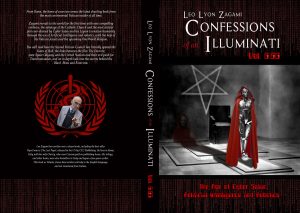 Leo Zagami is a regular contributor to Infowars and the author of the groundbreaking book  Confessions of an Illuminati Vol. 6.66 The Age of Cyber Satan, Artificial Intelligence, and Robotics
OUT NOW ON KINDLE:
https://www.amazon.com/Confessions-Illuminati-6-66-Artificial-Intelligence-ebook/dp/B07NS8WS9V/ref=sr_1_2?s=books&ie=UTF8&qid=1550411820&sr=1-2&keywords=vol.+6.66
And on paperback :
https://www.amazon.com/dp/1796904694/ref=cm_sw_r_fa_awdo_t1_2dvACb2HVH6TP?fbclid=IwAR1h_VlIytuACI3zxXUc9mBfOk96N4Yk0WH3To6Psv2kbFxJLwfzAwV4mUE

Leo Zagami is also the author of  Confessions of an Illuminati Volume 5: The Decline of the West and the Rise of Satanism in our Society 
OUT NOW ON KINDLE: https://www.amazon.com/dp/B07BQVQ9ZM/ref=tsm_1_fb_lk
And on paperback : https://www.amazon.com/dp/1986894657/ref=sr_1_8?ie=UTF8&qid=1522233257&sr=8-8&keywords=leo+zagami