Please help keep this website going by making a small donation in support of Leo's work through Fundly: https://fundly.com/leo-lyon-zagami-channel  or Patreon: https://www.patreon.com/leozagami
Article by Leo Lyon Zagami
Queen Elisabeth II is reportedly not impressed with the way Prince Harry and Meghan Markle have been acting since marrying in 2018, and several sources have claimed the Queen is "disappointed" with their behavior as representatives of the British monarchy. The most recent blow came after Meghan skipped visiting the Queen's Scottish residence Balmoral over the summer, which has always been considered very important in the lives of the Royal family.
Perhaps it's Meghan Markle's Communist values that have sparked concern, as she attended a liberal Catholic school from 7th to 12th grade which forged her demented left-wing ideology now embraced by Prince Harry as pointed out in a previous article.
Markle raised by Communist nuns from the convent bought by Katy Perry
Setting aside the fact that she is a relative and I often dislike her political and religious views and choices, I have a certain degree of sympathy towards her in regards to the maintenance of family traditions as they are essential for the British monarchy and often remind me of my mother's fixation with family reunions and other private matters.
Today the elite from around the world arrived in Rome for the nuptials of fashion designer Misha Nonoo and her American entrepreneur fiancé Michael Hess, and, of course, Meghan and Harry had to join this pathetic show of superficial materialism. The wedding kicks off with an intimate gala lunch on Friday inside Rome's Cinecitta film studios where much of Federico Fellini's 1950s film La Dolce Vitawas shot. However, things have changed in Rome, no better in appearance than San Francisco or L.A. since the left-wing idiots have taken over, and this once beautiful city is now overrun with rats, homeless people, and illegal immigrants.
Fellini's close assistant was right there at the Gemelli hospital in Rome when I was born in 1970. My grandmother Felicity Mason aka Anne Cumming (https://en.wikipedia.org/wiki/Anne_Cumming) was a dear friend of film director Federico Fellini, who participated in several of his films both as an actor and as an acting coach, crafting the legend of the "La Dolce Vita."  President Trump should keep a close eye on his daughter Ivanka this weekend, as she will be mingling with the enemy.
PLEASE SUPPORT LEO'S WORK BY BUYING HIS LATEST BOOKS!!!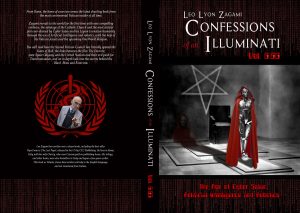 Leo Zagami is a regular contributor to Infowars and the author of the new groundbreaking book  Confessions of an Illuminati Vol. 6.66 The Age of Cyber Satan, Artificial Intelligence, and Robotics
OUT NOW ON KINDLE:
https://www.amazon.com/Confessions-Illuminati-6-66-Artificial-Intelligence-ebook/dp/B07NS8WS9V/ref=sr_1_2?s=books&ie=UTF8&qid=1550411820&sr=1-2&keywords=vol.+6.66
And on paperback :
https://www.amazon.com/dp/1796904694/ref=cm_sw_r_fa_awdo_t1_2dvACb2HVH6TP?fbclid=IwAR1h_VlIytuACI3zxXUc9mBfOk96N4Yk0WH3To6Psv2kbFxJLwfzAwV4mUE

Leo Zagami is also the author of  Confessions of an Illuminati Volume 5: The Decline of the West and the Rise of Satanism in our Society 
OUT NOW ON KINDLE: https://www.amazon.com/dp/B07BQVQ9ZM/ref=tsm_1_fb_lk
And on paperback : https://www.amazon.com/dp/1986894657/ref=sr_1_8?ie=UTF8&qid=1522233257&sr=8-8&keywords=leo+zagami