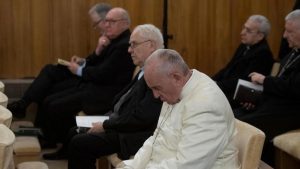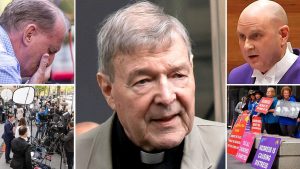 Article by Leo Zagami
Cardinal Pell was finally sentenced today to six years imprisonment following his conviction on five counts of sexual abuse of two 13-year-old boys. In the meantime, Pope Francis and members of the Vatican        Curia traveled to Casa del Divin Maestro a retreat center in Ariccia, located in the Alban hills, just outside Rome, to officially participate in five days of Spiritual Exercises dedicated to the theme of "indifference" that has obviously ruined the Church.
Poetry was intertwined with literature and theology in the first meditation by the Benedictine monk Bernardo Francesco Maria Gianni, Abbot of San Miniato al Monte, at the opening of the Spiritual Exercises two days ago. Pope Francis arrived on Monday afternoon around 5 p.m., after a bus trip with his collaborators, cardinals, and bishops, where they will remain in retreat until Friday, March 15. At the Angelus, he asked the faithful to accompany him in prayer during the five days of prayer and reflection, where every morning begins with mass and ends with vespers and Eucharistic adoration. In reality, the Pope conveniently left Rome with his entourage to avoid the scrutiny of the media, knowing that Cardinal Pell's conviction will be announced to the world this week.
Judge Peter Kidd read the sentence during a hearing that was broadcast live worldwide and was followed with great interest by all the media. The cardinal will be eligible for parole after serving three years and eight months in prison, a decision that has apparently shaken Pope Francis and his collaborators who appeared frustrated during their Spiritual Exercises from the few photos released to the public.
In the 70-minute-long hearing, Kidd described Pell's behavior as "extraordinarily arrogant"and "brazen"two words that seem particularly fitting for scumbag Cardinal Pell.
The judge said "You had a degree of confidence that the victims would not complain,"adding that "you clearly felt that you did not need"  to threaten them to stop them from making a complaint.
Pell was convicted in December on five counts of sexual abuse stemming from charges that he sexually assaulted two choirboys while serving as Archbishop of Melbourne in 1996. Of course, he has maintained his innocence, still supported by his Opus Dei friends in the media that expressed surprise at the verdict claiming his innocence. The defense even said it was demonstrated beyond any reasonable doubt that the cardinal could not possibly have committed the offenses on which he was convicted. Of course, Pell and his legal team have not given up and he is due to appeal the convictions in June.
Meanwhile in Ariccia, The first step suggested during the spiritual exercises by the Benedictine monks was to renounce our illusion of being at the center and to open our eyes to reality, to see the light and listen to true silence and be humble. To let the hand of God restore beauty, which is mere clay, fragile, and poor, needing God's breath. Will the Pope return to the Vatican on Friday a changed man after his Spiritual Exercises? Of course not! Its called the art of propaganda, nothing more.  After this sentence,  the image of the Church and Pope Francis can't be salvaged. Today marks six years from Pope Francis's election.
In the meantime, the appeal document put forward by Pell's legal team states, "The verdicts are unreasonable and cannot be supported, having regard to the evidence, because on the whole of the evidence, including unchallenged exculpatory evidence from more than 20 Crown witnesses, it was not open to the jury to be satisfied beyond reasonable doubt on the word of the complainant alone."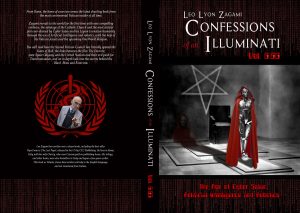 Leo Zagami is a regular contributor to Infowars and the author of the new groundbreaking book  Confessions of an Illuminati Vol. 6.66 The Age of Cyber Satan, Artificial Intelligence, and Robotics
OUT NOW ON KINDLE:
https://www.amazon.com/Confessions-Illuminati-6-66-Artificial-Intelligence-ebook/dp/B07NS8WS9V/ref=sr_1_2?s=books&ie=UTF8&qid=1550411820&sr=1-2&keywords=vol.+6.66
And on paperback :
https://www.amazon.com/dp/1796904694/ref=cm_sw_r_fa_awdo_t1_2dvACb2HVH6TP?fbclid=IwAR1h_VlIytuACI3zxXUc9mBfOk96N4Yk0WH3To6Psv2kbFxJLwfzAwV4mUE

Leo Zagami is also the author of  Confessions of an Illuminati Volume 5: The Decline of the West and the Rise of Satanism in our Society 
OUT NOW ON KINDLE: https://www.amazon.com/dp/B07BQVQ9ZM/ref=tsm_1_fb_lk
And on paperback : https://www.amazon.com/dp/1986894657/ref=sr_1_8?ie=UTF8&qid=1522233257&sr=8-8&keywords=leo+zagami