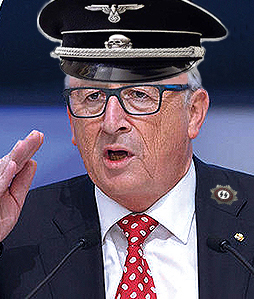 Article by Leo Zagami
Yesterday at the NATO summit in Brussels, the President of the European Commission, Jean-Claude Juncker faced difficult moments, but not so much for the issues addressed, but rather for the fact he was completely drunk and needed assistance to even stand up straight. A video originally published by the Daily Mail, demonstrates Junckers'difficulty in maintaining balance. In a recent appearance before the Irish parliament, Juncker had to justify the fact that he was off balance by explaining that he had taken medication because of his back problems. For privacy reasons, Juncker's press office refused to comment, but in the video you can also notice Trumps' disdain.
In 1941, Jean-Claude Junckers' father, Joseph, joined the German army and fought in Russia. Juncker's father-in-law, Louis Mathias Frising, volunteered to be a Nazi propaganda chief while banning spoken French in favor of German. He was also responsible for enforcing a law which stripped Jews of their rights and professions, that was basically the first stage of the Holocaust. Juncker's EU colleague, Henri Grethen, once said:"The experience of his father had a big impact" but the same colleague never commented on the experience of Juncker's father-in-law. Maybe that is one of the reasons why this guy is completely drunk and out of control most of the time, looking more and more like a mind controlled individual blindly serving his masters.
Juncker obtained for his loyal services, the Order pro Merito Melitensi, the order of merit of the Sovereign Military Order of Malta, established in 1920, and is awarded to recipients who have brought honor to the Sovereign Military Order of Malta.
This guy is basically an agent of the Pope and for this reason he is being tolerated.

Leo Zagami is a regular contributor to Infowars and the author of the new book Confessions of an Illuminati Volume 5: The Decline of the West and the Rise of Satanism in our Society 
OUT NOW ON KINDLE: https://www.amazon.com/dp/B07BQVQ9ZM/ref=tsm_1_fb_lk
And on paperback : https://www.amazon.com/dp/1986894657/ref=sr_1_8?ie=UTF8&qid=1522233257&sr=8-8&keywords=leo+zagami