Please help keep this website going by making a small donation in support of Leo's work through Fundly: https://fundly.com/leo-lyon-zagami-channel  or Patreon: https://www.patreon.com/leozagami
Article by Leo Zagami
Two years ago, an Italian team of investigative journalists from the TV show Le Iene exposed for the first time a sordid tale of sex abuse involving minors from St. Peter's choir serving as altar boys for the Pope. The abuse took place in the pre-seminary San Pio X, the only place inside the Vatican walls where minors are allowed to live.
I first talked about this incredible story in the following article published back in November 2017:
However, after the show was aired, Le Iene said they immediately received a letter from the diocese of Como warning them against proceeding with their investigation. Fortunately, Le Iene was not intimidated by the threat, and went forward investigating the matter. They have now returned to Italian TV with more witnesses and new shocking revelations about the sex abuse of minors as young as 11 in the Vatican by three different priests.  Details of the sex abuse encounters include how the predator priests forced themselves on the innocent victims over and over again threatening them if they refused to give them oral sex or if they refused to let their genitals be touched.
As I reported a couple of months ago, the scandal eventually forced the Pope to partially take action in September 2019:
Vatican Playground for Pedophiles exposed by Zagami and Archbishop Viganò Finally Under Indictment
The abuse took place only 200 meters from Saint Peter's Basilica and at times even inside the Basilica during the Pope's masses. The new report from Le Iene is being aired this evening on Sunday, the 17th of November 2019, by Berlusconi's TV channel Italia1.
LINK TO THE ORIGINAL REPORT BY LE IENE:
https://www.iene.mediaset.it/video/abusi-minori-vaticano-testimoni_595818.shtml?fbclid=IwAR24R-Bf6CK0lsAoeR8zaz8pYsQtGM0xKZGbP3p-ULYIZ3wXs-PZAAjDjUY
PLEASE SUPPORT LEO'S WORK BY BUYING HIS LATEST BOOKS!!!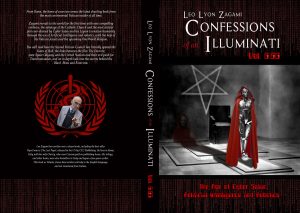 Leo Zagami is a regular contributor to Infowars and the author of the new groundbreaking book  Confessions of an Illuminati Vol. 6.66 The Age of Cyber Satan, Artificial Intelligence, and Robotics
OUT NOW ON KINDLE:
https://www.amazon.com/Confessions-Illuminati-6-66-Artificial-Intelligence-ebook/dp/B07NS8WS9V/ref=sr_1_2?s=books&ie=UTF8&qid=1550411820&sr=1-2&keywords=vol.+6.66
And on paperback :
https://www.amazon.com/dp/1796904694/ref=cm_sw_r_fa_awdo_t1_2dvACb2HVH6TP?fbclid=IwAR1h_VlIytuACI3zxXUc9mBfOk96N4Yk0WH3To6Psv2kbFxJLwfzAwV4mUE

Leo Zagami is also the author of  Confessions of an Illuminati Volume 5: The Decline of the West and the Rise of Satanism in our Society 
OUT NOW ON KINDLE: https://www.amazon.com/dp/B07BQVQ9ZM/ref=tsm_1_fb_lk
And on paperback : https://www.amazon.com/dp/1986894657/ref=sr_1_8?ie=UTF8&qid=1522233257&sr=8-8&keywords=leo+zagami