Please help keep this website going by making a small donation in support of Leo's work through Fundly: https://fundly.com/leo-lyon-zagami-channel  or Patreon: https://www.patreon.com/leozagami
Article by Leo Zagami 
There is a lot of "strange" elements in this sad episode of injustice surrounding the apparent death of George Floyd. First of all, Maya Santamaria, a former club owner in South Minneapolis went on record yesterday with an interview saying that the now-fired police officer Derek Chauvinand George Floyd,who died in his custody on Monday, both worked security for her club, the El Nuevo Rodeo club on Lake Street until the end of last year.  Santamaria said to the local ABC affiliate that she did not recognize initially either one of her security guards in the video showing Chauvin kneeling on Floyd's neck that happened not far from where they both used to work.
At the beginning "My friend sent me (the video) and said this is your guy who used to work for you and I said, 'It's not him.'"
 But viewed close up, Santamaria recognized him, "Oh my God, that's him,'" she said. "I didn't recognize George as one of our security guys because he looked really different lying there like that."
Both men were employed for the whole of 2019, according to Santamaria, who sold the club still in existence at the end of last year. Floyd was one of the bouncers inside the club while Chauvin now charged with a third-degree murder of his ex-colleague worked mainly outside. "Chauvin was our off-duty police for almost the entirety of the 17 years that we were open," Santamaria told KSTP-TV, the ABC affiliate news station in Minneapolis.
Nobody knows with absolute certainty how well they knew each other, but "They were working together at the same time; it's just that Chauvin worked outside and the security guards were inside,"Santamaria said and Andrea Jenkins, the vice president of the Minneapolis City Council later confirmed Santamaria's words and said: "They were coworkers for a very long time."
 As Alex Jones said during his show on Friday, bouncers are often known to push drugs inside clubs, but there might also be sentimental reasons behind this murder, who knows, the two might have had a homosexual relationship. We need a much more in depth investigation because police departments have tried to ban, or severely limit in the past the use of chokeholds and neck restraints, but in in this case Chauvin and his colleague were "strangely" allowed to use such techniques that, unfortunately,led to the death of George Floyd.
Now the leftist mayor of Minneapolis has imposed a curfew after the county prosecutor finally charged Derek Chauvin, but something strange happened before Gov. Tim Walz, who is another leftist democrat, activated the state's National Guard, that incredibly enough did not intervene to stop the destruction of the third police precinct on Thursday night.
Officially, demonstrators breached a door and entered the Minneapolis Police Department's Third Precinct station after igniting several fires in the area that eventually destroyed the police station, but something odd happened earlier. A now viral video shows a mysterious man in all black with an umbrella and pink gas mask smashing windows at the Auto Zone near the police station just before it was lit on fire. A protester confronted the man, who became hostile and quickly walked away while being asked if he was a cop.
The Saint Paul Police Department is now disputing the claim that one of their officers, Jacob Pederson, was caught on camera breaking out windows at a Minneapolis Auto Zone shortly before it was lit on fire, but on Thursday evening the Twitter account @GypsyEyedBeauty tweeted out a series of screenshots that claimed the man was is in fact Officer Pederson.  The caption read, "Here are screenshots from his ex wife confirming this is him, along with his photo."
Allegedly Pederson's ex-wife claims he was working the fires. She goes on to write, "That's my gas mask. THE GLOVES TOO. HOLY SHIT MEAN IM SHAKING."
There are two cards from the legendary 90s Illuminati card game made by Steve Jackson Games (SJG) that comes to mind in this situation. One is the NEW WORLD ORDER Law and Order card showing the police using excessive force, and the other is Emergency Powers that shows a black man pressed on the back of his neck on the ground by a person in military uniform. Let's remember, that the events foretold in the 1995 Illuminati Card Game describe the rise of the Antichrist and his kingdom in all aspects. Remember, this card game was created from 1990-1995 so the author knew of these specific events almost three decades ago. This card game reveals the final climactic steps of the Illuminist plan to produce the Antichrist.
After all, police officers and National Guard stood by for hours while their police station burned before they intervened, only to arrest a black journalist, live on CNN. They want to ignite a race war with the help of Satanists like Rev. Al Sharpton and they want to sabotage Trump's re-election. So we need to expose the lies of the New World Order and the Illuminati before it is too late, and stop these riots that are worsening an already dramatic economic situation due to the plandemic.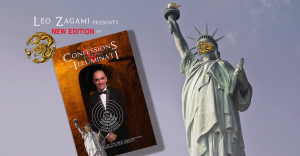 Get Leo's New Edition of Confessions of an Illuminati Volume 5: The Decline of the West and the Rise of Satanism in our Society with a brand new chapter on the CCP virus and The End Times.
You can find it now on Amazon in both paperback:
https://www.amazon.com/Confessions-Illuminati-Decline-Satanism-Society-ebook/dp/B07BQVQ9ZM/ref=sr_1_1?dchild=1&keywords=Confessions+of+an+Illuminati+Volume+5%3A+The+Decline+of+the+West+and+the+Rise+of+Satanism+in+our+Society&qid=1588956850&s=digital-text&sr=1-1
And Kindle format:
https://www.amazon.com/Confessions-Illuminati-Decline-Satanism-Society-ebook/dp/B07BQVQ9ZM?fbclid=IwAR2jxhIWdGeHo-UifXK7X5ka3mknzmaMWysTBVxWzXQEY9S1vSUioabBv3g
And get also Leo's latest book: Confessions of an Illuminati Vol. 4, American Renaissance 2.0 and The Missing Link From the Invisible World.
You can find it now on Amazon in both paperback:
https://www.amazon.com/dp/1679105434/ref=cm_sw_r_fa_awdo_t1_kGIaEbKMF61NP?fbclid=IwAR2ayxAv16FsFMVBDow7CPhdIctj9_X2bEiQjPHbbjyMFfbJtwb88NZW64M
And Kindle format:
https://www.amazon.com/Confessions-Illuminati-Four-Renaissance-Invisible-ebook/dp/B082ZTFTHV?fbclid=IwAR1HcyOk5b0ZAmMSAyyYMCfPGdjbv9obkFD2fozyrvwJ3s6ahWhqL7iECbc
PLEASE SUPPORT LEO'S WORK BY BUYING HIS LATEST BOOKS!!!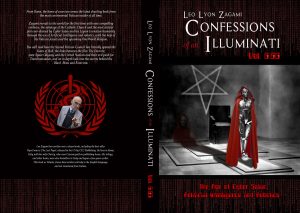 Leo Zagami is a regular contributor to Infowars and the author of the groundbreaking book  Confessions of an Illuminati Vol. 6.66 The Age of Cyber Satan, Artificial Intelligence, and Robotics
OUT NOW ON KINDLE:
https://www.amazon.com/Confessions-Illuminati-6-66-Artificial-Intelligence-ebook/dp/B07NS8WS9V/ref=sr_1_2?s=books&ie=UTF8&qid=1550411820&sr=1-2&keywords=vol.+6.66
And on paperback :
https://www.amazon.com/dp/1796904694/ref=cm_sw_r_fa_awdo_t1_2dvACb2HVH6TP?fbclid=IwAR1h_VlIytuACI3zxXUc9mBfOk96N4Yk0WH3To6Psv2kbFxJLwfzAwV4mUE