Please help keep this website going by making a small donation in support of Leo's work through Fundly: https://fundly.com/leo-lyon-zagami-channel  or Patreon: https://www.patreon.com/leozagami
Article by Leo Zagami
Increasing numbers of people around the world are concerned about the coercive measures being enforced by governments to combat Covid-19, and even greater concern is expressed about further measures that are proposed by powerful unelected bodies such as the World Health Organization.
In May, an international 'Appeal for the Church and the World', signed by several cardinals and bishops, alongside specialists from the legal, medical, and scientific professions including such luminaries as President John F. Kennedy's nephew, Robert F. Kennedy Jr., was launched by the Italian Vicit Leo Association. The appeal, which can be read here , expressed deep concern about the human rights implications of the worldwide lock-down, phone tracking, and proposed enforcement of mask-wearing and mandatory injections. It claimed that "many authoritative voices in the world of science and medicine confirm that the media's alarmism about Covid-19 appears to be absolutely unjustified."

Two months later and the sentiments behind that appeal are starting to take on the shape of an internationally-networked human rights campaign that aims to bring criminal proceedings against the World Health Organization and others who the Vicit Leo association considers may be open to criminal prosecution.
A recently issued campaign letter which can be read here , informs its readers that "in the coming months Vicit Leo will launch a series of extensive meetings and investigations under the supervision of its Scientific Committee, its Juridical Committee, and its Ethics Committee"and that this "will take place in different countries in Europe, the USA, and around the world."
The letter signed by Professor Pierfrancesco Belli of the Vicit Leo NGO also says that they "are gathering an overwhelming amount of evidence showing how a planned project of depopulation lies behind these economic interests. There are a lot of people who are responsible for this developing dictatorship: the most important two are Bill Gates and Tedros Ghebreyesus, who appear to want to rule and terrorize the population using AI systems and laws that reduce human rights."
The Vicit Leo association is also asking for people who share the concerns expressed in the appeal to help them by making a contribution to their campaign and for those with professional expertise in law, medicine, natural science, journalism, and political lobbying to contact them  with ideas to form the professional backbone of this international human rights project that has the support of Archbishop Carlo Maria Viganò, a staunch enemy of Pope Francis.
The controversial Saint George Educational Trust registered as a charity in 1995 by the Italian politician and a founding member of the European Third Position (Terza Posizione) movement, which is connected to Vicit Leo association and stand against both Communism and Capitalism announced on their profile on Sunday, August 30, that:"Next week a big anti-lockdown protest demo in Rome, partly organized by the Vicit Leo association who SGET is working with, backed by Archbishop Carlo Maria Viganò" will be taking place on September 5, 2020.
The Vatican is worried about the situation as Pope Francis and the Jesuits fear the anger of the Italians has finally come to a boiling point. They are upset by the way the Pope handled the pandemic, blaming it on pollution and not his Chinese friends, and they are also planning on demonstrating against the constant plague of pedophilia in the Church. This rise in public ire is something we've been warning about for years, and even Rome might soon start to see the first clashes and accidents amid growing social tension and poverty. Among the organizers and supporters of the protest taking place in Rome on September 5, 2020, that has been organized by "Salviamo i Bambini dalla dittatura Sanitaria" which means"Let's save the children from Sanitary dictatorship", is Giulio Occhionero, an Italian nuclear engineer and a financial professional involved in the infamous Spygate architected by the Obama administration against President Donald J. Trump.
In 2017, Giulio Occhionero was put under investigation in Italy for what was called the "Eye Pyramid" case by the district attorney's office of Rome along with his sister, with the accusation of illegal hacking into the emails of many public figures such as Matteo Renzi and Mario Monti. Giulio Occhionero claims to be the victim of an elaborate conspiracy and he presented his accusations before the district attorney's office of Perugia. The Perugia's magistrates have judged his allegations credible because they have chosen to try the district attorney who managed Occhionero's file, Mr. Albamonte, along with two other officials of the cyber division of the Italian postal police, named CNAICP.
According to the engineer's version, the Italian secret service hacked the servers of his American firm, the Westlands Security LLC, and therefore committed a violation of U.S. cyberspace. Italian intelligence was controlled at the time by the Italian Democratic Party, who hacked the Westlands servers on behalf of the Obama administration to delegitimize Donald Trump. The problem is that the same Italian left-wing criminals who did that against our president, are still in charge of Italy, so let's see what happen's in Rome on September 5, 2020, however I have my doubts it will be anything like Berlin or even London, as the sanitary dictatorship operating in Italy is much more criminal and oppressive.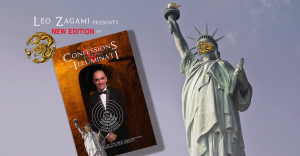 Get Leo's New Edition of Confessions of an Illuminati Volume 5: The Decline of the West and the Rise of Satanism in our Society with a brand new chapter on the CCP virus and The End Times.
You can find it now on Amazon in both paperback:
https://www.amazon.com/Confessions-Illuminati-Decline-Satanism-Society-ebook/dp/B07BQVQ9ZM/ref=sr_1_1?dchild=1&keywords=Confessions+of+an+Illuminati+Volume+5%3A+The+Decline+of+the+West+and+the+Rise+of+Satanism+in+our+Society&qid=1588956850&s=digital-text&sr=1-1
And Kindle format:
https://www.amazon.com/Confessions-Illuminati-Decline-Satanism-Society-ebook/dp/B07BQVQ9ZM?fbclid=IwAR2jxhIWdGeHo-UifXK7X5ka3mknzmaMWysTBVxWzXQEY9S1vSUioabBv3g
And get also Leo's latest book: Confessions of an Illuminati Vol. 4, American Renaissance 2.0 and The Missing Link From the Invisible World.
You can find it now on Amazon in both paperback:
https://www.amazon.com/dp/1679105434/ref=cm_sw_r_fa_awdo_t1_kGIaEbKMF61NP?fbclid=IwAR2ayxAv16FsFMVBDow7CPhdIctj9_X2bEiQjPHbbjyMFfbJtwb88NZW64M
And Kindle format:
https://www.amazon.com/Confessions-Illuminati-Four-Renaissance-Invisible-ebook/dp/B082ZTFTHV?fbclid=IwAR1HcyOk5b0ZAmMSAyyYMCfPGdjbv9obkFD2fozyrvwJ3s6ahWhqL7iECbc
PLEASE SUPPORT LEO'S WORK BY BUYING HIS LATEST BOOKS!!!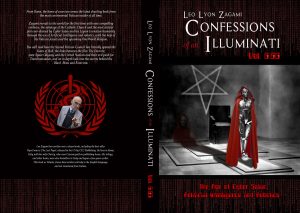 Leo Zagami is a regular contributor to Infowars and the author of the groundbreaking book  Confessions of an Illuminati Vol. 6.66 The Age of Cyber Satan, Artificial Intelligence, and Robotics
OUT NOW ON KINDLE:
https://www.amazon.com/Confessions-Illuminati-6-66-Artificial-Intelligence-ebook/dp/B07NS8WS9V/ref=sr_1_2?s=books&ie=UTF8&qid=1550411820&sr=1-2&keywords=vol.+6.66
And on paperback :
https://www.amazon.com/dp/1796904694/ref=cm_sw_r_fa_awdo_t1_2dvACb2HVH6TP?fbclid=IwAR1h_VlIytuACI3zxXUc9mBfOk96N4Yk0WH3To6Psv2kbFxJLwfzAwV4mUE