Article by Leo Lyon Zagami
The Italian newspaper, La Repubblica, printed an article last Wednesday announcing that the Pope had expressly denied the existence of hell and the immortality of the human soul, in a recent conversation with the founder of the newspaper. On Thursday, the 29th of March 2018, the Holy See stated that the reported interview between Pope Francis and an Italian journalist Eugenio Scalfari, which claimed the Pope denied the existence of hell, should not be considered as an accurate depiction of Pope Francis' words, but the author's own "reconstruction".
Scalfari, who has always been perceived as a Papal confidant, claimed Pope Francis had abolished hell, purgatory, and heaven back in early October 2017, so this is not a mistake, but a definite reiteration of a heretical thought the Pope already discussed with the same journalist in earlier interviews. News spread around the world of the Pope's denial of hell, and the Vatican was desperate to clarify the comments made by the Jesuit Pope. A strong and unexpected sign from the Heavens was witnessed in the heart of the Vatican, when several pieces of plaster fell from St Peter's Basilica, fortunately causing no harm, in what was a terrorizing experience and narrow escape for many tourists standing by.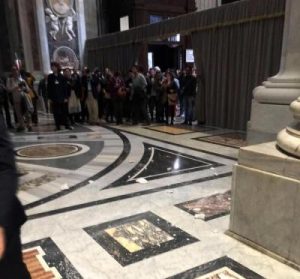 Plaster pieces that fell down from the ceiling of St. Peter's Basilica
In the Sistine Chapel, there contains the many magnificent frescos painted by Michelangelo, depicting the story of Christianity which is his interpretation of The Last Judgment. It was painted on the wall behind the altar 15 years after the ceiling was painted. This floor to ceiling masterpiece of amazing proportions portrays hundreds of corpses snatched from their graves and carried by angels to either heaven or hell, concepts the present Pope seems to want to abandon. Masses of tourists crammed into a packed Saint Peter's Basilica, were left shaken, as a shower of plaster rained down from a height of nearly 20 metres, not far from the chapel where Michelangelo's Pieta is located, in what the Ancient Romans would have considered an ominous sign.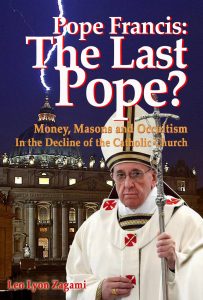 A prophetic book…
Anne Catherine Emmerich, a Roman Catholic Augustinian Canoness Regular of Windesheim, was a mystic, Marian visionary and stigmatist, who announced in her most apocolyptic prophecy, the destruction of Saint Peter's Basilica. In the meantime, unscathed from the incident, many contemporary idiots reached for their phones straightaway, eager to capture the near miss with photos, videos and selfies, seemingly unconcerned by any further hazard, where the heretical words of the Pope have yet to be linked.   This is the same Pope that washed and kissed the feet of two Muslims in a Holy Thursday ritual, while the accident at St Peter's Basilica was taking place.
Pope kissing the feet of a Muslim in a Holy Thursday ritual

Leo Zagami is a regular contributor to Infowars and the author of the new book Confessions of an Illuminati Volume 5: The Decline of the West and the Rise of Satanism in our Society 
OUT NOW ON KINDLE: https://www.amazon.com/dp/B07BQVQ9ZM/ref=tsm_1_fb_lk
And on paperback : https://www.amazon.com/dp/1986894657/ref=sr_1_8?ie=UTF8&qid=1522233257&sr=8-8&keywords=leo+zagami