Please help keep this website going by making a small donation in support of Leo's work through Fundly: https://fundly.com/leo-lyon-zagami-channel  or Patreon: https://www.patreon.com/leozagami
Article by Leo Zagami
One year after Netflix released the controversial "gay Jesus" Christmas special entitled, The First Temptation of Christthe LGBTQ community is back with even more blasphemy against our Lord Jesus Christ.
An award-winning filmmaker will release a documentary film aimed at offering LGBTQ+ Catholics a homosexual iconography of Jesus. Director David Yuval, a Jew "married" to his Catholic "husband," said he noticed the absence of LGBTQ+ portrayals of Jesus in Catholicism that it is a faith where icons play a significant part so he wanted to create is own feature-length movie called "Wonderfully Made" to explore the challenges and aspirations of LGBTQ+ Catholics.
David Yuval's interest in this project was his conversations with his "husband" Mark McDermott and "a photo art project" he was working on that finally helped the filmmaker realize that the missing "gay Jesus" iconography and similar forms of "rejection was a significant gap in the fullness of his life."
Wow, that's something most people will find hard to digest. The blasphemy film "Wonderfully Made" will be released in early 2021 and features interviews with none other than Jesuit gay superstar Fr. James Martin, who is considered very close to the LGBTQ+ community and is also the openly gay priest of Fr. Bryan Massingale.
The Revealer, an online religion publication discussed the work last year of BLM activist Fr. Bryan Massingale, who is also a professor at Fordham University, New York and, strangely enough is considered one of the foremost Catholic social ethicists, so believe it or not he is an expert in ethics in this upsidedown world.
Massingale, who is homosexual and Black and describes himself as a "scholar-activist" has been even been compared to a "prophet" for his passionate work by the LGBTQ community that once again has demonstrated total disrespect for the figure of Our Lord, Jesus Christ.
Last but not least the film director of the project told the New York newspaper AM New York Metro: "I think if Jesus were here today, in the flesh, on earth, he would be going first to LGBT people."
Pope Francis has always been expected to follow in the footsteps of his predecessor Pope Benedict XVI, who resigned in 2013, but the persistence of Pope Ratzinger, the Pope Emeritus who is still alive and kicking has probably delayed the inevitable process. Pope Francis is transfoming the Catholic Church into the future One World Religion and is very wary about leaving the Petrine Ministry with Ratzinger, who is such an opponent of change and is still alive, where Jorge Mario Bergoglio wants to retire.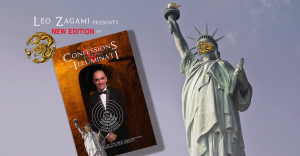 Get Leo's New Edition of Confessions of an Illuminati Volume 5: The Decline of the West and the Rise of Satanism in our Society with a brand new chapter on the CCP virus and The End Times.
You can find it now on Amazon in both paperback:
And Kindle format:
And get also Leo's latest book: Confessions of an Illuminati Vol. 4, American Renaissance 2.0 and The Missing Link From the Invisible World.
You can find it now on Amazon in both paperback:
And Kindle format:
PLEASE SUPPORT LEO'S WORK BY BUYING HIS LATEST BOOKS!!!
Leo Zagami is a regular contributor to Infowars and the author of the groundbreakingbook Confessions of an Illuminati Vol. 6.66 The Age of Cyber Satan, Artificial Intelligence, and Robotics
OUT NOW ON KINDLE:
And on paperback :