Donation in support of Leo's work through GoFundMe https://www.gofundme.com/f/the-leo-zagami-show-lesule  cashapp/$leozagami and we are back o Fundly https://fundly.com/leo-zagami-show-and-website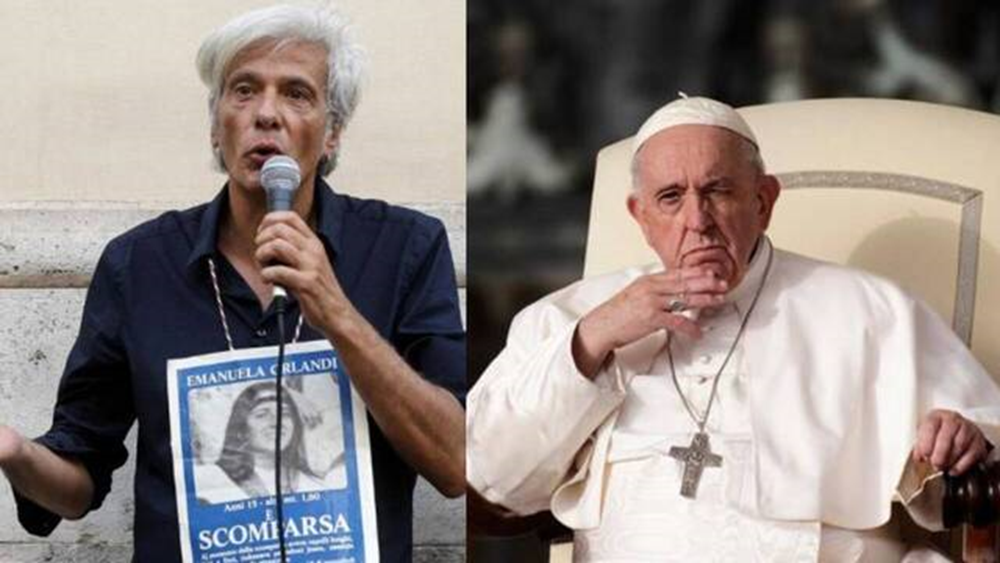 Article by Leo Zagami
Only three days after we published the article on leozagami.com entitled "Vatican Finally Opens Investigation on "The Vatican Girl" Case Exposing Pope Saint John Paul II as a Pedophile!," where I was amongst a handful of journalists in the English language to talk about the recent shocking accusations against "Saint" Pope John Paul II, made by Emanuela Orlandi's brother, my friend Pietro Orlandi who I interviewed many times, all hell broke loose in the Vatican today as Pope Francis publicly defended St. John Paul II during his Sunday blessings from the window of his studio overlooking St. Peter's Square, going on a rampage condemning as "offensive and baseless" the insinuations that recently surfaced about the Polish pontiff accused of pedophilia.
In these unusual remarks to tourists and pilgrims in St. Peter's Square, the Jesuit Pope said he was aiming to interpret the feelings of the faithful worldwide by expressing gratitude to the Polish pontiff's memory. Days earlier, the Vatican's media apparatus had described as "slanderous" an audiotape from a purported Roman mobster who insinuated that John Paul would go out looking for underage girls to molest.
The tape was later played on an Italian TV program by Pietro Orlandi, brother of Emanuela Orlandi, the teenage daughter of a Vatican employee who lived at the Vatican.
The disappearance of the 15-year-old in 1983 is an enduring mystery that I have personally helped Pietro Orlandi investigate during for several years and I wrote about in Volumes 3 and 4 of my Confessions, as well as Volume 6.66, where I also talk about Father Amorth who claimed that Emanuela Orlandi was kidnapped for a sex party by a gang involving Vatican police and foreign diplomats. He said that she was later murdered, and her body disposed of. Amorth claimed that girls were recruited at the Vatican for parties, adding that her death"was a crime with a sexual motive." Amorth also told Pietro at the time that there was the involvement of some very powerful figures within the Vatican and now we know who…
Regarding Father Amorth please check out also our latest article:
EXCLUSIVE: How Father Amorth, 'The Pope's Exorcist' Was Highjacked by The Jesuits for a Hollywood Horror Movie!
OUT NOW: Confessions of an Illuminati Volume 8: From the Rise of the Antichrist To the Sound of the Devil and the Great Reset, the only book out there that could help confused Kanye West aka Ye learn the truth about the Hollywood elite and their secret purpose.
GET ALSO A COPY OF LEO ZAGAMI'S Confessions of an Illuminati Volume 7: From the Occult Roots of the Great Reset to the Populist Roots
SUPPORT LEO'S WORK BY BUYING HIS LATEST BOOKS!!!
Leo Zagami is the author of the groundbreaking book Confessions of an Illuminati Vol. 6.66 The Age of Cyber Satan, Artificial Intelligence, and Robotics