Please help keep this website going by making a small donation in support of Leo's work through Fundly: https://fundly.com/leo-lyon-zagami-channel or Patreon: https://www.patreon.com/leozagami
Article by Leo Zagami
This morning I woke up to hundreds of messages from people asking me if the Pope had been arrested as they heard there was a massive blackout at the Vatican during the night. I received, like many other Vaticanists, many links to videos and articles about how a huge sting was underway to punish the enemies of President Donald J. Trump after the 6th of January. They said there was a gunfight, that the Vatican was surrounded by military and police, and they even came up with the incredible news that the Pope was arrested and being held in an Italian prison waiting for the FBI to arrive. Now, I love a good conspiracy as much as everyone else but this QAnon rubbish is getting insane and out of control and is jeopardizing the work me and other serious Vatican experts have been doing for years to expose the Jesuit-led New World Order.
A source living in Rome told me: "I looked out of my window (I can see the Vatican from my apartment) and the lights were on. No gunfights. No police. Cars were coming and going as usual on an early winter Sunday morning." QAnon supporters who believed marching on the Capitol on the 6th of January could trigger "The Storm," an event where they hoped Trump's foes will be punished in mass executions, in reality, walked into a massive trap built up by Psyop experts from the Deep States that might cost us all our remaining freedom. Like the U.S. Army Special Operation website says: "PSYOP operators are adaptive thinkers who specialize in unconventional capabilities, cultural expertise, language proficiency, military deception, cyber warfare, and advanced communications techniques across all forms of media."
But the worse is yet to come and in the last few hours another QAnon fanatic and disinfo agent called Robert David Steele, former Marine, CIA case officer, and U.S. co-founder of the U.S. Marine Corps intelligence activity went on record saying the Italian president had been arrested https://www.youtube.com/watch?v=NvGmPYy8I3o
A total lie (even if I wish it was true) by a so-called "former C.I.A. agent" like Steele that promotes the even more demented idea that the Italian President Sergio Mattarella was arrested in the last few days to counterattack a supposed war that NATO started against the United States led by the United Kingdom. Now that's totally delusional and dangerous when everybody knows that the North Atlantic Treaty Organization also called the North Atlantic Alliance, is an intergovernmental military alliance between 30 European and North American countries that has always seen the United States in a dominant position and it is the practical means through which the security of North America and Europe are permanently tied together.
American Patriots, Article 5 of the Washington Treaty says that an attack against one ally is an attack against all, so at the core of the Alliance there has always been the promise of collective defense that obviously Robert David Steele deliberately ignores to spread fake news that in some way he wants to connect to a real fraud allegedly carried out in Italy against President Trump:
"The Italian Government and Prime Minister Giuseppe Conte are directly involved in the electoral fraud that affected the American elections leading to Joe Biden's pending illegal victory."
The author of this video, Brad Johnson, is a retired Senior Operations Officer and Chief of Station with the Central Intelligence Agency and has served domestically and abroad with numerous assignments, but definitely is a more trusted intelligence source than many in the QAnon clown show movement. However, we still need to be afraid of those who pick up on his research to transform it into more Q-style fake news. Employees of Leonardo were arrested on December 5th, 2020, but Reuters reported that they were arrested for their alleged role in hacking the company's computers to steal sensitive information between 2015 and 2017 and are said to have nothing to do with the 2020 U.S. presidential elections. However, Leonardo S.p.A., formerly Leonardo-Finmeccanica and Finmeccanica, is an Italian multinational company specializing in aerospace, defense and security that is secretly controlled by the former Italian prime minister Matteo Renzi, a Jesuit agent and a political operative of the U.S. Deep State who has already been accused by George Papadopoulos of participating in the infamous Trump-Russia collusion built to sabotage President Trump after his election in 2016.
Renzi, who is now trying to get back control of Italy and is very close to former President Obama has been exposed for years as a dangerous enemy of the American patriots in many of my articles that maybe should have been taken more seriously when they were published because all roads lead to Rome and the Vatican-led New World Order controlled by the Jesuits.
In the meantime Italian Prime Minister Giuseppe Conte faces a fresh crisis with his coalition partner Matteo Renzi who is now trying to bring down his government over the control of the Italian intelligence agencies the same that Matteo Renzi allegedly used to interfere with the U.S. elections in 2016 and maybe even in 2020 to help his close friend and ally President elect Joe Biden. So the claims of electoral fraud in Rome, dubbed "ItalyGate," are not baseless like USA TODAY as recently claimed but they need to be investigated as part of a much larger conspiracy against president Donald J.Trump that started in 2016 and as seen the direct involvement of the U.S. embassy in Rome that as always been a critical asset for U.S. intelligence in Europe and is always been unfortunately in the hands of leftist and Democrats even during the Trump era.
The Pope's vaccine news was released simultaneously with the news that Britain's Queen Elizabeth II, 94, and her husband Prince Philip, 99, received vaccines against coronavirus, officials from Buckingham Palace said Saturday.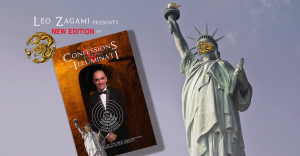 Get Leo's New Edition of Confessions of an Illuminati Volume 5: The Decline of the West and the Rise of Satanism in our Society with a brand new chapter on the CCP virus and The End Times.
You can find it now on Amazon in both paperback:
And Kindle format:
And get also Leo's latest book: Confessions of an Illuminati Vol. 4, American Renaissance 2.0 and The Missing Link From the Invisible World.
You can find it now on Amazon in both paperback:
And Kindle format:
PLEASE SUPPORT LEO'S WORK BY BUYING HIS LATEST BOOKS!!!
Leo Zagami is a regular contributor to Infowars and the author of the groundbreakingbook Confessions of an Illuminati Vol. 6.66 The Age of Cyber Satan, Artificial Intelligence, and Robotics
OUT NOW ON KINDLE:
And on paperback :