Please help keep this website going by making a small donation in support of Leo's work through Fundly: https://fundly.com/leo-lyon-zagami-channel  or Patreon: https://www.patreon.com/leozagami
Article by Leo Zagami
Earlier this month, California Governor Gavin Newsom dined at "one of the world's most exclusive restaurants" with "people from several other households," Politico reported. For nearly all of 2020 Newsom has presided over one of America's strictest lockdowns, which currently includes a ban on gatherings of more than three households.
"Gatherings that include more than 3 households are prohibited. This includes everyone present, including hosts and guests. Remember, the smaller the number of people, the safer," reads the "Guidance for Private Gatherings," issued by the California Department of Public Health on October 9.  Their hypocrisy has no limits and people are finally fed up. The elites have cannibalized the system so thoroughly that there's nothing left to steal or exploit but they still want us to obey their insane sanitary dictatorship. This will become more evident, especially now that we are encountering a supposed resurgence of the virus pandemic.
In the meantime, BLM/Antifa mercenaries of the New World Order have attacked Trump Supporters, including children, after D.C.'s Million MAGA March layed the foundation for a future Civil War and showed the world the lefts true demonic nature. Fortunately, President Trump is not giving up during this coup d'etat orchestrated by the New World Order trying to regain control of America after liberal and Anti-Trump media outlets quickly sprung to define a recent statement by Trump as an "apparent concession," that the President followed with another tweet – which has yet to be censored by Twitter – in which he explained how he feels: "He only won in the eyes of the FAKE NEWS MEDIA. I concede NOTHING! We have a long way to go. This was a RIGGED ELECTION!"
 We will stand by President Trump if the globalists start a confrontation, which might become inevitable if they steal the elections. The men arrested in early October and charged with plotting to kidnap Michigan Gov. Gretchen Whitmer (D) apparently hoped that doing so might trigger a civil war, but that's nothing compared to what is coming,  because fringe militia members aren't the only ones who think a second civil war could occur in the United States. Recently, New York Times columnist Thomas Friedman said that the situation in this country reminded him of his time in Lebanon, where in the mid-1970s street clashes between sectarian militias erupted into multifaceted strife that lasted a decade and a half. So how close are we to a civil war?
Even libtard experts say that a new civil conflict will look nothing like the last American Civil War, but that the country is on the verge of large-scale political violence.The signs of a coming conflict are everywhere but the media won't talk about it. Political polarization is up as the elections feel more like a disappointment to many who know that President Trump has been the victim of rigged elections. Gun and ammunition sales have spiked in the last few weeks, and protests are going to become widespread in American cities if Biden becomes the president. What would have been unthinkable, and perhaps unforgivable in polite conversation 10 years ago, has become a regular phrase on the lips of many — a possible civil war in the near future. A recent Rasmussen Report revealed that "over 50% of Americans believe that there will be internal political violence in America." A Newsweek poll stated that "1/3 of Americans think civil war could break out within the next 5 years." A Washington Examiner poll found that "7 out of 10 Americans believe that we are 2/3 of the way to being in a civil war."
Our nation has experienced a horrendous civil war before; there are some history professors who see some unfortunate similarities. Historian Niall Ferguson at Stanford University stated that if we had a "doomsday clock" like that of the atomic scientists, it would be indicating "2 minutes to Fort Sumter."
This means we have to pray and get ready to fight for the future of America like suggested earlier today by Abp. Carlo Maria Viganò has written this message followed by a prayer for our Country and President Donald J. Trump:
Dear Brothers and Sisters,
 Allow me to address this message to you, spiritually united with all of you in the legitimate request for truth and transparency, in the face of the election fraud that is coming to light.
 Some would have us believe that the people have spoken out in favor of one candidate, and they were foolish enough to tell us this while the vote-counting was still in progress.
 They were so sure of victory that they did not accept any dissenting voices and even went so far as to censor the very words of the current president of the United States.
 It is true: The people have spoken, but not in favor of those who promote the killing of innocent lives in the womb, not in favor of those who impose deadly ideologies on our children, not in favor of those who obey an international elite who wish to establish a New World Order. The people have spoken out in favor of traditional values, in defense of life, in defense of the family, and in defense of national sovereignty — values that have made America great and which form the basis of your country's freedom and peace, harmony and prosperity.
 When the people do not obey media indoctrination, democracy no longer matters to the so-called Democrats: They have to resort to fraud, deception and the manipulation of votes and consensus. But something has gone wrong: "The snare has been broken, and we have escaped" (Psalm 123:7).
 As Christians and honest citizens of this great and beloved nation — which is proud to proclaim to be under God — we have a duty to trust that justice and truth will triumph, also on this occasion. And they will triumph not only through the honesty and fairness of so many people but also (and above all) through our prayer.
                                                                  PRAYER
O Lord Almighty God, Most Holy and Undivided Trinity, who, in Thy love, hast deigned to redeem sinful man through the Incarnation and Passion of Our Lord Jesus Christ: Prostrate before Thee we invoke Thy powerful protection in this hour of great turmoil, when darkness seems to be spreading over our beloved nation.
O Lord God of Hosts, drive back into Hell the enemy of mankind, who by Thy eternal decree is crushed by the foot of our mother and queen, Mary Most Holy. Make vain the assaults of those who, blinded by vice and hatred of Thee, wish to subject our nation and the whole world to the tyranny of sin and rebellion against Thy most holy law. Grant wisdom and courage to those who are called to direct the fortunes of the United States of America and to those who serve their country with fidelity and honor.
Lord, bless our president, our public officials, and our pastors. For those who exercise the power entrusted to them from above, obtain the graces necessary to carry out their duties with integrity and justice.
O Almighty God, who many times hast manifested the power of Thy right hand at the side of Christian armies, place Thyself at the head of this army of Thy children. Let the prayer we address to Thee through the intercession of our mediatrix, the Virgin Mary, rise up to Thee like incense, so that, resolved to observe Thy commandments and to repent of our sins, we may attain the freedom and peace that Thou hast promised us: "Peace I leave you; My peace I give to you. Not as the world gives, do I give to you. Let not your hearts be troubled, neither let them be afraid" (John 14:27).
Grant, O Lord God, peace to our people. Look not upon our unworthiness, but upon the merits of the Immaculate Virgin, the queen and patroness of the United States of America. May she present to the throne of Thy Majesty our humble prayers, our holy intentions and our penances.
And just as in the time of the Maccabees, Thou raised up holy heroes and courageous witnesses of the Faith, so also today hear the prayer we raise to Thee, and scatter the proud in the conceit of their hearts, granting victory to those who serve under Thy holy banner. Amen.
GOD BLESS THE UNITED STATES OF AMERICA
GOD BLESS OUR PRESIDENT
Sunday, 15 November 2020 at 5pm PST (6pm MT) THE LEO ZAGAMI SHOW with the one and only Leo Zagami LIVE from Palm Springs (CA).
SUBSCRIBE TO LEO'S NEW CHANNELS TO AVOID MISSING HIS NEXT SHOWS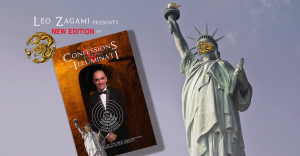 Get Leo's New Edition of Confessions of an Illuminati Volume 5: The Decline of the West and the Rise of Satanism in our Society with a brand new chapter on the CCP virus and The End Times.
You can find it now on Amazon in both paperback:
https://www.amazon.com/Confessions-Illuminati-Decline-Satanism-Society-ebook/dp/B07BQVQ9ZM/ref=sr_1_1?dchild=1&keywords=Confessions+of+an+Illuminati+Volume+5%3A+The+Decline+of+the+West+and+the+Rise+of+Satanism+in+our+Society&qid=1588956850&s=digital-text&sr=1-1
And Kindle format:
https://www.amazon.com/Confessions-Illuminati-Decline-Satanism-Society-ebook/dp/B07BQVQ9ZM?fbclid=IwAR2jxhIWdGeHo-UifXK7X5ka3mknzmaMWysTBVxWzXQEY9S1vSUioabBv3g
And get also Leo's latest book: Confessions of an Illuminati Vol. 4, American Renaissance 2.0 and The Missing Link From the Invisible World.
You can find it now on Amazon in both paperback:
https://www.amazon.com/dp/1679105434/ref=cm_sw_r_fa_awdo_t1_kGIaEbKMF61NP?fbclid=IwAR2ayxAv16FsFMVBDow7CPhdIctj9_X2bEiQjPHbbjyMFfbJtwb88NZW64M
And Kindle format:
https://www.amazon.com/Confessions-Illuminati-Four-Renaissance-Invisible-ebook/dp/B082ZTFTHV?fbclid=IwAR1HcyOk5b0ZAmMSAyyYMCfPGdjbv9obkFD2fozyrvwJ3s6ahWhqL7iECbc
PLEASE SUPPORT LEO'S WORK BY BUYING HIS LATEST BOOKS!!!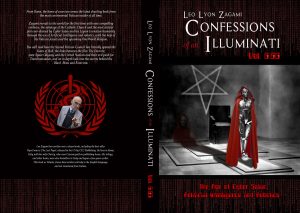 Leo Zagami is a regular contributor to Infowars and the author of the groundbreaking book  Confessions of an Illuminati Vol. 6.66 The Age of Cyber Satan, Artificial Intelligence, and Robotics
OUT NOW ON KINDLE:
https://www.amazon.com/Confessions-Illuminati-6-66-Artificial-Intelligence-ebook/dp/B07NS8WS9V/ref=sr_1_2?s=books&ie=UTF8&qid=1550411820&sr=1-2&keywords=vol.+6.66
And on paperback :
https://www.amazon.com/dp/1796904694/ref=cm_sw_r_fa_awdo_t1_2dvACb2HVH6TP?fbclid=IwAR1h_VlIytuACI3zxXUc9mBfOk96N4Yk0WH3To6Psv2kbFxJLwfzAwV4mUE