Please help keep this website going by making a small donation in support of Leo's work through Fundly: https://fundly.com/leo-lyon-zagami-channel  or Patreon: https://www.patreon.com/leozagami
Article by Leo Zagami
For weeks Italian officials have tried to downplay the spread of the infamous coronavirus now known as COVID-19 after the first two cases involving two Chinese tourists were first reported in late January 2020.
https://leozagami.com/2020/01/30/italys-incompetence-spreads-coronavirus-in-rome-as-face-masks-are-sold-out/
However, today the situation has suddenly changed, after 14 people have been reported infected with the coronavirus in Northern Italy, in the Lombardy region, while two other cases have been identified in Veneto near the city of Padua. After the news spread, ten towns in Lombardy, not far from Milan have already been put on complete lockdown and 50 thousand people have been told to stay at home and avoid all social contact.
Of course, Roberto Speranza, the libtard Health Minister from the Italian Democratic Party taking care of the situation, is trying to avoid panic by stating that "Italy is ready. We had already prepared a plan because it was evident that this could happen. Now it's a question of applying the plan."
But we all know the Italian authorities are clowns just like their politicians, so we warn American tourists to avoid Italy all together if you don't want to contract COVID-19. In the meantime, Giuseppe Ippolito, scientific director of Italy's top infectious disease hospital, the Spallanzani in Rome, said "The cases reported in Lombardy take us into a new phase. "
The case that triggered the COVID-19 pandemic involves a 38- year Italian citizen now in critical condition living in Codogno, in Northern Italy, is believed to have contracted the virus after dining with a friend who had come back from China in late January and later spread the virus unknowingly all over the place. The other two people who were infected after him were the wife, a pregnant teacher fortunately on maternity leave and a third person who was brought to the hospital suffering symptoms of pneumonia after jogging with the 38-year-old, who is a member of the same sports club.
Three other infected people are elderly clients of a bar in Codogno, near Lodi, owned by the father of the man who jogged with the 38-year-old, sources said. According to sources, the three customers never came into direct contact with the 38-year-old but they still got it. Lombardy Welfare Councillor Giulio Gallera said that the eight other cases in the region included "five health personnel, nurses and doctors from Codogno hospital, and three patients".
 The town of Codogno has already closed all schools, bars, eateries, discos, dancehalls, gambling arcades, and sporting facilities as a precaution, at least until Sunday, and the same is happening to a growing number of other towns in the provinces of Lodi and Bergamo.
Veneto's Governor Luca Zaia said the two cases in his region famous for the city of Venice, regard two elderly people from the town of Vo' Euganeo, one who is "in a critical condition in intensive care" in the city of Padua. He said neither of them had been to China and said schools and shops in Vo' Euganeo were being closed. This is a developing story.
Get Leo's latest book: Confessions of an Illuminati Vol. 4, American Renaissance 2.0 and The Missing Link From the Invisible World.
You can find it now on Amazon in both paperback:
https://www.amazon.com/dp/1679105434/ref=cm_sw_r_fa_awdo_t1_kGIaEbKMF61NP?fbclid=IwAR2ayxAv16FsFMVBDow7CPhdIctj9_X2bEiQjPHbbjyMFfbJtwb88NZW64M
And Kindle format:
https://www.amazon.com/Confessions-Illuminati-Four-Renaissance-Invisible-ebook/dp/B082ZTFTHV?fbclid=IwAR1HcyOk5b0ZAmMSAyyYMCfPGdjbv9obkFD2fozyrvwJ3s6ahWhqL7iECbc
PLEASE SUPPORT LEO'S WORK BY BUYING HIS LATEST BOOKS!!!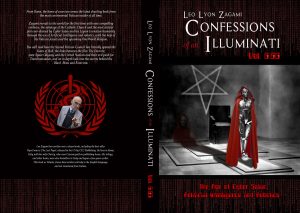 Leo Zagami is a regular contributor to Infowars and the author of the groundbreaking book  Confessions of an Illuminati Vol. 6.66 The Age of Cyber Satan, Artificial Intelligence, and Robotics
OUT NOW ON KINDLE:
https://www.amazon.com/Confessions-Illuminati-6-66-Artificial-Intelligence-ebook/dp/B07NS8WS9V/ref=sr_1_2?s=books&ie=UTF8&qid=1550411820&sr=1-2&keywords=vol.+6.66
And on paperback :
https://www.amazon.com/dp/1796904694/ref=cm_sw_r_fa_awdo_t1_2dvACb2HVH6TP?fbclid=IwAR1h_VlIytuACI3zxXUc9mBfOk96N4Yk0WH3To6Psv2kbFxJLwfzAwV4mUE

Leo Zagami is also the author of  Confessions of an Illuminati Volume 5: The Decline of the West and the Rise of Satanism in our Society 
OUT NOW ON KINDLE: https://www.amazon.com/dp/B07BQVQ9ZM/ref=tsm_1_fb_lk
And on paperback : https://www.amazon.com/dp/1986894657/ref=sr_1_8?ie=UTF8&qid=1522233257&sr=8-8&keywords=leo+zagami