Please help keep this website going by making a small donation in support of Leo's work through Fundly: https://fundly.com/leo-lyon-zagami-channel  or Patreon: https://www.patreon.com/leozagami
Article by Leo Zagami
Italy has confirmed its first cases of the deadly coronavirus shortly after the outbreak was declared a global health emergency earlier today by the World Health Organization (WHO), but an exclusive video that surfaced online in the last few hours shows the complete lack of any serious procedure followed last night by the Italian authorities during the hospitalization of the first two cases of coronavirus that manifested in two Chinese tourists from Wuhan that had been staying in Rome for the past ten days.
The video was filmed by a car passing by on Wednesday evening in the center of Rome in Via Cavour in front of the Grand Hotel Palatino that is located next to the Stazione Termini where the two Chinese people were staying. It shows in disturbing detail, especially knowing that one of the busiest train stations in Europe is only a few minutes away. Rome's metro (subway) is based in the same station and one could speculate that the tourists used it to get around Rome.
In the last fragments of the video, a person in a white shirt walks carelessly along the road by the open ambulance in front of the Grand Hotel Palatino with no protection in front of the ambulance that held two coronavirus patients, where four people can be seen wearing medical face masks and protective gear. The event could be regarded as funny and typical Italian behavior, but in reality,  thousands of people might have been put in jeopardy due to the careless acts of these Italian fools dealing with a virus that could potentially trigger the biggest epidemic of our lifetime.
Another important detail is that this happened ten minutes away from the headquarters of the Food and Agriculture Organization of the United Nations (FAO) and the World Health Organization (WHO) in Rome that declared the global emergency today.
The video in question has been available at this website:
https://www.open.online/2020/01/30/esclusivo-ecco-la-scorsa-notte-l-ambulanza-davanti-all-hotel-palatino-di-roma-il-video/
In the meantime, several incidents of xenophobia towards Chinese citizens are reported all over Italy, along with long queues to buy face masks that in Rome have already sold out and most of them are made in Wuhan. Both Chinese tourists are now in an isolation unit of Rome's Spallanzani Institute.
The Jesuits have highjacked the Catholic Church to shape the future religion of the Antichrist and you can learn more about it in my latest book: Confessions of an Illuminati Vol. 4, American Renaissance 2.0 and The Missing Link From the Invisible World.
You can find it now on Amazon in both paperback:
https://www.amazon.com/dp/1679105434/ref=cm_sw_r_fa_awdo_t1_kGIaEbKMF61NP?fbclid=IwAR2ayxAv16FsFMVBDow7CPhdIctj9_X2bEiQjPHbbjyMFfbJtwb88NZW64M
And Kindle format:
https://www.amazon.com/Confessions-Illuminati-Four-Renaissance-Invisible-ebook/dp/B082ZTFTHV?fbclid=IwAR1HcyOk5b0ZAmMSAyyYMCfPGdjbv9obkFD2fozyrvwJ3s6ahWhqL7iECbc
PLEASE SUPPORT LEO'S WORK BY BUYING HIS LATEST BOOKS!!!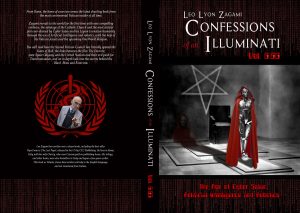 Leo Zagami is a regular contributor to Infowars and the author of the groundbreaking book  Confessions of an Illuminati Vol. 6.66 The Age of Cyber Satan, Artificial Intelligence, and Robotics
OUT NOW ON KINDLE:
https://www.amazon.com/Confessions-Illuminati-6-66-Artificial-Intelligence-ebook/dp/B07NS8WS9V/ref=sr_1_2?s=books&ie=UTF8&qid=1550411820&sr=1-2&keywords=vol.+6.66
And on paperback :
https://www.amazon.com/dp/1796904694/ref=cm_sw_r_fa_awdo_t1_2dvACb2HVH6TP?fbclid=IwAR1h_VlIytuACI3zxXUc9mBfOk96N4Yk0WH3To6Psv2kbFxJLwfzAwV4mUE

Leo Zagami is also the author of  Confessions of an Illuminati Volume 5: The Decline of the West and the Rise of Satanism in our Society 
OUT NOW ON KINDLE: https://www.amazon.com/dp/B07BQVQ9ZM/ref=tsm_1_fb_lk
And on paperback : https://www.amazon.com/dp/1986894657/ref=sr_1_8?ie=UTF8&qid=1522233257&sr=8-8&keywords=leo+zagami