Please help keep this website going by making a small donation in support of Leo's work through Fundly: https://fundly.com/leo-lyon-zagami-channel  or Patreon: https://www.patreon.com/leozagami
Article by Leo Zagami 
Pope Francis and the 40-year-old Uruguayan priest, Gonzalo Aemilius, have known each other since 2006, when Cardinal Jorge Mario Bergoglio, Archbishop of Buenos Aires, made contact with him after he noticed the priest during mass and felt immediately lovestruck with his beauty. Soon after the encounter,  Cardinal Bergoglio called Father Aemilius, who initially thought it was a prank call from one of his priest friends. Since then, their love story blossomed and has become one of the Vatican's best-kept secrets.
However, the relationship around Bergoglio's boyfriend, Father Aemilius, became more public on March 17, 2013 (four days after the election of Francis to the papal throne), when Pope Francis, while greeting the faithful gathered outside Porta Sant'Anna, invited Father Aemilius to follow him to the church where he celebrated his first mass with the faithful after his election. At the end of the liturgy, Francis called him to his side and introduced him, asking everyone to pray for him and his work with street children, it was a little bit like the introduction of his secret partner, said some members of the Vatican LGBTQ community.
The photo of that unusual moment that shows a young handsome and smiling priest holding hands with a visibly happy Pope Francis, who looked as if he was coming out of a gay wedding, was partially re-published yesterday by the Vatican website Vatican News in the official presentation that accompanied Father Aemilius nomination as the Pope's new personal secretary, omitting the lower part of the original photo that shows them holding hands in a very intimate way:
https://www.vaticannews.va/en/pope/news/2020-01/father-aemilius-pope-francis-personal-secretary.html
It seems that Pope Francis has found "his" Father Georg. The reference is, of course, to the personal secretary of Benedict XVI, Georg Gänswein, whose beauty has always been underlined by the media, as well as the lesser-known fact that he has had an alleged homosexual relationship with Pope Ratzinger since his time in The Congregation for the Doctrine of the Faith.
Father Aemilius will replace Father Fabián Pedacchio, who wasdescribed once by the Catholic media as a "spy of Cardinal Bergoglio in Rome", who is now free to go back to his previous job in the Congregation for Bishops,  as announced in November 2019, by the Vatican press secretary Matteo Bruni who communicated that Pedacchio will be returning to the Congregation for Bishops full time.
In June 2013, seemingly under pressure, Father Pedacchio made a rather strange statement: "I want to keep a low profile. I'm doing my best to attend to the Holy Father, without revealing anything of Pope Francis's private life."
Trusted Vatican sources told leozagami.com that Father Pedacchio was removed from his office so that Pope Francis will not only be able to finally live his love life in private with Father Gonzalo Aemilius but also start to prepare the groundwork for his resignation once Pope Ratzinger dies.
The Jesuits have highjacked the Catholic Church to shape the future religion of the Antichrist and you can learn more about it in my latest book: Confessions of an Illuminati Vol. 4, American Renaissance 2.0 and The Missing Link From the Invisible World.
You can find it now on Amazon in both paperback:
https://www.amazon.com/dp/1679105434/ref=cm_sw_r_fa_awdo_t1_kGIaEbKMF61NP?fbclid=IwAR2ayxAv16FsFMVBDow7CPhdIctj9_X2bEiQjPHbbjyMFfbJtwb88NZW64M
And Kindle format:
https://www.amazon.com/Confessions-Illuminati-Four-Renaissance-Invisible-ebook/dp/B082ZTFTHV?fbclid=IwAR1HcyOk5b0ZAmMSAyyYMCfPGdjbv9obkFD2fozyrvwJ3s6ahWhqL7iECbc
PLEASE SUPPORT LEO'S WORK BY BUYING HIS LATEST BOOKS!!!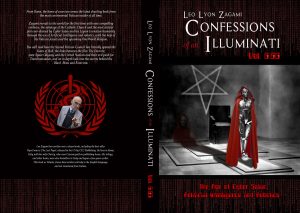 Leo Zagami is a regular contributor to Infowars and the author of the groundbreaking book  Confessions of an Illuminati Vol. 6.66 The Age of Cyber Satan, Artificial Intelligence, and Robotics
OUT NOW ON KINDLE:
https://www.amazon.com/Confessions-Illuminati-6-66-Artificial-Intelligence-ebook/dp/B07NS8WS9V/ref=sr_1_2?s=books&ie=UTF8&qid=1550411820&sr=1-2&keywords=vol.+6.66
And on paperback :
https://www.amazon.com/dp/1796904694/ref=cm_sw_r_fa_awdo_t1_2dvACb2HVH6TP?fbclid=IwAR1h_VlIytuACI3zxXUc9mBfOk96N4Yk0WH3To6Psv2kbFxJLwfzAwV4mUE

Leo Zagami is also the author of  Confessions of an Illuminati Volume 5: The Decline of the West and the Rise of Satanism in our Society 
OUT NOW ON KINDLE: https://www.amazon.com/dp/B07BQVQ9ZM/ref=tsm_1_fb_lk
And on paperback : https://www.amazon.com/dp/1986894657/ref=sr_1_8?ie=UTF8&qid=1522233257&sr=8-8&keywords=leo+zagami