Please help keep this website going by making a small donation in support of Leo's work through Fundly: https://fundly.com/leo-lyon-zagami-channel  or Patreon: https://www.patreon.com/leozagami
Today we will discuss the evidence that Antifa activist Greta Thunberg is possessed.
"This is all wrong. I shouldn't be up here. I should be back in school, on the other side of the ocean," activist Greta Thunberg told the leaders present  and that's probably the only honest thing she said today.
A demon-possessed person is dangerous because Greta is not in control of herself. Her need for gratification can eclipse whatever pain or suffering her actions may cause. Greta Thunberg briefly crossed paths with Donald Trump at the United Nations in New York this morning and that was the moment I realized she was completely possessed and in the hands of Satan and his Legion. The Swedish climate activist fixed Trump with a steady demonic stare as he arrived at the UN to attend a meeting on religious freedom that is of great importance for mankind.
A few minutes after the encounter, President Trump, speaking Monday at a United Nations event on religious freedom, called out world leaders for espousing diversity and inclusion while "shunning or silencing" people of faith. Something Antifa loving Greta, who is obviously in the hands of Satan's Legion, wanted to avoid. Trump gave $25M to the cause at the UN summit in question.
Remember, when a person like Greta, who lacks empathy and is unable to determine what is right or wrong due to of her Asperger syndrome and being demon possessed, everyone around that person is at risk, including President Donald J. Trump, who fortunately was protected by all our prayers and our Lord Jesus Christ because he is a man of God. Testimony of persons suffering from Aspergers and demonic-possession show they are linked and we hope that Greta Thunberg receives the exorcism she so desperately needs and be healed from her sickness to finally be able to grow in the grace of Jesus.
Let us put aside our criticism and pray for Greta today, because as Jesus says in Luke 23:34 "Father, forgive them, for they don't know what they are doing." 
Satan knows his time is near and in his desperation he resorts to using a child to do his evil bidding.
PLEASE SUPPORT LEO'S WORK BY BUYING HIS LATEST BOOKS!!!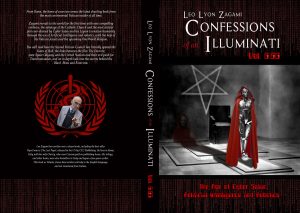 Leo Zagami is a regular contributor to Infowars and the author of the new groundbreaking book  Confessions of an Illuminati Vol. 6.66 The Age of Cyber Satan, Artificial Intelligence, and Robotics
OUT NOW ON KINDLE:
https://www.amazon.com/Confessions-Illuminati-6-66-Artificial-Intelligence-ebook/dp/B07NS8WS9V/ref=sr_1_2?s=books&ie=UTF8&qid=1550411820&sr=1-2&keywords=vol.+6.66
And on paperback :
https://www.amazon.com/dp/1796904694/ref=cm_sw_r_fa_awdo_t1_2dvACb2HVH6TP?fbclid=IwAR1h_VlIytuACI3zxXUc9mBfOk96N4Yk0WH3To6Psv2kbFxJLwfzAwV4mUE

Leo Zagami is also the author of  Confessions of an Illuminati Volume 5: The Decline of the West and the Rise of Satanism in our Society 
OUT NOW ON KINDLE: https://www.amazon.com/dp/B07BQVQ9ZM/ref=tsm_1_fb_lk
And on paperback : https://www.amazon.com/dp/1986894657/ref=sr_1_8?ie=UTF8&qid=1522233257&sr=8-8&keywords=leo+zagami