Article by Leo Zagami
Former Italian Prime Minister and Jesuit agent Mario Monti, a close friend and collaborator of Pope Francis, declared that "If the sovranist parties win in the EU, there will be a Third World War."
The usually sober, lucid, and reflective politician, who is a key member of the Bilderberg Club, shocked many with this doom and gloom statement. It's becoming more clear every day that the European Illuminati will try anything to stop the growing anti-European populist/sovranist  uprise in the Old Continent and they are getting desperate.
In the meantime, Italian Deputy Prime Minister and anti-immigration leader Matteo Salvini has fired back after German Chancellor Angela Merkel claimed she wouldn't let her party work with Salvini in the European Parliament stating he was not compatible with European values. The two clashed just a week before the European elections.
Angela Merkel, who recently said that she is not interested in becoming the next president of either the European Commission or the European Council, seemed to still be in charge of the Nazi European  Union.  Salvini replied to Merkel's dismissal of his anti-immigrant League party by saying:
"We don't want to stand with people who have ruined Europe for all these years."
In an interview with the Italian newspaper La Stampa, Freemason and Illuminati Angela Merkel excluded the possibility of an alliance between any right-wing anti-establishment party with her center-right European People's Party (EPP).
Remember the most important prophetic development of the 20th Century was the regathering of the Jewish people to their historic homeland in the Middle East, resulting in the creation of the state of Israel on May 14, 1948. The second most important development was the formation of a European confederation known as The European Union. The late Bulgarian peasant Baba Vanga claimed a vision came to her showing Europe desolate and deserted in  following a series of devastating catastrophes which rocked the continent.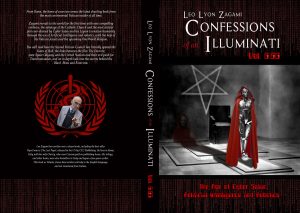 Leo Zagami is a regular contributor to Infowars and the author of the new groundbreaking book  Confessions of an Illuminati Vol. 6.66 The Age of Cyber Satan, Artificial Intelligence, and Robotics
OUT NOW ON KINDLE:
https://www.amazon.com/Confessions-Illuminati-6-66-Artificial-Intelligence-ebook/dp/B07NS8WS9V/ref=sr_1_2?s=books&ie=UTF8&qid=1550411820&sr=1-2&keywords=vol.+6.66
And on paperback :
https://www.amazon.com/dp/1796904694/ref=cm_sw_r_fa_awdo_t1_2dvACb2HVH6TP?fbclid=IwAR1h_VlIytuACI3zxXUc9mBfOk96N4Yk0WH3To6Psv2kbFxJLwfzAwV4mUE

Leo Zagami is also the author of  Confessions of an Illuminati Volume 5: The Decline of the West and the Rise of Satanism in our Society 
OUT NOW ON KINDLE: https://www.amazon.com/dp/B07BQVQ9ZM/ref=tsm_1_fb_lk
And on paperback : https://www.amazon.com/dp/1986894657/ref=sr_1_8?ie=UTF8&qid=1522233257&sr=8-8&keywords=leo+zagami