Cardinal Konrad Krajweski on his scooter and Pope Francis
Article by Leo Zagami
On Tuesday, Vatican Secretary of State, Pietro Parolin, defended the controversial decision by the papal almoner, Cardinal Konrad Krajewski, to illegally turn the electricity back on in a Rome building in Santa Croce in Gerusalemme illegally occupied by the homeless. The building had been without power since May 6 due to a dispute over unpaid bills. I personally live nearby, when I am in Rome, and the Vatican should mind their own business and help Italians instead of Islamic migrants. Italians in the area are becoming increasingly upset over squatters and their illegal privileges, where prostitution and drug trafficking take place. Deputy Premier and Interior Minister Matteo Salvini intervened and criticized the move, saying "supporting illegal conduct is never a good signal."
"I have seen lots of interpretations and lots of controversy," replied the Vatican Secretary of State Pietro Parolin who added: "I personally think that the effort should be made to understand the sense of this gesture, which is to attract everyone's attention to a real problem that involves people, children, the elderly."
Parolin denied that the squatters had been a special case, but that's not the truth  and Italians know it.
"The Church already does this, it helps everybody," said Parolin, replying to Salvini's demand that the Church pay struggling Italians' power bills.
 A complaint for illegally stealing energy was been by Areti, the power network company of Rome, electricity utility ACEA. Areti sources said it was essential to get back into the building to make the power generator that was illegally turned on by a Vatican Cardinal, safe, before an accident could take place.
"There are lots of Italian people and legally resident immigrants who pay their bills, even if they are in difficulty," Salvini said Monday."As interior minister, I guarantee the rules (are respected).
 "If the people in the Vatican want to pay the bills of all the Italians in hardship, we give them a bank account (for it)."
   In the meantime, every day, all over Rome, the Vatican evicts poor Christian families who can't pay their bills, from their own buildings, showing zero compassion.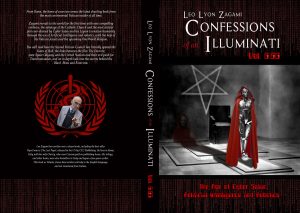 Leo Zagami is a regular contributor to Infowars and the author of the new groundbreaking book  Confessions of an Illuminati Vol. 6.66 The Age of Cyber Satan, Artificial Intelligence, and Robotics
OUT NOW ON KINDLE:
https://www.amazon.com/Confessions-Illuminati-6-66-Artificial-Intelligence-ebook/dp/B07NS8WS9V/ref=sr_1_2?s=books&ie=UTF8&qid=1550411820&sr=1-2&keywords=vol.+6.66
And on paperback :
https://www.amazon.com/dp/1796904694/ref=cm_sw_r_fa_awdo_t1_2dvACb2HVH6TP?fbclid=IwAR1h_VlIytuACI3zxXUc9mBfOk96N4Yk0WH3To6Psv2kbFxJLwfzAwV4mUE

Leo Zagami is also the author of  Confessions of an Illuminati Volume 5: The Decline of the West and the Rise of Satanism in our Society 
OUT NOW ON KINDLE: https://www.amazon.com/dp/B07BQVQ9ZM/ref=tsm_1_fb_lk
And on paperback : https://www.amazon.com/dp/1986894657/ref=sr_1_8?ie=UTF8&qid=1522233257&sr=8-8&keywords=leo+zagami