Article by Leo Zagami
Tensions are rising in the Vatican in the last few hours for a number of reasons. First of all, a group of 19 (now 51!) Catholic priests and academics have appealed with an "Open letter to the bishops of the Catholic Church" to declare Pope Francis a heretic:
https://www.documentcloud.org/documents/5983408-Open-Letter-to-the-Bishops-of-the-Catholic.html
The Vatican had no comment on this unprecedented and shocking letter, which includes dozens of footnotes, bible verses, pronouncements by previous popes, and even a separate bibliography. The letter also invites people to join an online signature drive to basically kick out the Jesuit Pope.
Addressing the bishops, the letter says: "We, therefore, request that your Lordships urgently address the situation of Pope Francis's public adherence to heresy." Imploring that they," publicly admonish Pope Francis to abjure the heresies that he has professed."
However, this is not the only crisis discussed at the Holy See, because the priority of the day for Pope Francis and the Venezuelan Black Pope of the Jesuits, Arturo Sosa, is protecting and saving the life of their loyal agent Nicolás Maduro. The secret alliance between the Jesuits and Russia is helping Maduro, but for how long? Local Freemasons, with the help of the CIA, are pushing the Venezuelan National Assembly Chief Juan Guaido, now a 33rd degree of the A.A.S.R., to wage war against the Jesuits and their Colectivo groups supporting Maduro all over the country . Colectivos or collectives are irregular, leftist Venezuelan community organizations secretly organized by the Jesuits and supported by Russia who support Nicolás Maduro, the Maduro administration and party, and the United Socialist Party of Venezuela (PSUV).
They are the dark side of Maduro, the armed paramilitary groups that operate in poverty-stricken areas and attack individuals, engaging in all kinds of criminal activities like "extortion, kidnapping, drug trafficking, and murder." Loyal to Arturo Sosa, the Jesuit Black Pope, who is helping Maduro, is showing the world the true evil of a Communist dictatorship orchestrated by the Company of Jesus.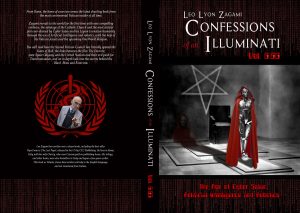 Leo Zagami is a regular contributor to Infowars and the author of the new groundbreaking book  Confessions of an Illuminati Vol. 6.66 The Age of Cyber Satan, Artificial Intelligence, and Robotics
OUT NOW ON KINDLE:
https://www.amazon.com/Confessions-Illuminati-6-66-Artificial-Intelligence-ebook/dp/B07NS8WS9V/ref=sr_1_2?s=books&ie=UTF8&qid=1550411820&sr=1-2&keywords=vol.+6.66
And on paperback :
https://www.amazon.com/dp/1796904694/ref=cm_sw_r_fa_awdo_t1_2dvACb2HVH6TP?fbclid=IwAR1h_VlIytuACI3zxXUc9mBfOk96N4Yk0WH3To6Psv2kbFxJLwfzAwV4mUE

Leo Zagami is also the author of  Confessions of an Illuminati Volume 5: The Decline of the West and the Rise of Satanism in our Society 
OUT NOW ON KINDLE: https://www.amazon.com/dp/B07BQVQ9ZM/ref=tsm_1_fb_lk
And on paperback : https://www.amazon.com/dp/1986894657/ref=sr_1_8?ie=UTF8&qid=1522233257&sr=8-8&keywords=leo+zagami