Article by Leo Zagami
"Pedophile priests should not be abandoned. They are lost sheep" said father Donald Zagore, an Ivorian theologian of the Society for African Missions, to Fides News Agency, in advance of the meeting on "The protection of minors in the Church" to be held in the Vatican from tomorrow to February 24, 2019.
Leaders of episcopal conferences from all over the world will gather together with a delegation of religious men and women to tackle this tragic phenomenon and give the world the impression they are doing something. "The involvement and commitment of the Church, through this extraordinary summit, shows how often the whole Church, and Pope Francis in particular, want justice to be done, "explained Zagore, who is obviously working for the Vatican propaganda machine as the Devils advocate, who adds,"The great challenge for the Church is certainly to protect the victims but also not to abandon the guilty."
Of course, the pedophile elite of the Church will be forgiven, and in the meantime, the Jesuit Pope accused "those who spend their lives accusing the Church,"(like the author of this article,) of being"relatives of the devil."
Who is Pope Francis related to then?
Father Donald Zagore, promoting the forgiveness of pedophile priests of the Chruch said "For all the clerics involved, a pastoral accompaniment of listening and concern, fundamentally built on God's mercy, is more than ever necessary. The Church should not be ashamed of her children, whose dignity has been stripped of the power of sin, but must work to ensure that injustice and in the truth they continue to feel the gaze of the merciful God on them. God hates sin, but loves the sinner. "
"The Church must keep in mind that sin is always lurking and that it is a permanent possibility of man. In human nature,"he concluded, "the worst is not always certain but it is highly probable. Being the 'guardian of the most holy things' does not necessarily prevent us from misunderstanding and even abusing it. "
So if we criticize the Catholic Church for becoming a sect of degenerates and pedophiles, we are "relatives of the Devil"but if we rape an innocent child we are forgiven and welcome in "Vatican heaven" with Pope Francis and his gay priests.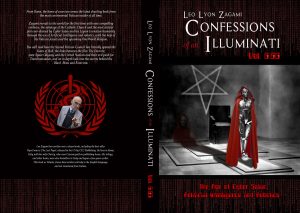 Leo Zagami is a regular contributor to Infowars and the author of the new groundbreaking book  Confessions of an Illuminati Vol. 6.66 The Age of Cyber Satan, Artificial Intelligence, and Robotics
OUT NOW ON KINDLE:
https://www.amazon.com/Confessions-Illuminati-6-66-Artificial-Intelligence-ebook/dp/B07NS8WS9V/ref=sr_1_2?s=books&ie=UTF8&qid=1550411820&sr=1-2&keywords=vol.+6.66
And on paperback :
https://www.amazon.com/dp/1796904694/ref=cm_sw_r_fa_awdo_t1_2dvACb2HVH6TP?fbclid=IwAR1h_VlIytuACI3zxXUc9mBfOk96N4Yk0WH3To6Psv2kbFxJLwfzAwV4mUE