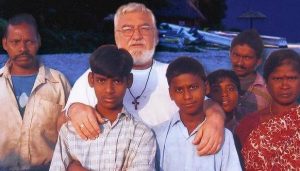 Father Antonio Zanetti and members of the Oasis 7 community
Article by Leo Lyon Zagami
First, he was forced to become the lover of a Capuchin friar, and later he was threatened and beaten by the friar because he decided to escape from this nightmare. This is the accusation that a young refugee made against Father Antonio Zanotti, founder of the host community for refugees and minors in difficulty called Oasis 7,now at the center of a new scandal for the Catholic Church.
The victim, who is in fear of his life, has been transferred by the police to a protected place. He has lived in this community based in Bergamo in Northern Italy for over four years now, as Fiorenza Sarzanini writes in Italian newspaper Corriere della Sera. Evidence in support of these accusations are present in pornographic videos and photos that have been sent to the Vatican authorities as well as the Italian ones, along with a complaint for sexual violence.
"A terrible experience for which I also tried to take my life,"says the young refugee, who finally decided to come out in the open and ask for help, but this is apparently not an isolated case, two other young people have deposited their testimony at the legal office of Bernardini De Pace in Via Ipponio 2, in Rome,  and are ready to speak with the Italian prosecutors and the ecclesiastical authorities as soon as possible to address this case of sexual slavery by a Capuchin friar who still serves as an ordained priest.
The lawyers of the victims called for an urgent intervention, "…especially taking into account that many young people in need are still involved in this community and because we want to know where all the money that Father Zanotti has comes from and why nobody as asked him how he is using it. "
As reported by Corriere della Sera,  In 2014, the boy in question arrived at the Oasis 7 community and he states in the complaint that, "In the first months, I felt welcomed by the friar and the community, but I immediately noticed the excessive luxury in which Father Zanotti used to live, very far from the Franciscan customs. I worked for about a year in exchange for only food and lodging, despite Father Zanotti promising me a regular job within a short time in the Renewal cooperative of Antegnate in the province of Bergamo, but after about 3 months from my entry to Oasis 7 the friar began to approach me sexually, first with hugs, then inviting me to drink in his room, although it was not my desire to have sexual relations with the friar, I could not resist Father Zanotti advances as he began to give me expensive gifts, whatever I asked for I could buy. If I said yes to his requests, he will leave me some money ".
Unfortunately, this is not the first time a refugee claims to have been used as a sexual slave by a representative of the Catholic Church, but the details rarely make it to the press. With all eyes on Father Zanotti, let's see how this case unfolds.

Leo Zagami is a regular contributor to Infowars and the author of the new book Confessions of an Illuminati Volume 5: The Decline of the West and the Rise of Satanism in our Society 
OUT NOW ON KINDLE: https://www.amazon.com/dp/B07BQVQ9ZM/ref=tsm_1_fb_lk
And on paperback : https://www.amazon.com/dp/1986894657/ref=sr_1_8?ie=UTF8&qid=1522233257&sr=8-8&keywords=leo+zagami