Please help keep this website going by making a small donation in support of Leo's work through Fundly: https://fundly.com/leo-lyon-zagami-channel or Paypal:https://www.paypal.com/paypalme/leozagamishow
Article by Leo Zagami
I used to be one of the main DJs in Berlin back in the mid-90s working as Leo Young at Tresor and I always thought clubbing was about freedom after the nightmare of Communism and rebelling to the establishment, but it seems those days are long gone.
A video originally published on Twitter shows vaccines "open night" in Berlin with DJ sets and injections to the rhythm of the music in the concert hall of The Mercedes-Benz Arena.
Something shocking for me that goes against everything clubbing should stand for and shows the ignorance and compliance of the new generations.
The Berlin of today is much closer to its Communist past as well as its Nazi past than ever before. Berlin anti-lockdown protesters often manifest their dissent and clash with the police that react in brutal ways that has not been seen since the 1930s.
Beginning in 1933, the Nazis took control of and subsequently transformed the police forces of the Weimar Republic into instruments of state repression and eventually, of genocide. They did so by Nazifying policing. The new government removed anti-Nazi police leaders, reorganized Germany's police forces, and reoriented police culture towards Nazism and now they are doing the same with the newly established Medical Tyranny of Angela Merkel.
No wonder the event in question was organized as you can notice on the video with the support of the Johanniter Order (German: Johanniterorden), the German Protestant branch of the Knights Hospitaller better known as the Knight of Malta that together with the London-based Most Venerable Order of the Hospital of Saint John of Jerusalem (of which the British monarch is Sovereign Head), the Swedish Johanniterorden i Sverige, and the Dutch Johanniter Orde in Nederland, is a member of the Alliance of the Orders of Saint John of Jerusalem that along with the Roman Catholic Sovereign Military Order of Malta ("SMOM"), represent the legitimate heirs of the original Knights Hospitaller.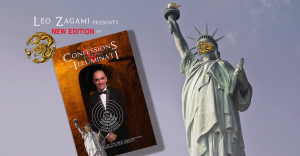 Get Leo's New Edition of Confessions of an Illuminati Volume 5: The Decline of the West and the Rise of Satanism in our Society with a brand new chapter on the CCP virus and The End Times.
You can find it now on Amazon in both paperback:
And Kindle format:
And get also Leo's latest book: Confessions of an Illuminati Vol. 4, American Renaissance 2.0 and The Missing Link From the Invisible World.
You can find it now on Amazon in both paperback:
And Kindle format:
PLEASE SUPPORT LEO'S WORK BY BUYING HIS LATEST BOOKS!!!
Leo Zagami is a regular contributor to Infowars and the author of the groundbreakingbook Confessions of an Illuminati Vol. 6.66 The Age of Cyber Satan, Artificial Intelligence, and Robotics
OUT NOW ON KINDLE:
And on paperback :