Please help keep this website going by making a small donation in support of Leo's work through Fundly: https://fundly.com/leo-lyon-zagami-channel  or Paypal:https://www.paypal.com/paypalme/leozagamishow
Article by Leo Zagami
President Joe Biden squinted and stumbled on the 4th of July through a 15- minute speech on the White House lawn that was solely devoted to fear mongering about COVID, inviting Americans to get vaccinated, calling it the most patriotic thing anyone can do for their country.
Not many Americans appreciated his speech, as fewer than 20,000 people joined the YouTube livestream, that equates to around 0.006% of the population. Yet, we are forced to believe hereceived a record 81 million votes in the election, but the most amazing thing of all was the actual crowd that attended.
It was the largest White House event since Biden took office in January, that included burgers and fireworks for the 1000's of people in attendance. The scene was pathetic, and the crowd looked truly libtard. Now, the word libtard is clearly derived from "retard" and intended to imply that liberals are mentally deficient. The leftists have called it offensive, and the Chicago Tribune even said, "Here's an offensive word we should retire right now."
It should also be noted that there were less than half the number of people who attended former President Trump's huge Independence Day rally in Florida on Saturday.
Now, this kind of America is not what WE THE PEOPLE want to project to the world, and what we have seen at Biden's event will make the U.S. the laughingstock of the world, so please let's SAVE AMERICA!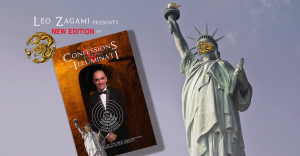 Get Leo's New Edition of Confessions of an Illuminati Volume 5: The Decline of the West and the Rise of Satanism in our Society with a brand new chapter on the CCP virus and The End Times.
You can find it now on Amazon in both paperback:
And Kindle format:
And get also Leo's latest book: Confessions of an Illuminati Vol. 4, American Renaissance 2.0 and The Missing Link From the Invisible World.
You can find it now on Amazon in both paperback:
And Kindle format:
PLEASE SUPPORT LEO'S WORK BY BUYING HIS LATEST BOOKS!!!
Leo Zagami is a regular contributor to Infowars and the author of the groundbreakingbook Confessions of an Illuminati Vol. 6.66 The Age of Cyber Satan, Artificial Intelligence, and Robotics
OUT NOW ON KINDLE:
And on paperback :