Please help keep this website going by making a small donation in support of Leo's work through Fundly: https://fundly.com/leo-lyon-zagami-channel or Paypal:https://www.paypal.com/paypalme/leozagamishow
Article by Leo Zagami
The Satanic Temple is weaponizing the first amendment and putting up disgusting signs across the United States to promote abortion.
These provocative billboards financed by the nontheistic religious group founded in the United States in 2013 advertise Satanists' religious exemptions in abortion and compare cake batter to the miracle of human conception. But as we all know a cake, follows a precise recipe and comes out the same each time and is not comparable in any way to the creation of an entirely new human being who has a unique DNA, a mind, and a soul of his own.
Unfortunately, the organization's participation in public affairs includes political actions as well as lobbying efforts, with a particular focus on exposing what they define as "Christian privilege"that for them interferes with personal religious freedom.
The Temple has even sued a man in Arkansas for religious discrimination after he refused to display these messages on eight of his own billboards.
These people are demonic and the organization in question is working to develop the last stage of modern Satanism that wants to be finally accepted as a legitimate religious reality but it gets worse. In Houston and Dallas, Texas, billboards actually read, "Abortions Save Lives" and they even declare that killing the unborn is a religious ritual.
We are living in strange times indeed so please keep your Faith in God and don't let go as we try to fight together this growing insanity.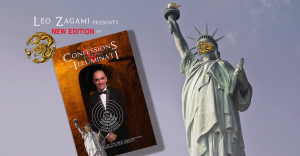 Get Leo's New Edition of Confessions of an Illuminati Volume 5: The Decline of the West and the Rise of Satanism in our Society with a brand new chapter on the CCP virus and The End Times.
You can find it now on Amazon in both paperback:
And Kindle format:
And get also Leo's latest book: Confessions of an Illuminati Vol. 4, American Renaissance 2.0 and The Missing Link From the Invisible World.
You can find it now on Amazon in both paperback:
And Kindle format:
PLEASE SUPPORT LEO'S WORK BY BUYING HIS LATEST BOOKS!!!
Leo Zagami is a regular contributor to Infowars and the author of the groundbreakingbook Confessions of an Illuminati Vol. 6.66 The Age of Cyber Satan, Artificial Intelligence, and Robotics
OUT NOW ON KINDLE:
And on paperback :