Please help keep this website going by making a small donation in support of Leo's work through Fundly: https://fundly.com/leo-lyon-zagami-channel or Paypal:https://www.paypal.com/paypalme/leozagamishow
Article by Leo Zagami
The goal of the Public Arts Commission of the City of Palm Springs is to officially engage the community in this unique city on the importance of public art and to determine a vision for the years to come for public art in Palm Springs. However, I was shocked when walking outside Palm Springs Art Museum the other day I noticed for the first time an outdoor art display located in what locals call the, "Sand Pit," ( future home of an underground parking lot), where I found ten huge sculptures of babies made of fiberglass, 11 ft long X 9-foot with the hashtag #PSPUBLICARTS.
They say a barcode replaces any semblance of a face on these baby statues in what is supposed to be a statement about the dehumanization of society due to big tech and data but you can't put a barcode on a baby!! A baby is not merchandise that you can buy and sell!
The Palm Springs Preferred Small Hotels Blog wrote, "We are betting you will have an opinion," adding that "Czech artist David Cerny has loaned this art installation to Palm Springs through 2022."
Well I have an opinion but it's not a postive one in what looks like a dehumanization and instrumentalization of children/baby bodies by the artist in question. For years we heard about the instrumentalization of women's bodies that supposedly lies at the heart of discrimination against women, and now we have the instrumentalization of babies bodies by an artist who in my opinion, seems inclined to promote pedophilia.
Of course, I could be wrong, but imagine for a minute if these giant fiberglass statues were sensual female bodies walking in the same way on the ground? We would never hear the end of it! We must protect our children!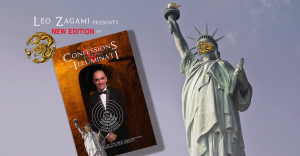 Get Leo's New Edition of Confessions of an Illuminati Volume 5: The Decline of the West and the Rise of Satanism in our Society with a brand new chapter on the CCP virus and The End Times.
You can find it now on Amazon in both paperback:
And Kindle format:
And get also Leo's latest book: Confessions of an Illuminati Vol. 4, American Renaissance 2.0 and The Missing Link From the Invisible World.
You can find it now on Amazon in both paperback:
And Kindle format:
PLEASE SUPPORT LEO'S WORK BY BUYING HIS LATEST BOOKS!!!
Leo Zagami is a regular contributor to Infowars and the author of the groundbreakingbook Confessions of an Illuminati Vol. 6.66 The Age of Cyber Satan, Artificial Intelligence, and Robotics
OUT NOW ON KINDLE:
And on paperback :