Please help keep this website going by making a small donation in support of Leo's work through Fundly: https://fundly.com/leo-lyon-zagami-channel  or Patreon: https://www.patreon.com/leozagami
Article by Leo Zagami
Last year, a report made by Accenture, highlighted the growing number of companies that are taking advantage of what is defined as "extended reality"(XR) technology, which includes virtual and augmented reality (VR/ AR).The report in question was entitled, Waking Up to a New Reality: Building a Responsible Future for Immersive Technologies.
The report in question highlighted the need to consider not just the opportunities, but also the dangers this kind of technology could pose to mankind, including not only threats to privacy, but also risks to mental health. However, such a risk might be forgotten during and after the Chinese virus pandemic. Social media companies and Smartphone app publishers do their best best to assure us that everything is secure and that our privacy will always be respected. But there's no way of knowing who will access this private information, and what they will use it for, especially when you have people like Mark Zuckerberg in charge, who made the bold claim in January 2020 that: "We're going to get a breakthrough in tech glasses this decade."
So why are these glasses so important? Facebook has mostly focused on virtual reality headsets following its 2014 acquisition of Oculus VR, but that's only the beginning of the gradual substitution of  virtual reality by the dark side of the Illuminati and Mark Zuckerberg. 10 million sets were sold globally last year, but whether they're sophisticated headsets or cardboard adapters for smartphones, virtual reality has also become the focus of health concerns, that will be increasingly ignored by health authorities, as the majority people will use virtual reality to try to escape the reality of living in quarantine, and later the dangers of living in a world of economic turmoil and poverty that will inevitably develop from this crisis.
A recent study by researchers at Leeds University found that just 20 minutes exposure to VR could affect the ability of some children to discern the distance of objects. There are also concerns that regular use of VR could accelerate the global epidemic of myopia, but Zuckerberg and the Satanic elite serving Cyber Satan will never admit that. They would rather promote the fascinating aspects of this technology that has been recently embraced by the high priestess of the Illuminati/performance artist Marina Abramović.
For 6 days in February, 2019, the performance artist Marina Abramović (b. 1946) invited members of the public to London's Serpentine Gallery to witness something that had never been done before in the world of contemporary art.
"Spirit Cooking" Marina Abramović achieved her virtual quest for immortality in this project, with the collaboration of the production studio Tin Drumand, of course, Microsoft. The Marina Abramović: The Life performance that later went on tour in other cities around the world uses a combination of virtual and augmented reality that operates with the use of Microsoft's HoloLens 2 innovative VR goggles. The experience described by the artist as "mixed reality" will be auctioned at Christie's in October 2020 and probably bought for a huge amount of money by Bill Gates. But there are many other members of the Illuminati elite interested in buying it including Jacob Rothschild, who was recently pictured at the Royal Academy with Abramović in front of a painting of profound significance from 1797 entitled, "Satan Summoning His Legions" by Sir Thomas Lawrence. The auction in question will coincide with Marina Abramović: 50 Years of Pioneering Performance Art  (26 September to 8 December 2020) at London's Royal Academy. "The Life"  will be a featured installation at the show.
The art work was also  featured in a recent commercial for Microsoft's new mixed reality headset, the HoloLens 2, starring Marina Abramović  that was dropped after only two days from the launch on Good Friday because of controversy surrounding the known Satanist/artist. Viewers openly rejected Abramović's presence, at first with bad comments and then downvoting the video to the extent that Microsoft first locked all comments, then locked all likes, and in the end in desperation removed the video completely from YouTube to avoid further exposure. A small but significant victory against Satan's Legion.
Get Leo's latest book: Confessions of an Illuminati Vol. 4, American Renaissance 2.0 and The Missing Link From the Invisible World.
You can find it now on Amazon in both paperback:
https://www.amazon.com/dp/1679105434/ref=cm_sw_r_fa_awdo_t1_kGIaEbKMF61NP?fbclid=IwAR2ayxAv16FsFMVBDow7CPhdIctj9_X2bEiQjPHbbjyMFfbJtwb88NZW64M
And Kindle format:
https://www.amazon.com/Confessions-Illuminati-Four-Renaissance-Invisible-ebook/dp/B082ZTFTHV?fbclid=IwAR1HcyOk5b0ZAmMSAyyYMCfPGdjbv9obkFD2fozyrvwJ3s6ahWhqL7iECbc
PLEASE SUPPORT LEO'S WORK BY BUYING HIS LATEST BOOKS!!!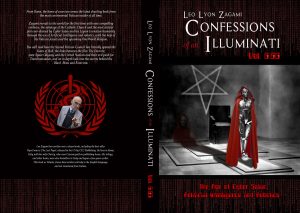 Leo Zagami is a regular contributor to Infowars and the author of the groundbreaking book  Confessions of an Illuminati Vol. 6.66 The Age of Cyber Satan, Artificial Intelligence, and Robotics
OUT NOW ON KINDLE:
https://www.amazon.com/Confessions-Illuminati-6-66-Artificial-Intelligence-ebook/dp/B07NS8WS9V/ref=sr_1_2?s=books&ie=UTF8&qid=1550411820&sr=1-2&keywords=vol.+6.66
And on paperback :
https://www.amazon.com/dp/1796904694/ref=cm_sw_r_fa_awdo_t1_2dvACb2HVH6TP?fbclid=IwAR1h_VlIytuACI3zxXUc9mBfOk96N4Yk0WH3To6Psv2kbFxJLwfzAwV4mUE

Leo Zagami is also the author of  Confessions of an Illuminati Volume 5: The Decline of the West and the Rise of Satanism in our Society 
OUT NOW ON KINDLE: https://www.amazon.com/dp/B07BQVQ9ZM/ref=tsm_1_fb_lk
And on paperback : https://www.amazon.com/dp/1986894657/ref=sr_1_8?ie=UTF8&qid=1522233257&sr=8-8&keywords=leo+zagami