Please help keep this website going by making a small donation in support of Leo's work through Fundly: https://fundly.com/leo-lyon-zagami-channel  or Patreon: https://www.patreon.com/leozagami
Article by Leo Zagami
"Stop using Zoom immediately," said Turning Point USA founder Charlie Kirk in a tweet posted on April 3, 2020, adding: "Any tech company that aligns with China must be ex-communicated from our country. The Chinese Communist Party is using Zoom as a way to spy on our citizens."
On the same day, a team from The Citizen Lab, an interdisciplinary laboratory based at the Munk School of Global Affairs & Public Policy, University of Toronto, made public that Zoom was dangerous because it was using a non-standard type of encryption that transmitted information through China. The researchers of The Citizen Lab, who have always focused on research and development at the intersection of information and communication technologies, human rights, and global security, warned the world that the use of the app used by certain countries like Great Britain for Cabinet meetings, for example, may not have been wise at all, and could have compromised their National Security.
Let's remember that until recently, Zoom was used mainly by large businesses for video conference calls and by certain talk shows on the web, so there wasn't   focus on this problem before now. I have avoided using Zoom and have been working with the streaming platform Streamyard since last year to avoid the use of this Chinese-influenced company. However, the explosion in users during the Wuhan virus pandemic created  "A new gold rush for cyber-spies", The Citizen Lab's report said warning that Zoom "may not be suitable"for the following categories:
1) Governments and businesses worried about espionage
2) Healthcare providers handling sensitive patient information
3) Activists, lawyers, and journalists working on sensitive topics
 But academics from The Citizen Labmight have missed an important category in their list of parties at risk of being intercepted by the CCP. Many Christians from a heavily persecuted protestant megachurch in China have been detained one week ago, after being caught engaging in an Easter worship service on Zoom. Some key members from Early Rain Covenant Church, commonly referred to as ERCC, were arrested in their homes on April 12th, 2020, as they attended a virtual service where they listened to a sermon by their imprisoned leader, Pastor Wang Yi.  The mega church has not met in person since 2018, when the same congregation was subject to mass arrests during raids on major Christian congregations that saw the persecution of pastors like Wang Yi and others.  Maybe some of you still remember when the Golden Lampstand Church, a well-known Christian church that was brutally demolished in northern China's Shanxi Province in January 2018. Witnesses and overseas activists said that the paramilitary People's Armed Police forces used excavators and dynamite to destroy the well-known Christian mega-church.
Pastor Wang Yi has remained behind bars since  December 2018, and at the end of last year, he was sentenced to nine years in prison showing us once again the evil persecution of Christians by the officially atheistic Communist Party working hand in hand with the Vatican Jesuits to persecute Christians.
Church members busted while using Zooom told International Christian Concern of the moment officers from the Public Security Bureau of the CCP stormed the homes of six church leaders as they worshipped together using Zoom, which should now be considered a spy tool of Cyber Satan and its legion of Chinese Communists.One member said: "At that time I was also in the Zoom call, but there was a long time where I did not hear a thing. I thought it's the network connection issue at first, but I soon heard a quarrel erupt. Our co-worker Wang Jun was questioning some people, [saying], 'Who are you to do this [to us]?'"A supporter of Pastor Wang Yi Church revealed some details of the incident on Twitter, "Since 8:30 a.m., some security officials have entered these Christian families' homes and pretended to be chatting with them casually. At 9:30 a.m., the worship began, and they were also invited to participate. Once they realized that the sermon was from ERCC's imprisoned pastor Wang Yi, they immediately shut it down."
 Zhang Jianquing's account recalled what the police said during the incidents: "Don't participate in already banned [religious] activities anymore! Don't listen to Pastor [Wang]'s sermons anymore! If you do this again, we will deal with it seriously and take you away!"
One of the targeted individuals had their home power supply cut, others received intimidating phone calls in which they were told  that "police [were] coming to visit them soon."
The six believers have since been released from custody but Gina Goh, ICC's Regional Manager for Southeast Asia, said: "It is such a shame that the Chinese government has not once stopped its persecution of ERCC. Ever since the 1209 crackdown in 2018, local authorities have continued to monitor and harass ERCC members, with the hope that the church will disperse itself. In a time when the Chinese people are suffering from the COVID-19 pandemic, the heartless regime chose to inflict more trouble on its citizens. The UN should immediately suspend China's appointment to the Human Rights Council for its lack of respect for human rights."
Pastor Wang Yi has a history of boldly proclaiming Christ from the pulpit. Shortly before he was arrested, he personally called on President Xi Jinping – who has been waging a years-long campaign of oppression in 2018 against the country's Christians – to repent of his sins.
"When we are not being persecuted, we spread the gospel. And when persecution comes, we continue spreading the gospel,"pastor Yi preached in a 2018 message.
He added: "If we are talking about a President, we declare he is a sinner. And if we are talking about a general secretary, we still declare that he is a sinner. We believe that we have the responsibility to tell Xi Jinping that he is a sinner."
 Well, the problem is that Xi Jinping is much more than a sinner, he is a Satanist, like all Communists!
Get Leo's latest book: Confessions of an Illuminati Vol. 4, American Renaissance 2.0 and The Missing Link From the Invisible World.
You can find it now on Amazon in both paperback:
https://www.amazon.com/dp/1679105434/ref=cm_sw_r_fa_awdo_t1_kGIaEbKMF61NP?fbclid=IwAR2ayxAv16FsFMVBDow7CPhdIctj9_X2bEiQjPHbbjyMFfbJtwb88NZW64M
And Kindle format:
https://www.amazon.com/Confessions-Illuminati-Four-Renaissance-Invisible-ebook/dp/B082ZTFTHV?fbclid=IwAR1HcyOk5b0ZAmMSAyyYMCfPGdjbv9obkFD2fozyrvwJ3s6ahWhqL7iECbc
PLEASE SUPPORT LEO'S WORK BY BUYING HIS LATEST BOOKS!!!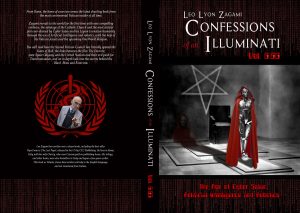 Leo Zagami is a regular contributor to Infowars and the author of the groundbreaking book  Confessions of an Illuminati Vol. 6.66 The Age of Cyber Satan, Artificial Intelligence, and Robotics
OUT NOW ON KINDLE:
https://www.amazon.com/Confessions-Illuminati-6-66-Artificial-Intelligence-ebook/dp/B07NS8WS9V/ref=sr_1_2?s=books&ie=UTF8&qid=1550411820&sr=1-2&keywords=vol.+6.66
And on paperback :
https://www.amazon.com/dp/1796904694/ref=cm_sw_r_fa_awdo_t1_2dvACb2HVH6TP?fbclid=IwAR1h_VlIytuACI3zxXUc9mBfOk96N4Yk0WH3To6Psv2kbFxJLwfzAwV4mUE

Leo Zagami is also the author of  Confessions of an Illuminati Volume 5: The Decline of the West and the Rise of Satanism in our Society 
OUT NOW ON KINDLE: https://www.amazon.com/dp/B07BQVQ9ZM/ref=tsm_1_fb_lk
And on paperback : https://www.amazon.com/dp/1986894657/ref=sr_1_8?ie=UTF8&qid=1522233257&sr=8-8&keywords=leo+zagami