Please help keep this website going by making a small donation in support of Leo's work through Fundly: https://fundly.com/leo-lyon-zagami-channel  or Patreon: https://www.patreon.com/leozagami
Article by Leo Zagami 
In January 2020, as the Wuhan virus began to unleash its full potential in China, the South Koreans were developing their ultimate tool of control and oppression in the form of an app. For this reason, Scott Gottlieb, a former commissioner of the Food and Drug Administration and an NWO pawn, has repeatedly mentioned South Korea as a model, writing on Twitter, "South Korea is showing Covid-19 can be beaten with smart, aggressive public health."
Central and local governments in South Korea who were advised by the elite of the NWO to use this crisis to utilize, on a willing society of brainwashed individuals, something that will soon reach the U.S. and all countries affected by the CCP virus.
It will be done with the installation of a seemingly harmless app, installed on your smartphone, preferably with 5G, by sending real-time alerts and text messages regarding not only the confirmed cases of coronavirus (COVID-19) in your local area but it will also monitor in detail the travel history of all those infected using a cell phone tracker inserted in the app.
Yes, the "self-quarantine safety protection" app, developed by the Ministry of the Interior and Safety of South Korea, that will gradually be imposed on the entire world, promoting it as a way for the quarantined to stay in touch with caseworkers but also uses GPS to keep track of their location to make sure they are not breaking their quarantine as confirmed by  MIT Technology Review reports. Also everybody who comes in contact with people affected by COVID-19 will be tracked localized and reach by the health authorities.
Officials in South Korea said to the press initially, that the app was not mandatory and telephone calls from the authorities will remain an option, but that's not the case for people that have contracted the Chinese virus who are now obliged by law to use the app and have been arrested for violating their quarantine, just like in China, who has also implemented the use of a similar app that works even better so Big Brother can watch you with the infamous 5G network.
Despite obvious benefits during the COVID-19 crisis, the technology causes uneasiness for many, particularly with recent concerns over privacy violations and the improper handling of sensitive data, but that will soon end once the death toll rises to the levels of Italy, who is now thinking of using the app in question to fight the Chinese virus after the Italian government has approved the use of drones for controlling the population. However, a cell phone tracker like the one they want to install using the COVID-19 crisis as an excuse, will allow them to keep track of your every move and ends civil liberties forever. There is a place for alarmism when threats to civil liberties are concerned, but this time the enemy might achieve their goal of complete domination!
The NWO, thanks to this innovative technology, will always know where you go, when you leave or arrive at a particular area, who you have met etc, etc. If you have 5G installed on your phonw they will even know when you use the bathroom, or the when you are in the kitchen in the middle of the night having a midnight snack. This is the end of freedom as we know it, and even non-smartphones will eventually be used to track to allegedly save lives using the excuse of this unprecedented crisis to gain control of your life.
If this wasn't bad enough, in a Reddit Q&A, billionaire philanthropist Bill Gates revealed his plan to use "digital certificates"to identify those who have been tested for COVID-19, a practice that reminds us of the infamous Mark of the Beast found in the Book of Revelation, the final book of the Bible's New Testament. Because the Beast will lay his mark on all of mankind – a mark that will be used to buy and sell. For this purpose, Microsoft's co-founder, Bill Gates, who is a member of the Vatican/Chinese led New Word Order and a Satanist will launch human-implantable capsules that have "digital certificates" which can show who has been tested for the coronavirus and who has been vaccinated against it.
At the end of this crisis we are not only going to be left with many deaths to mourn, but most of all we will face a different world in the hands of Artificial Intelligence and Cyber Satan. It is no wonder that the impact of COVID-19 on society and the way Artificial Intelligence (AI) can be leveraged to increase understanding of the virus and its spread will be the focus of an April 1 virtual conference sponsored by the Stanford Institute for Human-Centered Artificial Intelligence (HAI).
Thanks to this crisis the AI in the hands of Satan and his Legion, will be able to finally gather enough info to implement their ultimate Orwellian nightmare worldwide, and they have been preparing for this all along. On December 30, 2019, researchers from BlueDot, a company that uses AI to track and anticipate infectious diseases, spotted a report of pneumonia of unknown etiology in China. Nearly a week later, on January 5, 2020, the World Health Organization (WHO) issued a request for more information from Chinese public health authorities. At the time, there had been 44 cases reported, with eleven patients in critical condition but the Artificial Intelligence platforms, analytics algorithms, and data visualization tools to try to get ahead of the virus were already in place because it's all part of the same plan to achieve the ultimate dystopian world. World domination of every single Individual on earth by the Illuminati elite!
Tune in today March 24th 2020 at 3:30PM CST Leo Zagami will be on THE WAR ROOM at Infowars: https://www.infowars.com/watch-alex-jones-show/
Get Leo's latest book: Confessions of an Illuminati Vol. 4, American Renaissance 2.0 and The Missing Link From the Invisible World.
You can find it now on Amazon in both paperback:
https://www.amazon.com/dp/1679105434/ref=cm_sw_r_fa_awdo_t1_kGIaEbKMF61NP?fbclid=IwAR2ayxAv16FsFMVBDow7CPhdIctj9_X2bEiQjPHbbjyMFfbJtwb88NZW64M
And Kindle format:
https://www.amazon.com/Confessions-Illuminati-Four-Renaissance-Invisible-ebook/dp/B082ZTFTHV?fbclid=IwAR1HcyOk5b0ZAmMSAyyYMCfPGdjbv9obkFD2fozyrvwJ3s6ahWhqL7iECbc
PLEASE SUPPORT LEO'S WORK BY BUYING HIS LATEST BOOKS!!!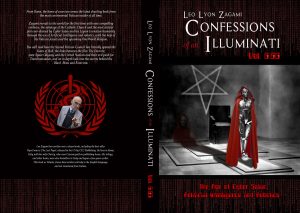 Leo Zagami is a regular contributor to Infowars and the author of the groundbreaking book  Confessions of an Illuminati Vol. 6.66 The Age of Cyber Satan, Artificial Intelligence, and Robotics
OUT NOW ON KINDLE:
https://www.amazon.com/Confessions-Illuminati-6-66-Artificial-Intelligence-ebook/dp/B07NS8WS9V/ref=sr_1_2?s=books&ie=UTF8&qid=1550411820&sr=1-2&keywords=vol.+6.66
And on paperback :
https://www.amazon.com/dp/1796904694/ref=cm_sw_r_fa_awdo_t1_2dvACb2HVH6TP?fbclid=IwAR1h_VlIytuACI3zxXUc9mBfOk96N4Yk0WH3To6Psv2kbFxJLwfzAwV4mUE

Leo Zagami is also the author of  Confessions of an Illuminati Volume 5: The Decline of the West and the Rise of Satanism in our Society 
OUT NOW ON KINDLE: https://www.amazon.com/dp/B07BQVQ9ZM/ref=tsm_1_fb_lk
And on paperback : https://www.amazon.com/dp/1986894657/ref=sr_1_8?ie=UTF8&qid=1522233257&sr=8-8&keywords=leo+zagami