Please help keep this website going by making a small donation in support of Leo's work through Fundly: https://fundly.com/leo-lyon-zagami-channel  or Patreon: https://www.patreon.com/leozagami
Pope Francis, under pressure by the Vatican health authorities, finally submitted to a swab for the COVID-19 test that was returned a couple of hours ago resulting officially in a negative reading, and he is not affected by the novel coronavirus. Should we believe them? Strange things are going on in the Vatican as we speak. Pope Francis' present sickness was described today by the Holy See as  "just a slight indisposition"and the focus of the Italian media has suddenly moved on to Pope Benedict the Pope Emeritus. Ratzinger has been forced by the Papal Household to interrupt receiving all visitors due to the threat of COVID-19.  The old pope, who is in his 90s, was already living like a prisoner since he moved back from Castel Gandolfo, and now he will be in complete isolation because of the growing fear of contracting COVID-19.
The Vatican is said to be on lockdown at the moment with several priests and senior Vatican officials in quarantine in the Vatican City State, who are worried because of the old age of most of its citizens. There is an unprecedented sense of panic in the air with almost no visitors in site, even at the Vatican Museums. The whole area was described by the local media as desolate, empty, and even a bit spooky, missing the usual long lines of tourists that one would normally find in St. Peters Square, often surrounded by vendors and homeless people positioned at the beginning of Via Della Conciliazione.
Since last week, the Vatican has implemented special health measures and canceled most public events as more than 2000 people have tested positive for coronavirus as of today in Italy, that has reached 52 deaths, and has one of the worse outbreaks of the novel coronavirus in the world because of the often reckless and undisciplined behavior of Italians against this dangerous invisible enemy.
The Vatican and even Borgo Santo Spirito, the headquarters of the Jesuits, are in complete lockdown this evening.
Get Leo's latest book: Confessions of an Illuminati Vol. 4, American Renaissance 2.0 and The Missing Link From the Invisible World.
You can find it now on Amazon in both paperback:
https://www.amazon.com/dp/1679105434/ref=cm_sw_r_fa_awdo_t1_kGIaEbKMF61NP?fbclid=IwAR2ayxAv16FsFMVBDow7CPhdIctj9_X2bEiQjPHbbjyMFfbJtwb88NZW64M
And Kindle format:
https://www.amazon.com/Confessions-Illuminati-Four-Renaissance-Invisible-ebook/dp/B082ZTFTHV?fbclid=IwAR1HcyOk5b0ZAmMSAyyYMCfPGdjbv9obkFD2fozyrvwJ3s6ahWhqL7iECbc
PLEASE SUPPORT LEO'S WORK BY BUYING HIS LATEST BOOKS!!!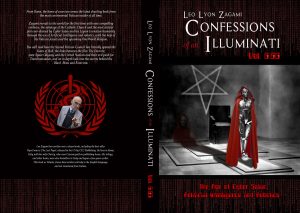 Leo Zagami is a regular contributor to Infowars and the author of the groundbreaking book  Confessions of an Illuminati Vol. 6.66 The Age of Cyber Satan, Artificial Intelligence, and Robotics
OUT NOW ON KINDLE:
https://www.amazon.com/Confessions-Illuminati-6-66-Artificial-Intelligence-ebook/dp/B07NS8WS9V/ref=sr_1_2?s=books&ie=UTF8&qid=1550411820&sr=1-2&keywords=vol.+6.66
And on paperback :
https://www.amazon.com/dp/1796904694/ref=cm_sw_r_fa_awdo_t1_2dvACb2HVH6TP?fbclid=IwAR1h_VlIytuACI3zxXUc9mBfOk96N4Yk0WH3To6Psv2kbFxJLwfzAwV4mUE

Leo Zagami is also the author of  Confessions of an Illuminati Volume 5: The Decline of the West and the Rise of Satanism in our Society 
OUT NOW ON KINDLE: https://www.amazon.com/dp/B07BQVQ9ZM/ref=tsm_1_fb_lk
And on paperback : https://www.amazon.com/dp/1986894657/ref=sr_1_8?ie=UTF8&qid=1522233257&sr=8-8&keywords=leo+zagami