Please help keep this website going by making a small donation in support of Leo's work through Fundly: https://fundly.com/leo-lyon-zagami-channel  or Patreon: https://www.patreon.com/leozagami
Article by Leo Zagami
While another controversy erupts in the Vatican for permitting Netflix, that was recently involved with the infamous "Gay Jesus" parody, to advertize the Jesuit propaganda film, "The Two Popes" on a Vatican-owned building in front of St. Peters Square, Mike Pence's office just confirmed that the Vice President is scheduled to be received by the Pope during his overseas trip next week.
No official details have been released about the topics that might be discussed during this unusual meeting between the Jesuit Pope and the Vice President of the United States, but his visit comes at a difficult time for the Vatican and the Catholic Faith.
Earlier today, an international coalition of lay Catholics mobilized in Munich to silently pray in "firm protest against the German Episcopal Conference and its president" Cardinal Marx, who is accused – like his boss Pope Francis – of being too progressive, and departing from traditional Catholic teaching on priestly celibacy, contraception, homosexuality, and fornication.
Remember that destroying  Catholic teachings and Christianity, is a priority for the Jesuit driven One World Religion, so what is really going on in the Vatican, and why is Pence going there now? Well, the Vice President's visit comes immediately after Sam Brownback, Ambassador for International Religious Freedom traveled to Vatican City for the launch of the Abrahamic Faiths Initiative, held last Tuesday at the official residence of the U.S. Ambassador to the Holy See, Callista Gingrich.  During Brownback's trip, he and Ambassador Gingrich also met with Archbishop Paul Gallagher, the Holy See Secretary for Relations with States.
The meeting in question was described by Ambassador Gingrich as "a dialogue designed to promote peace, religious freedom, and interreligious harmony" between Christians, Muslims, and Jews, and is said to have been inspired by the 2019"Document on Human Brotherhood for World Peace and Common Cohabitation," a joint statement signed in Abu Dhabi last year by Pope Francis and the Grand Imam of Al-Azhar, who is at the very foundation of the upcoming One World Religion, as pointed out by Archbishop, Carlo Maria Viganò. This is a topic of great importance is discussed in great detail in my latest book, Confessions of an Illuminati Vol. 4, American Renaissance 2.0 and The Missing Link From the Invisible World.
 In her remarks at the launch of the Abrahamic Faiths Initiative, Ambassador Gingrich thanked Pastor Bob Roberts of Northwood Church in Keller, Texas, Imam Mohammad Magid of All Dulles Area Muslim Society, and Rabbi David Saperstein, the former U.S. religious freedom ambassador from 2014 to 2017, "for making this gathering possible." The future One World Religion will also include the Family House project, a structure that will host a synagogue, a mosque, and a church in Abu Dhabi, set up in time to embrace the Messiah, or more likely, the Antichrist if in line with the recent Netflix series "Messiah," produced by Mark Burnett and Roma Downey, that has perplexed Jesus followers worldwide who are wondering what message the series creators were looking to share in this obscure show, that looks more like one big Psychological Operation. The 10 episodes of the Netflix series "Messiah" created by Michael Petroni, depicts humanity's reaction to an ambiguous Christ-like man claiming to be sent by God and how a secular society might respond to a man claiming to be the Messiah in this day and age. The "Messiah" builds a worldwide following of people from different religious backgrounds, including Jews, Christians, and Muslims and after a few episodes, it reaches the attention of the Vatican Congregation for the Causes of Saints.
It's reality versus fiction, as in November 2019, when Pope Francis warmly embraced (for the sixth time) Sheikh Ahmed el-Tayeb, Grand Imam of Al-Azhar, who has shown in the past an antiChristian and Satanic agenda. Sheikh Ahmed el-Tayeb, the world's best-known Muslim leader, has called homosexuality a disease, dismissed the idea of human rights as "ticking time-bombs," and has even endorsed suicide attacks against Jewish men, women, and children. But for the hypocrites of the Vatican New World Order, that's suddenly ok because the document, in question states that "[t]he pluralism and the diversity of religions, color, sex, race, and language are willed by God in His wisdom, through which He created human beings."
 Vice President Mike Pence should exercise extreme caution while in the Vatican and not fall into any trap, or alliance laid out by the Jesuits, who might want to convince him to dump Trump and take over the U.S. if their agent Nancy Pelosi and her team of Demoncrats manages in some way to remove the President.
A passage of the Prophecy of the Two Popes by Blessed Anne Catherine Emmerich comes to mind: "I saw also the relationship between two popes … I saw how baleful would be the consequences of this false church. I saw it increase in size; heretics of every kind came into the city of Rome. The local clergy grew lukewarm, and I saw a great darkness…"
The Jesuits have highjacked the Catholic Church to shape the future religion of the Antichrist and you can learn more about it in my latest book: Confessions of an Illuminati Vol. 4, American Renaissance 2.0 and The Missing Link From the Invisible World.
You can find it now on Amazon in both paperback:
https://www.amazon.com/dp/1679105434/ref=cm_sw_r_fa_awdo_t1_kGIaEbKMF61NP?fbclid=IwAR2ayxAv16FsFMVBDow7CPhdIctj9_X2bEiQjPHbbjyMFfbJtwb88NZW64M
And Kindle format:
https://www.amazon.com/Confessions-Illuminati-Four-Renaissance-Invisible-ebook/dp/B082ZTFTHV?fbclid=IwAR1HcyOk5b0ZAmMSAyyYMCfPGdjbv9obkFD2fozyrvwJ3s6ahWhqL7iECbc
PLEASE SUPPORT LEO'S WORK BY BUYING HIS LATEST BOOKS!!!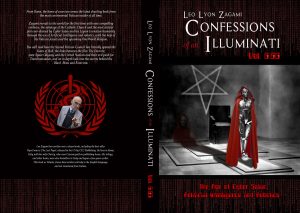 Leo Zagami is a regular contributor to Infowars and the author of the groundbreaking book  Confessions of an Illuminati Vol. 6.66 The Age of Cyber Satan, Artificial Intelligence, and Robotics
OUT NOW ON KINDLE:
https://www.amazon.com/Confessions-Illuminati-6-66-Artificial-Intelligence-ebook/dp/B07NS8WS9V/ref=sr_1_2?s=books&ie=UTF8&qid=1550411820&sr=1-2&keywords=vol.+6.66
And on paperback :
https://www.amazon.com/dp/1796904694/ref=cm_sw_r_fa_awdo_t1_2dvACb2HVH6TP?fbclid=IwAR1h_VlIytuACI3zxXUc9mBfOk96N4Yk0WH3To6Psv2kbFxJLwfzAwV4mUE

Leo Zagami is also the author of  Confessions of an Illuminati Volume 5: The Decline of the West and the Rise of Satanism in our Society 
OUT NOW ON KINDLE: https://www.amazon.com/dp/B07BQVQ9ZM/ref=tsm_1_fb_lk
And on paperback : https://www.amazon.com/dp/1986894657/ref=sr_1_8?ie=UTF8&qid=1522233257&sr=8-8&keywords=leo+zagami